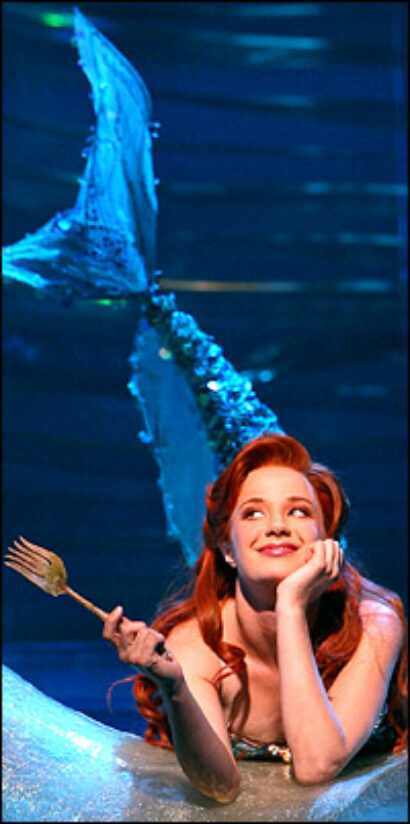 The debut was the highest for a Broadway cast recording in over a decade: Rent's original cast recording debuted at number 19 in 1996.
The Mermaid CD also placed in the top position on Billboard's Cast Album Chart. The Disney recording sold over 20,000 units during its first week of release.
The track listing for the Mermaid cast recording follows:
Overture
"Fathoms Below"/"Where I Belong"
"Daughters of Triton"
"The World Above"
"Human Stuff"
"I Want the Good Times Back"
"Part of Your World"
"Storm at Sea"
"Part of Your World" (Reprise)
"She's in Love"
"Her Voice"
"The World Above" (Reprise)
"Under the Sea"
"Sweet Child"
"Positoovity"
"Beyond My Wildest Dreams"
"Les Poissons"
"One Step Closer"
"I Want the Good Times Back" (Reprise)
"Kiss the Girl"
"Sweet Child" (Reprise)
"If Only (Quartet)"
"Her Voice" (Reprise)/"The Contest"
"Poor Unfortunate Souls" (Reprise)
"If Only" (Reprise)
Finale Ultimo
"In a magical kingdom beneath the sea," according to Mermaid production notes, "a beautiful young mermaid named Ariel longs to leave her ocean home to live in the world above. But first, she'll have to defy her father — the king of the sea — escape the clutches of an evil sea witch and convince a prince that she's the girl with the perfect voice." The musical is based on both the Disney animated film (written and directed by John Musker & Ron Clements) and the classic Hans Christian Andersen fairy tale.
The Little Mermaid features songs penned by Alan Menken and the late Howard Ashman for the Disney film ("Part of Your World," "Under the Sea," "Kiss the Girl," among others) as well as 11 new tunes by Menken and Glenn Slater. Doug Wright (I Am My Own Wife, Grey Gardens) wrote the book. The creative team includes Francesca Zambello (direction), Stephen Mear (choreography), George Tsypin (scenic design), Tatiana Noginova (costume design), Natasha Katz (lighting design), John Shivers (sound design), Angelina Avallone (makeup design), Sven Ortel (projection and video design) and David Brian Brown (hair design). Associate producer is Todd Lacey. Fight director is Rick Sordelet. Technical director is David Benken. Production supervisor is Clifford Schwartz.
Dance arrangements are by David Chase, music coordinator is Michael Keller, orchestrations are by Danny Troob. Music direction, incidental music and vocal arrangements are by Michael Kosarin.
Disney Theatrical Productions is under the direction of Thomas Schumacher.
Tickets for the musical, priced $41.50-$111.50, are available by calling (212) 307-4747 or by visiting the Lunt-Fontanne box office at 205 West 46th Street.
For more information visit Walt Disney Theatricals at www.disneyonbroadway.com.