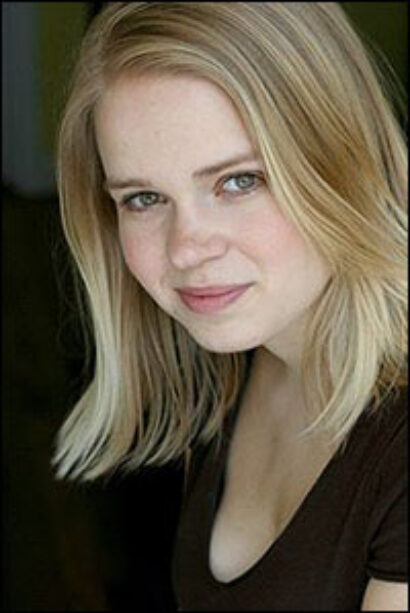 *
Maggie Keenan-Bolger, the middle of the Keenan-Bolger power siblings, may not have her praises as frequently sung as stage and screen stars Celia or Andrew, but her offerings to the theatre community should not go merely hummed — especially during Pride Month. Keenan-Bolger is diving into conversations on stage that many are too nervous to broach, and her numerous contributions to the LGBTQ community had me chomping at the bit for a chance to sit down with her and discuss inspirations aspirations, and expectations.
I'm lucky to catch Maggie on one of the few days she's in New York and actually has off (aside from a date with her brother to play "Just Dance" on Wii). After meeting in Madison Square Park, we slip into a nearby Starbucks where we find the last two seats available at the far corner of the highbar and quickly claim them.
The subjects of stigmatization, lack of representation and the general whitewashing of LGBTQ experiences come to the footlights in Keenan-Bolger's pieces, which include From the Inside, Out and Her Train of Thought. Somehow, though, such potentially volatile topics take shape in congenial ways. Her parents' philosophy may be the foundation for this tactic. "We are people in and of ourselves," she recited, "But there is also a much broader world out there. Doing good is making sure you are doing well, but also that you're not hurting other people in the process. That you are instead helping other people."
Keenan-Bolger makes good on her word by working with the LGBTQ youth at Green Chimneys. She's worked with the program to bring together the younger LGBTQ individuals with older members in the "Bridging the Gap" program; and most recently, she and the Green Chimneys folks cultivated and staged Not Just Another Coming Out Story. An example of her progressive social commentary, the show was a marriage of both the homeless youth's personal accounts of "coming out" as LGBTQ and a fictional setting of "Sometime in the future... an organization built to 'bear witness' to the coming out experiences."
The impetus behind the Not Just Another Coming Out Story's creation, she said, "Cis-gender white guys coming out: Been there done that. And the idea that coming out is one experience that we have. As if we aren't doing it throughout our lives was a little ridiculous to me. Like this guy comes out once and magically everyone knows."
"At 14 I was the only out, queer person in my school," Keenan-Bolger recalled. "It was isolating, but it also meant that as people were struggling with their sexual orientation they would come to me for advice... I suddenly had to have this knowledge."
With equal parts altruism and curiosity, the teenage Keenan-Bolger began devouring every bit of LGBTQ literature and history she could find, the latter of which little existed — a problem that continued to trouble her into her adult life.
She explained: Apart from "The Stonewall Riots," there is a serious void in the accounting of LGBTQ history. "I studied Queer Studies in undergrad. I'm a fairly well versed LGBT person, and yet I had no idea about the marches on Albany, for example." As is to be expected, Keenan-Bolger created a piece that addressed that exact issue and worked towards filling the void: Queering History.
To write Queering History, she extended an invite to any member of the LGBTQ community asking, "What is your personal history, and how do you view the history our community?" Mixing countless responses, actual historical events, and an enchanting dash of theatricality, Keenan-Bolger created Queering History. The summary of the piece in the iBooks story reads: "Emma is a quiet, unobtrusive high school student who also happens to be queer. Her high school history class is turned upside down by a visit from her 'Fairy Queen Godmother,' Kinsey Scale and his Gaggle of Historical Gays."
More than theatrical, Queering History carried important practical weight for Maggie. She explained, "If we don't harness this idea of getting our history in place and writing our history in a way that we want it to be written, we might not have it any more." Inevitably, the conversation moves to the controversial portrayal of LGBTQ individuals by actors who don't identify along that spectrum. She described the stages of representation in mass media all minorities travel and concluded, "I guess I feel it's a necessary part of the representation timeline, but certainly I don't think it's something we need to settle for. We can get out of that into the more nuanced and interesting representations where queer-people are actually playing queer-people and trans people are actually playing trans people."
Photo by Joan Marcus
As it so happens, the most recent show Keenan-Bolger has seen that massively touched her was Lisa Krohn and
Jeanine Tesori
's adaptation of the graphic novel,
Fun Home
, which starred Beth Malone, an openly gay actress, playing a queer character. "I bawled through the whole second half," she confessed with a chuckle. "Growing up in musical theatre,
Rent
was the only lesbian representation ever, and everything else was just subtext I made up in my head. So being able to see it was a really powerful and validating experience."
Why does she choose theatre as her communication medium? "In a way, [theatre] is removed enough from people's personal lives that they can talk about the characters as they might not be able to talk about themselves quite yet."
In the interest of her Wii date, Maggie and I wrapped up our conversation with her hopes for the future and what she believes it will take for a true, seamless integration of LGTBQ individuals into the world. She said, "The recognition and validation of all voices without having to unify the voices. So we move past the trend that the minority is 'just like everyone else'. We are not just like everyone else... people are different and those differences are all valid and all acceptable and should be accepted in our society without feeling like we have to agree all the time or have to be the same to get along."
Further information on Keenan-Bolger and her projects can be found by visiting maggiekeenanbolger.com.