*
My birthday officially began last Friday. Basically, when it comes to the length of my birthday celebration, people have been known to say "Not since Ramadan." I really do extend it for a long time. At this moment, there are wrapped presents from my party that I haven't opened. I basically hate the idea of anything being over ("You have difficulty letting go" according to my therapist), so I force things to keep going well after they're completely finished (see several unhealthy college relationships).
Anyhoo, on the day of my actual birthday (Feb. 28), I rehearsed Disaster! all afternoon because Sarah E. Litzsinger is joining the cast! I became obsessed with her when I saw her in Amour and made an immediate vow to work with her. When the role of Jackie opened up, I tracked down her email and contacted her. PS I saw Amour in 2002. That's a long time to sustain a vow to work with someone. Basically, it took the length of two birthday celebrations.
Anyhoo, we rehearsed that afternoon, I went out to dinner and then did the show. It was really thrilling to spend my birthday doing a show I co-wrote. Then, at the end of the show, we did our curtain call as usual which is choreographed to "Hot Stuff." Right on the last few beats, we're supposed to bow as group, wait four counts and then the exit music begins. Well, after four counts, I didn't hear "Hooked on a Feeling" which is what plays as the curtain closes. I immediately went into a full depression that the timing was off, shot the band a scathing look, and made a mental note to send a passive-aggresive email asking why the cue was late. Soon the music started to play but it wasn't "Hooked on a Feeling." What was happening? I then heard the entire cast singing "Happy Birthday" to me onstage! Ah! I prayed the audience hadn't just seen my scathing look to the band and rearranged my face from glaring to smiling.
It was so great! The next night I had a birthday party at my apartment, which was super fun. My sister had come in on from Virginia on Friday with her husband and Rachel Sarah, one of my nieces. Eliana, my other niece, couldn't make it because she had school. I was so disappointed... and shocked. No one from the Rudetsky family has ever put school above anything. There was always a very valid reason to miss it constantly. When we were growing up, if I had any kind of cold, my mother insisted I stay home from school... for days. If there was any snow, we also had to stay home because "no one is going to show up." Note bene: There was only one time my mother took school seriously and thankfully it didn't involve me. My sister Nancy had read in Seventeen magazine that putting mayonnaise in your hair makes it supple and shiny. Maybe it does, but she discovered it's also impossible to get out. Nancy rinsed and rinsed, but suffice it to say if she added some hard-boiled eggs and celery, she could have catered her own Bat Mitzvah. Nancy told my mother that she was mortified to let anyone see her with a mayonnaise head, but, out of the blue, my mother insisted that school was way too important to miss. It is? I think this was during the time my Mom was trying EST and she changed personalities for a brief period of time. Regardless, Nancy is still devastated when she recounts being forced to go to school with a pint of Miracle Whip layered throughout her Dorothy Hamill wedge.
Anyhoo, Eliana is 16 and obsessed with school (and has amazing grades) so there was no way she could miss Friday's classes. Suddenly, around 10:30 PM Saturday, in the middle of the party, Nancy announced that she had my present outside my apartment door. I had a fleeting thought that she got me a puppy, but that made no sense. Nancy opened the door with a flourish and there was Eliana! She came up herself on Amtrak, and I was so happy! It was the first time she had ever traveled by herself on a train. Brava! Of course, I begged her to stay through Tuesday, but she claimed she had "school" and wanted "good grades." Two things never heard before in the same sentence by a Rudetsky.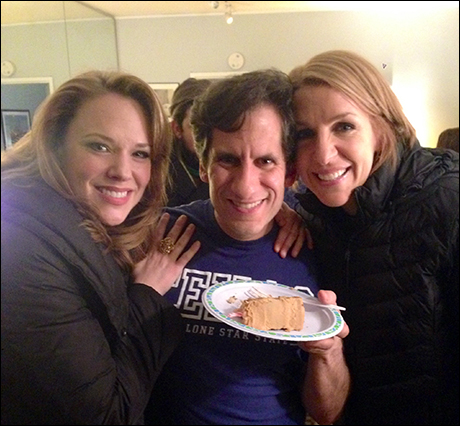 There are lots of interviews I've done over the past few weeks that I haven't fully written about. First of all, one of the fun parts of the Megan Hilty show at the Ft. Lauderdale Parker Playhouse was when her husband Brian Gallagher joined her in a duet of "Suddenly Seymour." However, when I called him up to sing, it took forever because he was seated all the way in Row T! When he finally got onstage he asked, "Who do you have to screw around here to get a good seat in this joint?" Then he looked at Megan and said, "Obviously, not you." Sass! I was chatting with Megan before the show and I mentioned a NY singer whom I think has a good voice. She told me that singer is not the coolest person. I was shocked and asked for an example and got a doozy. Turns out, Megan had sung with this singer in a benefit in L.A. Afterwards, she went over to her to be courteous and tell her "good job," but before she could say a word, the singer cut her with a condescending smile and told her, "Before you ask, I can't take any more voice students." Isn't that amazing! So obsessed with the presumptuousness! I love those kinds of stories. One of my faves involves an opera singer named Diane Lizer who's good friends with my manager, Mark Cortale. They both went to The Mannes School of Music and Diane had a rival opera singer in her graduating class. During Diane's recital, her rival had the chutzpah to come to her dressing room during intermission. She poked her head in and said, "Hi! I'll be quick. I just want to say... breathe!" and then promptly left. So perfect. The most succinct undermining ever! PS, speaking of Megan Hilty in Ft. Lauderdale, I'm going back there March 13 doing my Broadway@ series with Patti LuPone! Hopefully, she'll have a better show playing in the next venue. (See side photo)
When I had Jonathan Groff on "Seth's Broadway Chatterbox," which you can watch on SethTV.com, we talked about Spring Awakening. Turns out, he and Lea Michele would call each other "Mommy" and "Daddy" because they were like the leaders of the kids in the show. Well, that wasn't the only tradition they had. (The next part is for adults only!) Before the show, Lea would always joke about the sex scene she had with Jonathan and aggressively tell him, "I can't wait for you to **** me!" Well, one day Lea was coming to the show in a cab. She was talking to Jonathan on her cell phone and ended the conversation with her signature saying. Cut to, the cab driver almost had an accident because all he heard was an young girl saying into her phone "I can't wait for you to **** me, Daddy!" And... crash.
The other Broadway @ show I did was at the Broad in Santa Monica with Megan Mullally. Her husband Nick Offerman (who plays Ron Swanson on "Parks and Recreation") was supposed to join her in the interview segment but wound up getting an out-of-town gig. Instead, he filmed himself answering questions that I posed to him during the show. He is always so funny and one of the questions I asked was about his worst audition. He said that he went to try out for a play in New York City and while he was auditioning the producer put his head down... and fell asleep! He felt everyone treated him badly at that audition, including the director, whom he called "Dan something... or somebody Sullivan." Hi-lar. Nick joined us by video, but Eric McCormack showed up live and chatted with me and Megan.
Speaking of the nicknames "Mom and Dad" (a la Jonathan Groff/Lea), that's what Sean and Megan called Eric and Debra Messing! Megan said it was because she and Sean were always getting busted for "being over in the corner and pulling each other's pants down." Eric confirmed Sean's hilarious childishness by telling us about the time they all had to sit through one of the NBC sexual harassment meetings that corporations are required to do. Eric said that at the end of the seminar, Sean loudly thanked them for informing him about what's sexually appropriate behavior in the workplace and then exited in front of everyone... with his pants and underwear around his ankles.
This Thursday I have Tony Award winner Patina Miller at the "Chatterbox" at 5 PM! And then, of course, at 7 PM is Disaster!! Last week we had a plethora of Broadway people come... Danny Burstein and his amazing wife Rebecca Luker, Robin de Jesus from In the Heights, Norbert Leo Butz, whom I'm about to join on the Playbill Cruise to Tahiti and Laura Osnes who reunited with her Grease co-star, Max Crumm, onstage (he played Danny to her Sandy). Come by Disaster! this week and see me continue to celebrate my birthday. Peace out! (Seth Rudetsky is the afternoon Broadway host on SiriusXM. He has played piano for over 15 Broadway shows, was Grammy-nominated for his concert CD of Hair and Emmy-nominated for being a comedy writer on "The Rosie O'Donnell Show." He has written two novels, "Broadway Nights" and "My Awesome/Awful Popularity Plan," which are also available at Audible.com. He recently launched SethTV.com, where you can contact him and view all of his videos and his sassy new reality show.)