*
Hello from United 3533 from Chicago to New York. I was supposed to take a US Airways flight from Louisville to Philly and then to NYC but the first flight got delayed, which meant I'd miss my connecting flight. When I heard about the delay, I fled the boarding area and went past security, back to the ticket area. They offered me a non-stop that left many hours later or a connecting flight that went through Chicago. I decided to take the second one because it got me in earlier and the amazing part is I got upgraded to first class on my flight to Chicago! Then I saw that my ticket from Chicago to New York had me in seat 3F. Yay! First class on both flights! I then found out the plane is so small that only the first two rows are first class and Row 3 is actually coach. Hmph. That's like when my mom got tickets for me and my sisters to The Fantasticks when I was in 6th grade and I was prepared for horrible balcony seats like we always got. Well, I was pleasantly surprised when she told me she got us 3rd Row Center! Yay! Now imagine the look on my face when I arrived and found out the theatre only had three rows. It's not called "third row center" it's called "back row center." Speaking of The Fantasticks, my friend Richard Roland is doing the show right now Off-Broadway and has graduated from playing the boy many years ago (opposite Kristin Chenoweth) to playing El Gallo! I filmed a Playbill "Obsessed!" video with him where we recreate my horrific piano playing during his callback for Footloose. Watch!
James and I saw David Mamet's The Anarchist last week, and on the way out someone called my name. Turns out, it was Adam Guettel whom I haven't seen in years! He was there with his fiancé and I begged him to come back to Broadway with a show. He said he's working on a few new shows (!) and he's planning on doing a whole week at 54 Below! I've been an obsessed fan of his ever since I played auditions for Floyd Collins many years ago and then became the assistant music director for the reading of Myths and Hymns (but had to leave in the middle when I started writing for "The Rosie O'Donnell Show"). I told him I had just been watching the terrifying Light in the Piazza Tony Awards performance, and loving it/sweating. If you don't know, Vicki Clark had to do a newly written speech before the song that introduced her character and told what the show was about. She was nervous about remembering the lines but knew if she concentrated, she could do it. Then, 30 seconds before she went on, her body mic stopped working! They quickly handed her an enormous handheld mic and suddenly she was on! She was in front of tons of viewers, trying to remember her lines, holding the mic as well as holding all of her props (a bag and a pair of gloves). All the while, a camera was in front of her and a soundman was next to the camera talking to her! As she was doing her speech he was saying, "Your mic is almost on….keep using the handheld…now get ready to hand it to me…and it's working! Hand me the mic!" And she starts singing. I love to watch it for fun and to give myself an anxiety attack. You can, too! Patti LuPone and Debra Winger were great in The Anarchist, and afterwards James and I went backstage. Patti introduced us to David Mamet and, because it was his birthday, she led us in a rousing rendition of "Happy Birthday." She then told me that as soon as the show opened, we could start rehearsing for our next gig in New Orleans! That's right, I'm doing a Broadway series down there at New Orleans Center for the Creative Arts. It starts with Patti and then features Megan Mullally, Sutton Foster, Audra McDonald and Betty Buckley!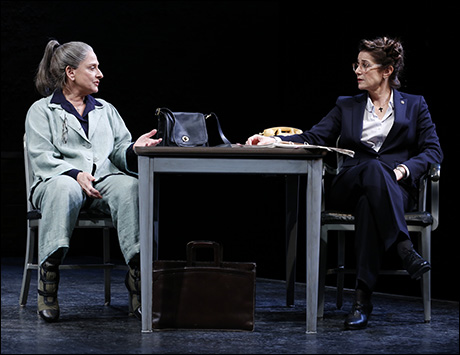 photo by Joan Marcus
Patti and I are also going to rehearse for a project I've asked her to do that remains a secret at this point because it's not definite. But if it happens, you will flip out! Details when I can reveal them. Here's what I can reveal however: the Patti LuPone P-Town concert is finally fully available on SethTV.com! This was filmed over July 4th when I did four shows with Patti in Provincetown. There was so much material to choose from, but I got it down to 100 minutes of my favorite songs and stories. She does songs from Les Miz, West Side Story, Company, Anything Goes and so many more and sings "Rainbow High" (in the original key) for the first time in 30 years! And during the interviews she tells amazing stories about Sunset, why she doesn't want to share a dressing room with me (!), a famous role she was offered and turned down and goes into details about the whole "Stop taking pictures!" incident at Gyspy. You can watch the preview here!
On "Seth Speaks" (my SiriusXM talk show) I interviewed Jackie Hoffman who's starring in her Jewish version of A Christmas Carol called A Chanukkah Charol. Yes, "Charol" has the Jewish phlegmy pronunciation. This is the second year she's done it at New World Stages and I noticed she brought cards to my radio show to promote the show. When I asked her to hand them out, she refused. Why? "Because," she glared, "last year I put them on the chairs, your audience sat on them and then left them." Hm…she takes the Jewish expression "Never Forget" to new levels. Speaking of Jewish, we were comparing neurotic Jewish upbringings and she told me that whenever the phone rings, her family picks up and immediately asks "Who died????" Get Charol tix here.
I also had Bill Berloni as a guest on "Seth Speaks." Bill started out as an apprentice at Goodspeed Opera House back in the '70s. During his second summer, Annie was scheduled to open and the theatre realized they needed a dog but couldn't afford a dog trainer. The head of Goodspeed called Bill into his office and asked him if he wanted his Equity card. Bill told me that he was so proud his acting talent was finally recognized…even though he couldn't quite figure out how anyone saw it since he spent all of his time lifting and building things. Turns out, the head of the theatre said he could get his Equity card not from acting, but if he could train a dog to play Sandy. Bill grew up on a farm with dogs, so he said yes. He went to a shelter and saw a very sweet but very abused dog. The people who ran the shelter told him that if he wanted that dog, he had to take him right away because the next morning he was being "put to sleep." Bill didn't know what that meant. He was then told it meant that the dogs time had run out at the shelter and they were going to end its life. Bill never realized that animals had limited time at shelters and were killed every day. He told them that he wanted the dog and they told him the cost was $7. He only had $3 and they told him to forget it. He went home despondent but couldn't ask for help from Martin Charnin (the director) or the head of Goodspeed because they were out of town. Finally, his roommate gave him $4 and told him to get there as early in the morning as possible. Bill got there right when it opened and, thankfully, got the dog. Of course, now the problem was the training. He had never done it before and the dog was not particularly outgoing because it had been abused. Bill decided that if he played with the dog around the theatre, the dog would consider the theatre its home and not be nervous on stage. The dog got more and more outgoing and then Bill was told to rehearse with the girl playing Annie (Kristin Vyngard). He didn't know how to rehearse them, so he just told her to play with the dog. Soon, the dog (Sandy!) became attached to her so when Bill would stand in the wings and let him go, he would run right to Kristin! That was the only scene in the show with Sandy, and it always worked. Then, on a Sunday night, Martin Charnin told him that Kristin was going to be replaced with Andrea McArdle! Bill had two days to get Sandy to become attached to Andrea…and he did!
photo by Joseph Marzullo/WENN
The show closed (with not very good reviews) and Bill went back to NYC (with Sandy) to pursue his acting career. A year later, he got a call from Mike Nichols (!) with the shocking news that Annie was coming to Broadway and asking if he could train the Sandys (and the understudy). Bill, who was still thinking of it as a sideline, said yes…but soon realized that it was his true career. The amazing part is, he always uses animals that are rescued.
Which brings me to my gym. A woman there showed me a picture of the little dog she just got that cost her a ton of money. I told her that dogs are killed every single day and need to be rescued. She told me that she would love to rescue a dog but "a dog from a shelter can't be trained." Really? Every single animal Bill has used for the last 30 years has been a rescue! He trained all the little "Bruisers" for Legally Blonde, the cats at the beginning of the Rum Tum Tugger Cats video that MTV used to show and a few years ago and a rat for The Woman in White. The British director told him that if he wasn't able to train it, "his career would be over." His career as a rat trainer? Who cares? Bill was able to do it, but not the way he trains dogs. Sandy always gets a little food reward onstage when he comes over. However, during The Woman in White, Michael Ball would have to use hand sanitizer to get rid of all food smells and then pull the rat out of his pocket. The rat would do it's little trick (run across his shoulders) and when it went backstage, it would then get food. Why? Because if it smelled any food on the hand of the actor, it would bite. This is why, I can never work with a rat. There isn't a minute of the day when my hands aren't in, just coming from, or going towards food. Bill was very complimentary of my radio show and said that he currently has more than 20 dogs at home, many of them who've done Broadway shows. When he leaves his house, he keeps his SiriusXM radio tuned to the Broadway station because he thinks they'll feel comfortable if they hear songs from shows they starred in! Here's where his career began.
And now begins an exciting week! Monday and Tuesday, Dec, 3-4, I'll be hosting Gypsy of the Year competition performances, and then on Wednesday night I leave on the Playbill Broadway On the High Seas cruise for Buenos Aires. Before you get jealous, just remember that I'm spending all ten days with my mother. In the same cabin. Peace out!
(Seth Rudetsky is the afternoon Broadway host on SiriusXM. He has played piano for over 15 Broadway shows, was Grammy-nominated for his concert CD of Hair and Emmy-nominated for being a comedy writer on "The Rosie O'Donnell Show." He has written two novels, "Broadway Nights" and "My Awesome/Awful Popularity Plan," which are also available at Audible.com. He recently launched SethTV.com, where you can contact him and view all of his videos and his sassy new reality show.)