*
Greetings from Provincetown. Rainy, chilly Provincetown. I'm about to go to a tech rehearsal for Charles Busch's show at the Art House, but I'm avoiding walking over to the theatre because I don't feel like starring in the final scene from 110 in the Shade. Oops, I should have prefaced that with "spoiler alert." Anyhoo, this whole week has felt like a vacation. Why? Because I finished my novel's sequel and I don't have a horrific weight bearing down on me. Delish! Let me come out of my leisurely pace and write about all the interviews I've been doing lately. Last Sunday, I dedicated a full hour to Audra McDonald on "Seth Speaks" (SiriusXM Stars 107) and we had a great time. And by "great time" I mean every five minutes we challenged each other on our memories of things that have happened to us. She claims she met me when she auditioned for the Bucks County Playhouse's 1989 production of Evita. I completely deny that since I never played those auditions! However, I will say that my ex-boyfriend Tod and I were obsessed with belting back then and he went to go see that production because one of our favorite belters, Noelle Player, got the title role. Audra has told me she was cast as the understudy. So I guess one of my ex-boyfriends seeing someone else play the role that she covered is the same thing as me playing her audition. The actual way we met was when I was the audition pianist for an industrial and she sang something from Dreamgirls (and got the gig). I asked her if she would sing at one of my volunteer hospital shows ("Hearts and Voices" brings entertainment to AIDS wards) and she said yes. We began working together a lot and I played her audition to get her first agent and her audition for Hello Again, which led to her getting Carousel and her first Tony Award.
I also remember her coming over to my apartment and me telling her that I had a call back for Master Class. I called the casting person and told him he had to see her. Of course, just like Leroy and his friend at the "Fame" audition, I didn't get cast and she won another Tony Award. Speaking of Tony Awards, back when she "only" had four I asked her fiancé (Will Swenson) where Audra kept her Tonys and told me that he could only account for three of them because she misplaced one. Doesn't that always happen to you? You have so many Tony Awards that you simply can't keep track of them all. Anybody? And…only Angela Lansbury nods.
On the next "Seth Speaks," Denis O'Hare who is starring as the Baker in Into the Woods. Turns out, when he was in college at Northwestern, he was studying opera! Who knew? He told me that he auditioned with a German art song and immediately forgot the lyrics. Thankfully, he covered up by making up nonsense German words. The song ended and one of the professors auditioning him stared and finally said, "You are aware that we all know the correct lyrics, right?" I guess his lyric cover-up was as good as this one.



photo by Paul Kolnik
Denis talked about his experience doing Sweet Charity on Broadway and shared one of his most horrific onstage experiences. He played Oscar opposite Christina Applegate's Charity, and at the end of Act One, they both get stuck in an elevator and he has a panic attack. Normally, he'd gesticulate a lot and get some great laughs. Well, one night he stopped getting laughs. Why?, he wondered. He started making bigger and bigger gestures. Nothing. Uncomfortable silence. Turns out, he had cut his hand at the beginning of the scene, and he was so into the scene that he didn't realize it. As soon as the audience saw the blood on his hand they stopped laughing. Then, when he started gesturing wildly, he didn't get the laughs he was trying for, but he did succeed in splattering blood all over the elevator, the front of his shirt and Christina Applegate. Hence the audience's silence and terror. Not since this. All right, now it's a beautiful Sunday in Provincetown and I'm sitting on the deck of the Anchor Inn Beach House, looking out at Commercial Street. Charles Busch did his first show last night and it was so great. When we were rehearsing he was talking to me about "not being a household name" and he remembered his aunt once telling him, "If I didn't know you, I wouldn't know you!" Charles began the show by remembering the time he visited Provincetown as a very, very young man with an older, sophisticated gentleman who taught him the ways of erotic love. Now that Charles is back in town, he decided to look up this former lover… until he did the math and realized the gentleman is now 102 years old. Charles said that he spent a brief moment considering contacting him, since everyone now says 102 is the new 90, but then decided not to disturb him. His show was so diverse and fun-nee. He did a dramatic reading combining the posthumously published autobiographies of Bette Davis and Joan Crawford Bette Davis recalled that Joan Crawford had three sizes of fake bosoms that she wore and "when we did that final scene on the beach, she wore her biggest one. I had to fall down on top of her and I nearly had the wind knocked out of me! It was landing on two footballs." He read from Arlene Dahl's memoir and quoted the part where she asks various movie stars what they like in a woman. The movie stars she looks to for advice? Tony Perkins, Rock Hudson and Noel Coward! Literally a slew of gay men. Charles also did a section as a character he created named Miriam Passman who was the predescor to the character Linda Lavin played in his big Broadway play The Tale of the Allergist's Wife. Miriam is a French teacher in Westchester who is finally making her cabaret debut at the Don't Tell Mama ("Mondays…at 4:30"). She goes off on a tangent about her mother who wouldn't allow Miriam to pursue singing because she had another dream for Miriam. "That dream involved Teachers College." Miriam tells the audience that she's finally accepted that her mother could not express love. "Actually, that's not true. My mother loved her white-haired Persian cat, Princes Caroline. Princess Caroline was the most pampered, over-fed, indulged mean-spirited cat…. And that cat lived to be 29 years old!"
Varla Jean Merman made a guest appearance in the show a la Ethel Merman appearing during Judy Garland's show. Varla suddenly appeared in the audience singing, "You don't need analyzing…" and claimed to be "down the hall filming the Red Skelton Show." Varla (aka Jeff Roberson) wound up telling a true story onstage about the first play he ever did which happened to be Charles' big Off-Broadway hit, Vampire Lesbians of Sodom. Jeff said that when they began the run, his co-star had recently been arrested for drugs (!) and all of his costumes included a beautiful flowered wrap around his lower legs...to cover up his court-mandated ankle bracelet!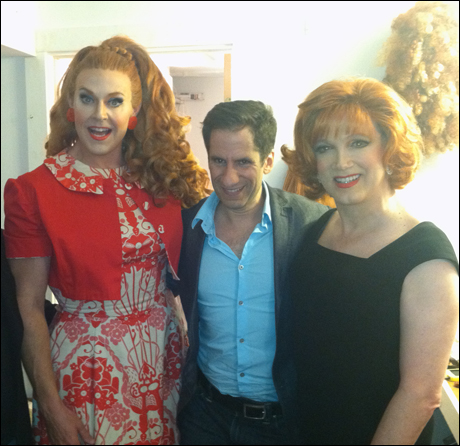 Speaking of drag, I also saw the brilliantly funny Margaret Cho do her show at the Art House and she told us that this year was the first time she did male drag. She played Kim Jong Il on "30 Rock" (and got an Emmy nomination). She was horrified to find out how much she naturally looks like him. She said she didn't put anything on her face to change into him, she simply took her make-up off and the likeness was perfect. Her show was so incredibly funny. I can't print most of it, but she did do a hilarious section about Madonna being a lot older yet still trying to show "I still got it." Margaret said she watched that big dance Madonna did at the Super Bowl Halftime Show and thought, "Madonna… you should be doing those moves underwater." Amazing reference to senior pool aerobics.
I filmed a really fun Playbill Obsessed with Stephanie J. Block where the first part is about her upcoming performance at the title role in Drood. She claimed she was nervous about having to belt a G every night in the song "The Writing On The Wall." I told her not to worry because it's an E and she had to nerve to argue with me! Who else knows more about "who-hit-what-note-during-what-song" than I? Watch the video to find out how who triumphed.
And finally, what would summer be without lemonade? Juli has started selling homemade lemonade and her stand is doing phenomenally! It's also a beacon for Broadway performers. Literally within minutes both Andrea McArdle and Evan Pappas happened to walk by bought some. Look at the photographic evidence below!
This week my sister and her family are visiting from Virginia (we're seeing Closer Than Ever and Bring It On) and I'll be rehearsing for Megan Mullally's two shows in Provincetown and Westhampton. And, P.S., my new episode of "Seth's Reality" with Matt Cavenaugh, Rory O'Malley and Andrea Burns just went up on SethTV.com. Watch! And then, peace out! (Seth Rudetsky is the afternoon Broadway host on SiriusXM. He has played piano for over 15 Broadway shows, was Grammy-nominated for his concert CD of Hair and Emmy-nominated for being a comedy writer on "The Rosie O'Donnell Show." He has written two novels, "Broadway Nights" and "My Awesome/Awful Popularity Plan," which are also available at Audible.com. He recently launched SethTV.com, where you can contact him and view all of his videos and his sassy new reality show.)