Happy post-Thanksgiving! Who's been too terrified to step on a scale? I'll answer that: Me. I weighed myself before Thursday and now, because of all the upcoming holiday binging, that scale will remain untouched until at least Jan. 10, 2014.
Speaking of weight, I was down in New Orleans doing my Broadway @ series for NOCCA. (The next one is Jan. 27 with Sutton Foster! Tix here.) I was chatting with Jeffrey Roberson AKA Varla Jean Merman. We were talking about reviews, and he told me he's obsessed with one he got from the New York Times, from when he was doing a show with the brilliant Lypsinka. It said, "The angular Lypsinka is nicely offset by the round and doughy Varla Jean Merman." Seriously! Jeff said he wanted to have flyers for the show printed that proclaimed "Round!" and "Doughy!" and credited to the New York Times.
Anyhoo, my co-writer Jack Plotnick and my college friend Tim Cross came over for the Thanksgiving meal (which my mother-in-law cooked... delish), and my mom came in from Long Island. Jack immediately went to Facebook afterwards to post what he thought was the "best line from the meal": James' mom was telling us that she had a terrible singing voice and remembered that when she in chorus as a girl, her teacher told her to "sit in the back and mouth it." I added, "And he wasn't referring to singing." Still got it!
After the meal, we all went to the Big Apple Circus, which was great. I loved the fact that they had a big band playing for the entire show — and the conductor was also a trumpet player! I've never seen someone trying to conduct while holding a trumpet in the other hand. Brava!
The week began with a cold snap that led to Juli having asthma issues on Sunday night. I had a big, fat cold, so James said he'd take Juli to the ER by himself so I could avoid the cold air, get some sleep and not get sicker. Turns out, they were there til 3 AM (!) and when they finally got back, James told me he had food poisoning from the Chinese food he ordered in. He had a crazy stomachache, so I got dressed and went out to the store to get him medicine... at 3:30 AM. So much for me getting sleep and avoiding the cold. Two nights later, his food poisoning was gone, but now he had my cold... and Juli was having asthma issues again. This time, I volunteered to go to the ER with her, but since Juli and I didn't leave until after Disaster! ended, we didn't get home until 5 AM! I haven't been up that late since I worked at Rose's Turn. My shift was Mondays from 9 PM-3 AM, and sometimes we'd get a late group of tourists and I'd stay later. Anyhoo, this was nothing like a piano bar (Juli is a terrible tipper), and thankfully her breathing got back to normal and everything was fine. I brought along a book to read while Juli was getting her treatment. I was halfway through "One Day" and finally finished it in the ER. I can't even tell you how much I loved it. I was so moved by it that I was weeping up a storm at the end. But I was also in the ER, so I didn't want anyone to see my crying, because they'd all assume I got some devastating medical news about a relative, and after they offered sympathy I'd have to say, "No! I just really loved this book." So, I was forced to cry while keeping my face completely turned away from everyone. It was awkward for me, the night nurses and my neck muscles.
On "Seth Speaks" I had Berry Gordy, who created the Motown record label and discovered some of the most amazing musicians ever. First I was shocked to see him up close. He looks phenomenal, and he's over 80! Berry said he's a vegan, and I now assume that takes 40 years off your age. He started on his career path when he was 8 years old and Joe Louis (the boxer) defeated Max Schmeling. He saw both of his parents crying with joy, and he became driven to create that same kind of joy. I asked him how he created his record label, and he said he it started at his Detroit car factory job. He would work extra fast so he had time on the assembly line to write down songs he was hearing in his head. However, he wouldn't write out music scores. Instead, he assigned a number to the notes on the piano (1-7 equaled do, re, mi, fa, so, la, te), and it was quicker for him to write melodies by writing down the numbers instead of music notes. If you've studied the Suzki method, you will identify. Then, he wound up getting the idea of how to create his record label from his factory job. Pieces of metal and various parts would travel down the assembly line and end up a brand-new car. He said that he thought it would be great if unknown people could come in one door and then come out another door as a star.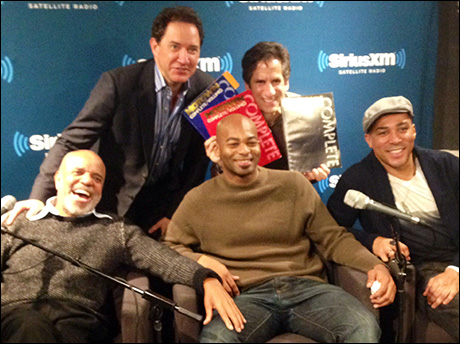 Photo by Kal Lee
He treated the Motown record label like an assembly line in the sense that each artist was taught different aspects of how to be a star until they emerged as one. His first big discovery happened when he was writing songs for Jackie Wilson. He happened to be in a recording studio when a group was auditioning for Jackie Wilson's manager. The group had guys and girl and the manager thought they were too much like The Platters so they were rejected. Berry ran after them and told them how good they were. He said they responded by saying, "So what?", because they thought he was another artist auditioning and couldn't do anything for them. Then he told them he was Berry Gordy and they realized he was the guy who wrote Jackie Wilson's "Reet Petite" and "Lonely Teardrops." The person Gordy connected with most in the group was
Smokey Robinson
. He asked to hear some of Smokey's songs, and the good news was Smokey had plenty of them and they had great poetic passages.The bad news was they often didn't make sense. Berry said verses would go from the first person to the third person without an explanation. Not since
Melissa Manchester
sang, "You should hear how she talks about you, you should hear what she says!" and then reveals "Can't you see? It's me!" Really? Then why the third person for three verses?! Berry started guiding him and telling him how to make his songs more concise and make sense. He told me he knew Smokey was a genius when he brought him "I'll Try Somethin New." Berry thought the lyrics were so fantastic and told him, "You have something I don't have." Then, with his typical confidence, he followed that statement with, "But I have lots of stuff you don't have..." Regardless, here's the song Berry loves, and it's the version combining two of his biggest stars:
Smokey and Diana Ross
.
Berry said he loved working on Motown for Broadway, especially because he said the actors playing the artists were a lot easier to deal with than the actual artists! I'm so obsessed with so many of the ones he discovered, but I'll give you a glimpse at one of my obsessions... young Michael Jackson's amazing riffs.
Since Disaster is Off-Broadway, our reviews are still coming out. Michael Musto just came and gave us a great one! He said the show is a "giddily fun spoof," called Jennifer Simard "extraordinarily funny" and claimed that moments in the show had "magical powers." I'll take it! We have shows Monday, Tuesday and Friday nights and Wednesday matinees. We also have a special holiday schedule if you're coming into NYC at the end of the month, so go to DisasterMusical.com for details.
PS, look at our recent celebrity photo on the side. Fred Schneider from the B-52's came. I love, love, love "Rock Lobster" and "Love Shack," so it was so cool to stand next to him onstage and shield myself from an unseen disaster. This Saturday I'll be in the Poconos doing a show with Audra McDonald (tix here) and Monday and Tuesday I'll be hosting Gypsy of the Year! Get info at BroadwayCares.org and peace out!
(Seth Rudetsky is the afternoon Broadway host on SiriusXM. He has played piano for over 15 Broadway shows, was Grammy-nominated for his concert CD of Hair and Emmy-nominated for being a comedy writer on "The Rosie O'Donnell Show." He has written two novels, "Broadway Nights" and "My Awesome/Awful Popularity Plan," which are also available at Audible.com. He recently launched SethTV.com, where you can contact him and view all of his videos and his sassy new reality show.)