Greetings from Poland! I'm at the tail end of the Playbill Cruise in the Baltic and it's been fabulous! I wrote last time that Norm Lewis arrived in Stockholm, sailed with us for one day and then hightailed it back to the USA because he had to film an episode of  "Scandal." He told me it was a day and night shoot so he shot the first scene at 8 AM and was finished by 8:15 AM. Then he had to wait 12 hours to shoot the second scene. That's a long intermission!
Anyhoo, he was supposed to fly from LA to NYC to Helsinki and then meet us in Estonia. Unfortunately, his plane from LA was an hour late and that meant his missed his connection. He wound up flying to Frankfort and then meeting us the following day at our next port, Lithuania. It wasn't that big of a deal because his big concert isn't until tonight, but he was scheduled to do a "Chatterbox" with me and there was no way to makes sure all the passengers knew it was cancelled. Patti LuPone's "Chatterbox" was scheduled for a few days later but when she heard Norm wasn't able to do his, she volunteered to do two! She said, "Seth and I are so funny together and we've plenty to talk about." So, even though their "types" are different, Patti LuPone was finally Norm Lewis' understudy. Brava non-traditional casting. Not since Carousel.
The cruise spent three days in St. Petersburg, and I was very torn about what to do. Putin has passed very anti-gay laws that really violate human rights, and I didn't want to go there and support the economy or go there and be blithely enjoying myself while so many people are suffering. First, I decided to boycott the entire three days and stay on the boat, but then James and I thought that it was a protest that would essentially make no impression. Then I decided I would take a photo of myself in Russia holding a sign that said, "I'm a gay, Jewish Russian" (my grandfather was born in Russia).
Well, the night before we docked, we were talking to Willie Aames (aka Tommy Bradford from "Eight Is Enough") who is the cruise director. He's also horrified by what's happening in Russia. When I told him my plan, he warned me that wherever I'd be, there would also be police and I would most likely be arrested. James would be in the USA by the time and the thought of trying to get out of Russian jail with the help of my mother-in-law and Juli seemed like a bad episode of "I Love Lucy," so Willie suggested I take pictures of myself throughout St. Petersburg in sassy dance poses. James and I loved the idea. We decided that the pictures would illustrate the message that a horrendous government can't kill spirit. Well, I took some pics in my signature
A Chorus Line
poses and got Juli into the act, too. Take a gander!
Patti LuPone did the first show on the boat and was, not surprisingly amazing! Every song was belted. And every song had crazy high notes. And she had a ton of songs. Throughout the show, Howard McGillin and Norm Lewis kept throwing each other terrified glances with the subtext of, "Do we also have to sing 8,000 songs and hit non-stop notes at the top of our ranges?" The show she did was called Coulda, Woulda, Shoulda and it features songs from roles she could have/would have or should have played. One of the highlights was her rendition of "Trouble" from The Music Man. Everything about it was thrilling...including the fact that she knew so many lyrics. Who knew she could rap? I told her we have to do it at our upcoming Provincetown show Labor Day weekend (for tix, get thee to PtownArtHouse.com). For an encore, she talked about the joy of doing Anything Goes and walked into the audience and found Howard McGillin. Then she sang all of "I Get A Kick out of You" while sitting next to him. It was amazing!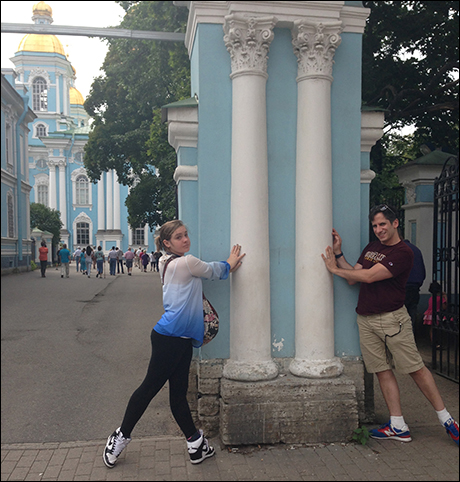 The favor was returned in Howard's show a few nights later; Patti joined him onstage and they sang their first act duet from
Anything Goes
: "You're The Top"! I saw that show twice back in the '80's and it was so moving and wonderful to see them sing it again. Howard revealed during his show that he was offered the role of Billy Crocker in
Anything Goes
at the same time he was offered a show by a famous composer. He turned down the famous composer with a letter that stated, "I've decided to take
Anything Goes
because of 'career considerations.'" Well, the so-called famous/cantankerous composer called him up the next day and said, "Howard! Make sure you don't use the phrase 'career considerations'again. You're going to turn into a cliché!" I assumed Howard was talking about Sondheim, but he kept it vague about the composer and the show, until Patti came onstage and started chatting with him. "Howard! You were offered
Into The Woods
!" Well, there went his non-specific patter. And the answer is yes, by the way. Turns out, he was offered Cinderella's Prince/The Wolf and he turned it down for
Anything Goes
. I'm happy he did, because
I got to enjoy this
! 
Howard was such a fun Chatterbox guest. He's done the role of the Phantom more than anyone else, and he told us that one night, he was greeted by a fan backstage: Donald Trump. That's right, "the Donald" told Howard he loved him in the show and he wanted him to perform at his luxurious Palm Beach estate in Florida. This estate has weekly gatherings of crazily wealthy people who have dinner and see a performance. Well, suddenly Howard and his partner Richard were on a private plane with Donald. Howard said Donald was very gracious and offered them snacks and drinks, walking around the plane. As the plane took off. Terrifying. Howard and Richard tightened their seatbelts and declined.
They were then picked up by a Rolls Royce limousine (seriously) and brought to the Trump estate. Donald told Howard, "Everyone in the audience is loaded. One guy lost $80 million to Madoff and he's still incredibly rich." Howard stood backstage, waiting to go on as Donald made his introduction. First he told the audience, "Next week we're going to have...world-famous singer, Andrea Bocelli!" Howard was mortified in the wings. He then told the audience that this week, they had the lead from Phantom Of The Opera. He added that, out of all the Phantoms, "this guy was rated number one." Before Howard could try to figure where and/or how he was rated number one, Donald went on to explain, "They rate these guys. Like golf courses." They do? "And he was rated...number one over Michael Crawford!" Interesting. Then, Donald proudly announced, "So here he is." Pause for effect. "Harold McKellam!" And then Howard/Harold entered. That's where the expression "Take the money and run" comes from.
Joe Thalken is also on this cruise (he played for Patti and Howard's show) and we were reminiscing about our early years. Joe is now also known as a composer (Harold and Maude and Was) but when I met him, he was a pit pianist. As a matter of fact, he got me my very first subbing job for My Favorite Year. I was his sub and got to play for him until the show closed. Unfortunately, it wasn't a very long run and that's why I nicknamed it My Favorite Week. I was also Joe's sub in Victor/Victoria and we were laughing about the time I took a lot of time off and then came back to sub. Julie Andrews was having vocal problems in the middle of the run, so Anne Runnolfsson took over for a while and the keys were changed for her. I played throughout that time and then became a full-time pianist for Grease.
Well, a few months later, Joe called me and asked if I could take off a night from
Grease
and come back to play one show. I said yes, even though I hadn't played it in months. For some reason, I thought I'd play it great without practicing the original Julie Andrews keys which I hadn't played in even more months. Cut to, I got to her big second act song, "Living in the Shadows," which begins with a huge piano solo. At the start of the song, she stands alone onstage as the piano plays a long, pensive passage. I started playing and soon hit so many clams I should have segued to "That Was a Real Nice Clambake." After the show, Joe checked in with Julie and asked how the show went for her. He mentioned "Living in the Shadows" and she immediately held her hand to her ear and said, "Oh! I thought
I
was living in the shadows!" To this day, I don't really know what she meant, but I know it wasn't good. It is a big bust on another person to call yourself the name of a song? If I had messed up in the pit of
The Sound of Music
would she have said, "I thought
I
was a lonely goatherd!"? Speaking of checking in with Julie, Joe said that after a few months of the show, he started to feel super comfortable with her so one night he said, "Hey, Jools! (Her nickname). How ya doin' and who ya doin'?" She looked at him and said, "Well! You're getting quite cheeky now, aren't you." Then she paused and finally said, "But, to answer your question; 'Fine' and 'Blake.'" Brava!
On that note, I have to go get ready for Norm Lewis' big show tonight. Before I go, let me remind you to watch my latest "Obsessed," with Donna Vivino, the first Young Cosette on Broadway who now belts up a storm in Wicked. I get back on Wednesday afternoon and immediately go to the SiriusXM Studios to record "Seth Speaks" followed by a special talk show called "Town Hall" with Rita Moreno! I'm sure I'll be fine even though it begins midnight Polish time (!). Then on Thursday at 7 PM, I'm going to see Unbroken Circle again right after my "Chatterbox." I can't wait to see Jennifer Simard, who just took over the role of Edna. Come join me! UnbrokenCircleThePlay.com. And we'll also see if Juli remembers her lines after 10 days away from the show.
Soon, by the way, I'm going to have big news about Disaster, the musical I co-wrote based on those amazing 1970's disaster movies. Until then, let me end with whatever the Polish is for "Peace Out!"
(Seth Rudetsky is the afternoon Broadway host on SiriusXM. He has played piano for over 15 Broadway shows, was Grammy-nominated for his concert CD of Hair and Emmy-nominated for being a comedy writer on "The Rosie O'Donnell Show." He has written two novels, "Broadway Nights" and "My Awesome/Awful Popularity Plan," which are also available at Audible.com. He recently launched SethTV.com, where you can contact him and view all of his videos and his sassy new reality show.)