We previewed, and we opened [title of show]! It began last Tuesday. First of all, let it be known that Lauren Kennedy looks amazing when she takes her top off in the show, and every time I comment on it, she remarks that she used to have such an amazing body. She keeps reminiscing back to a historic picture of herself in a bikini when she was super fit and super skinny. The cast finally demanded to see the picture. Yes, she looked amazing but literally no different. Finally, Tyler confronted her and asked how much skinnier she was back then — 15 pounds? [AUDIO-LEFT]25? No, she finally admitted: 5 pounds. That's right. She's gained 5 pounds since the days of her amazing body. A. I have no amazing body to look back on, B. I have no amazing body now. She has both, which brings me to my father's post-show comments. He saw the first preview with his wife, Gloria. After the show, I asked my dad what he thought of the show. His response: That girl with the great stomach. Unbelievable.
ME: I know, but--
DAD: See, some women have hard, muscle-y stomachs like a man, but hers is just right.
ME: OK, so…
DAD: So, the order of whom I liked in the show. Number one, the girl with the great stomach-
ME: And I'm out.
We've had a few mishaps during the show. And, most of them were my fault. First, during an early scene, I went offstage to get water and didn't make it back on stage in time to get my phone out when the lights came up. Suddenly, Tyler said, "Hello," and I had no phone in my hand, so I muttered, "Hold, please." Who was I talking to? Him? The audience? I don't know. Regardless, I finally got out the phone and continued. Then, during the final scene, Tyler says a line that I then echo. Well, he changed the wording a little bit so I echoed the way he said it, instead of how it was written. I was so proud of myself and I sat, complimenting myself on my quick thinking and how emotionally connected I was when I said it. Then, Tyler didn't come in with his line! I waited and waited. Finally, he muttered, "Tell me more about that Aspects of Love mural…," and I realized that I was the one who had forgotten my line! I was so busy complimenting myself on my amazing acting that I completely forgot I was supposed to speak one more line! That then led to late-night texting between me and Tyler that began with him namedropping the line he had to add to remind me of my own line.
TYLER: Tell me about your mural again…
ME: That was based on my own hubris for covering for you.
TYLER: To quote you: A—hole! How about second phone conversation? "Hey! I'm Seth and I wanna take a minute break to get comfy, so I'll break the fourth wall and say 'hold please'"!
SETH You a---hole! Don't say "hello" when my phone isn't even out yet!
TYLER: How in the **** could I know your phone wasn't out? I was being a good actor and was in my seat with plenty of time. Were you in the bathroom or something?
SETH: I was getting water offstage!
TYLER: I didn't need any water…why did you?
SETH: Again I say, a--hole!
Those weren't the only mess-ups this week. I also clanked the moment where I say, "We got an offer to do the show at the Vineyard!" Susan (Susie Mosher) says, "Martha's Vineyard?" then I say, "No! The Vineyard Theater." Instead, I completely ruined Susan's line by saying, "We got an offer to do the show at the Vineyard Theater!" Silence While I'm on the Susie topic, here are two more onstage mishaps from the week. Once in a while, she'll sing/say something wrong but do it with total conviction. It's fascinating. During the big, final number where the whole theme of the show is summed up, Susie is supposed to sing, "I'd rather be nine people's favorite thing, than 100 people's ninth favorite thing." Instead, she looked right in my eyes and sang, "I'd rather be nine people's favorite thing, than 100 people's least favorite thing." I'm sure the audience was like, "Why is that impressive? No one wants to be anyone's least favorite thing! What is this show about? What's happening?" I was so mortified I began singing along with her, but I was an octave down so suddenly, a horrible Bea Arthur type voice joined the song and cemented the audience's miffed-ness. At one other show, we were hysterical, because I mention that we were asked to perform at the Gay Community Center, and Susie is supposed to say, "Any chance I have to curse and jump around in front of drag queens and lesbians, I'm in!" Instead, she panicked and changed it to, "Any chance I have to curse and jump around in front of drag queens and prostitutes, I'm in!" What? Why is that the only other three-syllable word you can think of!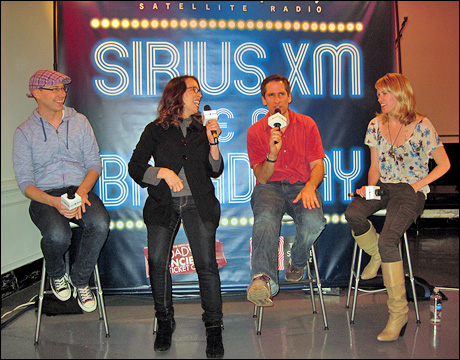 Speaking of Susie, I interviewed the whole cast at my Wednesday Sirius/XM Live on Broadway show, and she told us about a musician she went to college with. His name was Eric, and he played piano for her once in a while. A few years later, she ran into him at a mall and proceeded to tell him all about her career. After she finished blabbing, she finally asked what he was up to. He looked a little confused and then shyly said he was doing some TV work. Susie nodded condescendingly and wished him luck. That night, she was watching FOX and saw a coming attraction for "In Living Color." She saw that her little accompanist friend had changed his name from Eric to…Jamie Foxx!
My best friend Jack Plotnick starred in the film "Girls Will Be Girls" six years ago. It starred him as Evie Harris and Clinton Leupp as Miss Coco and Jeff Roberson as Varla Jean Merman. They've been asked by fans for years to do a sequel, and Richard (who wrote and directed) has finally written a new script. They asked their fans to put their money where their mouth is…and it worked! They've raised $20,000 with their website! http://www.kickstarter.com/projects/1398472013/girls-will-be-girls-2012-a-sequel-to-the-cult-film-0. As Susie says in [title of show], "I'm going to go on youtube and announce that I want a golden pony."
I interviewed the great Ann Harada, who's gearing up for her second annual Christmas Eve with Christmas Eve concert benefiting BC/EFA. I saw it last year, and it was truly hilarious. It's Ann as Christmas Eve singing duets with a slew of Broadway leading men. Here's the video I recently did with her. In it, she re-creates her worst audition where she sang the duet "I Know Him So Well" as a solo yet as a duet. It has to be seen to be believed and suffice it to say, she didn't get the part. http://www.playbill.com/multimedia/video/4434.html. Tonight, I'm doing double benefits! First I'm performing in the Broadway Dreams benefit with the whole cast of [title of show] and then I'm doing a benefit for the Trevor Project with Betty Buckley! http://www.playbill.com/news/article/145139-You-Are-Not-Alone-Starry-Benefit-Concert-for-the-Trevor-Project-Presented-Nov-22. Speaking of my delicious cast, here are some clips of us performing: http://www.playbill.com/playblog/2010/11/talk-and-rehearsal-with-title-of-show-george-street-playhouse-collaborators-video/.
OK, now to finally start unpacking my new apartment. Peace to the out!
* Seth Rudetsky has played piano in the pits of many Broadway shows including Ragtime, Grease and The Phantom of the Opera. He was the artistic producer/conductor for the first five Actors Fund concerts including Dreamgirls and Hair, which were both recorded. As a performer, he appeared on Broadway in The Ritz and on TV in "All My Children," "Law and Order C.I." and on MTV's "Made" and "Legally Blonde: The Search for the Next Elle Woods." He has written the books "The Q Guide to Broadway" and "Broadway Nights," which was recorded as an audio book on Audible.com. He is currently the afternoon Broadway host on Sirius/XM radio and tours the country doing his comedy show, "Deconstructing Broadway." He can be contacted at his website SethRudetsky.com, where he has posted many video deconstructions.)