Earlier this year, U.S. President Gerald Ford appointed Vice President Nelson Rockefeller to head a commission to look into alleged domestic abuses by the CIA, the Vietnam War ended as Communist forces took Saigon and South Vietnam surrendered and the Suez Canal re-opened for the first time since the Six-Day War in 1967. The calendar reads 1975.
On Broadway, the new season opened with John Kander and Fred Ebb's new musical Chicago, starring Gwen Verdon, Chita Rivera and Jerry Orbach. A revival of Death of a Salesman starring George C. Scott also hits the Broadway boards alongside previously running shows like Candide, Equus, Pippin, Raisin, The Wiz and "Broadway Longest Running Musical" Grease just before an Off-Broadway musical about show folk transfers to the Sam S. Shubert Theatre and opens July 25.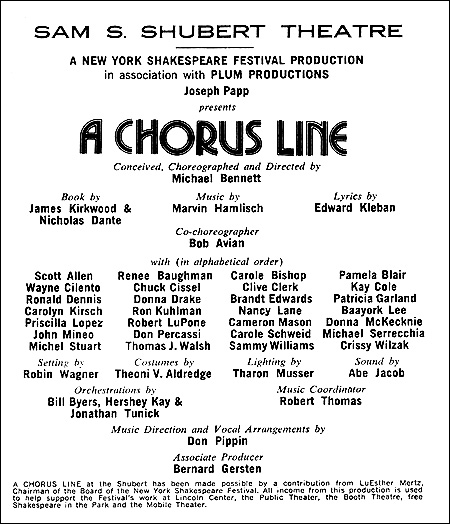 The title page in the A Chorus Line Playbill.
Michael Bennett conceives, choreographs and directs
A Chorus Line
which is "based upon the lives and experiences of Broadway dancers" as a note in the Playbill reads. Marvin Hamlisch composes, Edward Kleban provides lyrics and James Kirkwood and Nicholas Dante pen the book for the ensemble work which is set at an audition. Donna McKechnie, Robert LuPone, Wayne Cilento, Carole Bishop, Priscilla Lopez and Sammy Williams were among the cast of hopefuls.

Michael Bennett's bio in the "Who's Who."

Note about the show in the Playbill.
In the Playbill, among advertisements for cosmetics, Manufacturers Hanover, airlines ("United keeps you kosher to Chicago" or a "Delta Dream Vacation"), local eateries (Charley O's, Hawaii Kai and The Algonquin), cigarettes and plenty of alcohol is a strip banner for "Your Neighborhood Box Office" Ticketron.

An ad for Ticketron.
Editorial featured in the Playbill includes an "It's an Item" feature which reveals trivia about stage stars, producers and such that the signature "'Who's Who' doesn't tell you," a "Rubbing Elbows" column with celebrities' (Lore Noto's and Bobby Short's) restaurant choices and a focus on "The Prop Men" who supply Broadway shows with "those touchs of authenticity." Turning the Playbill coverpage will reveal a "Backwards Glances" quiz offering a periodic look back at Broadway and Playbill history.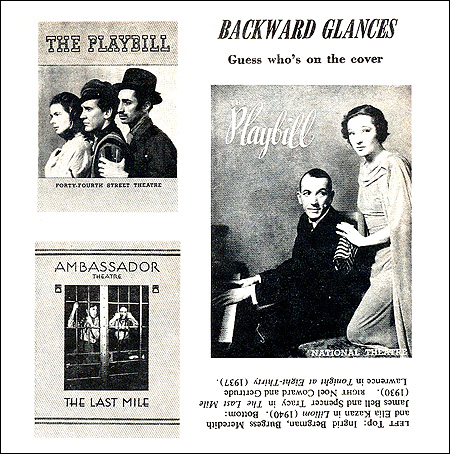 A portion of the "Backwards Glances" quiz.
Ironically, original star Donna McKechnie did not have to audition for her role as an actress on an audition. "Thank goodness," McKechnie told Playbill.com, "because I'm not very good auditioning. I knew that Michael [Bennett] wanted to do a show even though he said [during early development] 'I don't know what this is going to be, if it's going to be a play, a book, a movie, let's just talk.'" The show was a very personal experience for the actress, "It's a full circle with the show coming back and I am proud of the show, but also, the investment we all made. When you are able to do a role and invest your own thoughts and the facts of your own life, your creative expression, when someone lets you do that, you can't get more personal than that."
McKechnie — who, at the time, was "so beleagured by the workshops and the hard work, that I was just excited to be on Broadway and working in a hit show" — would win a 1976 Tony Award (for Best Actress in a Musical) along with bookwriters James Kirkwood and Nicholas Dante, songwriters Marvin Hamlisch and Edward Kleban, Sammy Williams (for Featured Actor, besting castmate Robert LuPone), Carole Bishop (for Featured Actress, beating out castmate Priscilla Lopez ), lighting designer Tharon Musser, choreographers Michael Bennett and Bob Avian and director Bennett. The musical itself took home the top prize of Best Musical and also garnered the 1976 Pulitzer Prize for Drama. In 1984, the show received a special Tony Award honoring its status as Broadway's longest-running musical. (It currently holds at fourth, behind the still-running The Phantom of the Opera and the original runs of Cats and Les Misérables.)