President Dwight D. Eisenhower runs the White House with Vice President Richard M. Nixon while a man named Fidel Castro assumes power in Cuba. Soviet Premier Nikita Khrushchev tours the United States, which just gained its 49th state Alaska and looks to add one more with Hawaii by the end of August. Ritchie Valens' "Donna," Frankie Avalon's "Venus" and Bobby Darin's "Mack the Knife" play on the radio as "Some Like It Hot," "North by Northwest," and "Ben-Hur" play in movie theatres. The year is 1959.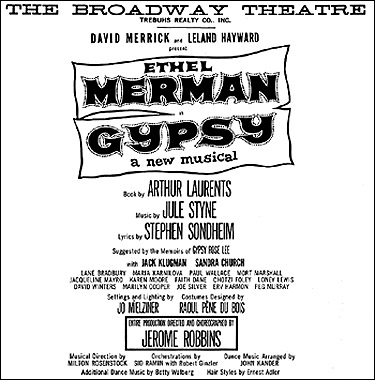 The title page in the Gypsy Playbill.
On The Great White Way, Gwen Verdon stars in
Redhead,
Richard Rodgers and Oscar Hammerstein II debut
Flower Drum Song
and Sidney Poitier stars in
A Raisin in the Sun.
Producer David Merrick offers Broadway Harold Rome and Leonard Gershe's musical
Destry Rides Again
followed by a new tuner from
Jule Styne
,
Stephen Sondheim
and
Arthur Laurents
. The "First Lady of the American musical theatre" — as her bio dubs her —
Ethel Merman
has her name above (and about the same size of) the title
Gypsy.
Opening May 21 at the Broadway Theatre, the musical suggested by the memoirs of Gypsy Rose Lee also stars Jack Klugman and Sandra Church.
Jerome Robbins
directs and choreographs the work which produces such memorable songs as "Everything's Coming Up Roses," "Let Me Entertain You" and "Rose's Turn."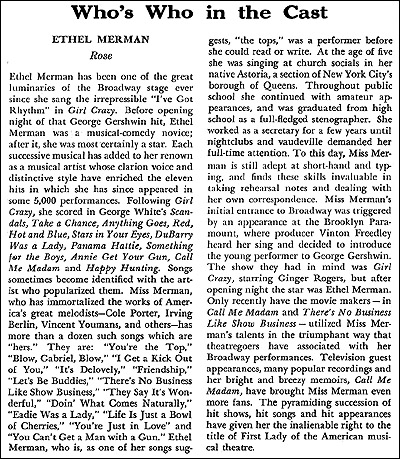 Ethel Merman's "Who's Who."
Inside the Playbill are advertisements for minks, sheen slacks, perfumes, cigarettes and plenty of alcohol. A full-page ad for the original cast recording of
Redhead
"on regular L.P. and Living Stereo" is also featured among Playbill's signature "Who's Who in the Cast" and Dining Guide.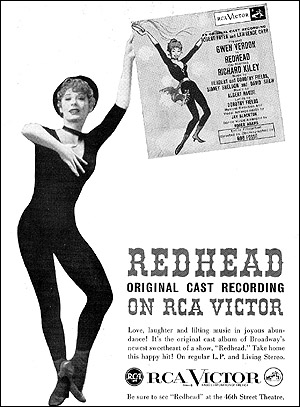 An ad for the cast album of Redhead.
Theatre historian and Playbill archivist Louis Botto remembered seeing Merman in
Gypsy.
"I went to the original opening night of
Gypsy
and I liked it so much that I went back. It opened, if I remember clearly, on a Thursday night and I went back that Saturday to the first matinee and I couldn't believe what happened," Botto recalls. "They always said Ethel Merman never misses a performance, well she did not perform at the first matinee. Then I found out why Merman didn't appear: I interviewed [the songwriting team of John] Kander and [Fred] Ebb once — John Kander was the rehearsal pianist for
Gypsy
— and he told me that the reason she didn't appear was that her son was graduating from college that day."
Gypsy opened late in the 1958-1959 season and was considered for Tony Awards in the following season. The production, while garnering eight nominations including nods for Merman, Klugman, Church, Robbins and for the musical itself, would be shut out as Mary Martin in The Sound of Music and Fiorello! took home Tony awards — sharing the top prize for Best Musical. However, Gypsy would recapture Broadway as subsequent Mama Roses — Angela Lansbury in 1975 and Tyne Daly in 1990 — would be awarded the Tony.