George Bush serves as Vice President to President Ronald Reagan. Michael Jackson releases his new album "Thriller" while Steven Spielberg unleashes his new movie "E.T." The cost of a stamp is 20¢. The year is 1982
On Broadway, Liz Callaway made her Broadway debut in Stephen Sondheim's Merrily We Roll Along, which lasted only 16 performances. Her castmate Lonny Price lands another gig in the Athol Fugard play Master Harold... and the boys. Sheryl Lee Ralph belts out songs in Dreamgirls as Elizabeth Ashley performs in Agnes of God while A Chorus Line and Evita still run on the boards.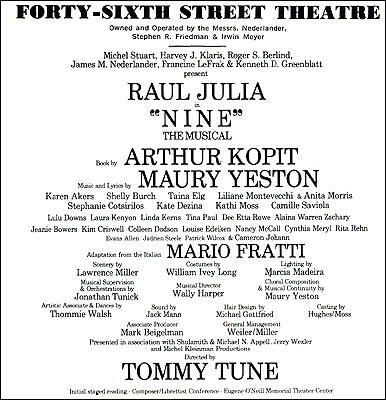 The title page in the Nine Playbill.
Latino actor
Raul Julia
gets top billing as the sole male character in a new musical by
Arthur Kopit
and
Maury Yeston
called
Nine,
opening May 9 at the 46th Street Theatre.
Tommy Tune
directs the musical that is based on the 1963 Federico Fellini film "8 1/2," about an Italian director who is haunted by the many women in his life just as his career is in jeopardy.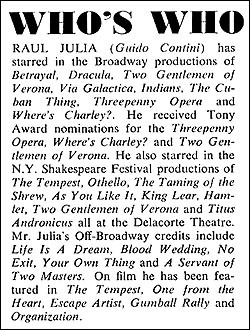 Part of Raul Julia's "Who's Who."
In the Playbill, among advertisements for cars (the "quietly luxurious" Datsun Maxima), cosmetics, perfumes, cigarettes and plenty of alcohol, are full-pagers for the Western Union singing telegram, the electronic outlet Crazy Eddie (since gone out of business) and the movie musical of "Annie" starring Albert Finney, Carol Burnett, Bernadette Peters, Ann Reinking and Tim Curry.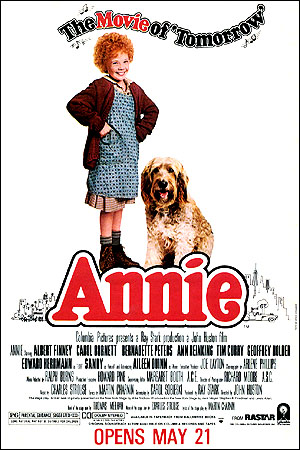 An ad for the movie musical "Annie."
Editorial featured in the Playbill include a Harry Haun interview with Tony Awards telecast theme-maker Hildy Parks, where she bemoans the 1974 event because "the show ran a little over three hours"; a feature on opening night gifts; "A Funny Little Guy" focusing on
Sugar Babies
star Maxie Furman; Louis Botto's signature "At This Theatre" and "Dear Playbill..." pieces; a special fashion supplement; and an article called "Hollywood: Theatre's New Producer" about a current trend of film studios investing in Broadway productions. As the season draws to a close, Playbill also offers a look back at "Tough Tony Choices," asking readers to test their knowledge of winners for several years' Tony Award battles.

Part of the Playbill feature "Tough Tony Choices."
Nine
would go on to play 729 performances before closing Feb. 4, 1984. The show garnered a dozen Tony nominations including acting nods for stars Raul Julia,
Karen Akers
, Anita Morris and
Liliane Montevecchi
— the latter three all in the Featured Actress category. Tune would take home a Tony for Best Direction as would Yeston for his score, William Ivey Long for his costume design and Montevecchi for her performance. The musical would also be logged in theatre history as the 1982 Tony Award winner for Best Musical.