President James Earl (Jimmy) Carter, Jr. leads the United States while turmoil erupts abroad with the fall of the Pol Pot regime in Cambodia and the Ayatollah Ruhollah Khomeini taking power in Iran. James Caan and Marsha Mason light the big screen in the Neil Simon movie "Chapter Two" while Frank Langella dons the dark cape of "Dracula." Rod Stewart's "Do Ya Think I'm Sexy" holds at #1 on the Billboard charts and the cost of a first-class U.S. postage stamp is 15¢. It's 1979.
New musicals The Best Little Whorehouse in Texas and Eubie! play while Raul Julia replaces Frank Langella in Dracula and Neil Simon's Chapter Two is joined by his musical collaboration with Marvin Hamlisch They're Playing Our Song on the Broadway boards. As theatregoers prepare for a coming Stephen Sondheim musical called Sweeney Todd, Ernest Thompson's drama about a late-in-life couple comes to town.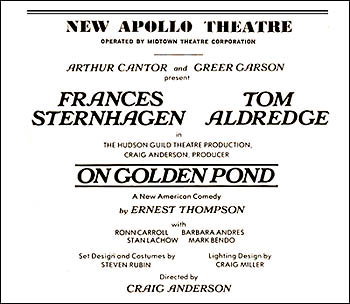 The title page in the On Golden Pond Playbill.
Tom Aldredge
and
Frances Sternhagen
play the near-octogenarian professor and his wife of 49 years who return to their summer home in Maine for a visit from their estranged daughter and her new family. Craig Anderson directs the production, first seen at the Hudson Guild, which opens at Broadway's restored New Apollo Theatre Feb. 28.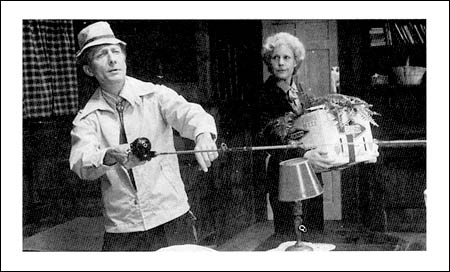 A production shot of stars Tom Aldredge and Frances Sternhagen.
In the Playbill, among advertisements for new cars (Datsun's new ZX with "remote hatch opener," the Oldsmobile Toronado with "new side window defrosters" or Chevrolet's Monte Carlo including "even pull straps on the doors"), fashion, airlines, Snaka coffee, restaurants, cigarettes and plenty of alcohol is a full-pager for the BBC and Time-Life Television venture "The Shakespeare Plays" which plans to broadcast all 37 of the Bard's classic plays on public television.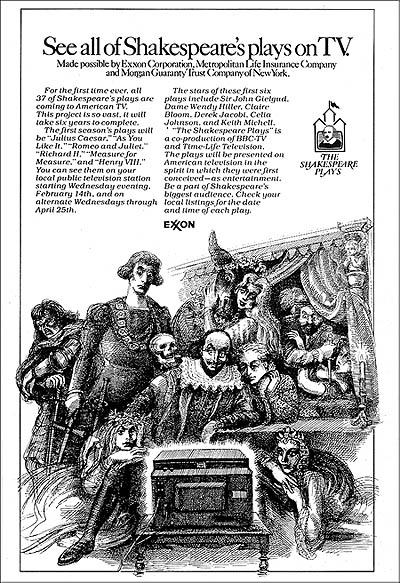 An ad for "The Shakespeare Plays" series.
Editorial featured in the Playbill include an interview with Lucie Arnaz about her Broadway debut in
They're Playing Our Song,
the signature Theatre Quiz and Dear Playbill, a feature on
Wings
star Constance Cummings, an Alan Jay Lerner excerpt from his "The Street Where I Live" book about the secret of
Camelot
's success and a "Shooting Stars" focus on prominent theatre photographer Martha Swope.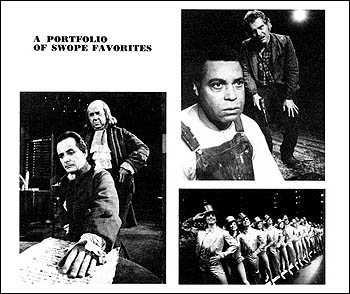 Part of the "Shooting Stars" feature (photos from 1776, A Chorus Line and Of Mice and Men starring James Earl Jones.)
According to the original Broadway stars, the roles of the 79-year-old man and wife who was a decade his junior, were to be played by actors of those ages. "They originally wanted Melvyn Douglas," Aldredge told Playbill.com about his treasure turn, "but he was in his eighties and he told them 'I just can't remember the lines.' So they started auditioning for it and I went down to the Hudson Guild and got the role." Sternhagen concurred, "At first I thought, you know, I'm not old enough to play this, but it was interesting that my daughter and my husband said 'Think of
your
mother and it will be fun to do' and as indeed it turned out, it really was a lot of fun." (To read more from the actors,
click here.
)
Sternhagen would go on to be the show's sole nominee at that year's Tony Awards and would be beat out by two actresses — Constance Cummings of Wings and Carole Shelley of The Elephant Man — who tied for the win. The work was, however, etched into the popular vernacular when playwright Thompson adapted his play for the 1981 film starring Katharine Hepburn and Henry Fonda. He and his two stars would later win Academy Awards.