As the United States enters the year of its bicentennial, President Gerald R. Ford sits behind the big desk in the Oval Office. The price of a first class postage stamp is 13¢. Barry Manilow's "I Write the Songs" tops the U.S. chart while a new ABBA single "Mamma Mia" climbs the charts in the U.K. This is 1976.
On Broadway, Bob Fosse directed John Kander and Fred Ebb's new musical Chicago, which opened the season last June, and suffered his first heart attack. A new musical called A Chorus Line about Broadway dancers follows in July. And Tovah Feldshuh stars in the Jewish drama Yentl when a new Stephen Sondheim-John Weidman musical docks at The Great White Way.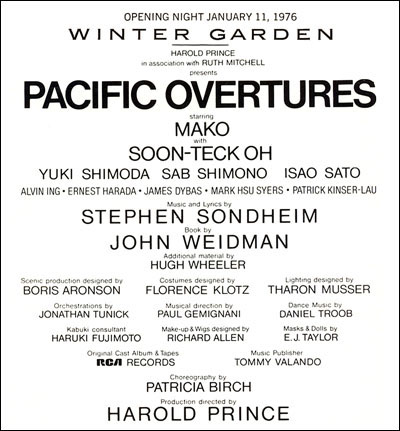 The title page in the Pacific Overtures Playbill.
Using an all-Asian cast, Harold Prince directs the Kabuki-inspired staging of
Pacific Overtures
which follows the opening of Japan from the 1853 expedition of Commodore Matthew Perry. Mako stars as the Reciter in a cast that features Sab Shimono, Isao Sato and Alvin Ing. Patricia Birch choreographs the musical which opens Jan. 11 at the Winter Garden Theatre.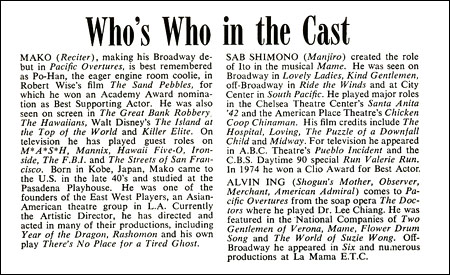 Mako, Sab Shimono and Alvin Ing's "Who's Who."
In the Playbill, among ads for airlines (Delta's "Champagne Coach to Florida," Eastern "The Wings of Man" or United's "Freedom Fare"), Manufacturers Hanover trust company, women's fashions, The Four Seasons After-Theatre dinner, cigarettes and plenty of alcohol are full-pagers for PBS series "The Adams Chronicles" and "Upstairs, Downstairs" as well as for the Original Broadway Cast Recording of
Pacific Overtures.
An ad for George Grizzard (center) in "The Adams Chronicles."
Editorial featured in the Playbill included "The Fascination of Hepburn" about the beloved Katharine's return to the stage in
A Matter of Gravity,
a Clive Barnes look at "Dance on Broadway," an "Offstage Whispers" collection of quotes (Rita Moreno on the matinee ladies: "Those blue-haired ladies have the dirtiest laughs in town."), the signature Who's Who and notes on the production focusing on The Kabuki Theatre and The Japan Expedition.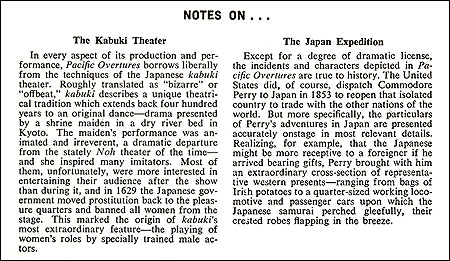 Portion of the "Notes On..." information.
According to theatre historian and Playbill archivist Louis Botto, "The magnificent thing about [
Pacific Overtures
] was Boris Aronson's sets. They were fantastic, especially the battleship [which] moved from the back to the front of the stage." The installation of a Japanese
hanamichi
runway recalled the theatre's original trademark bridge which allowed Al Jolson to sing out into the audience.
Pacific Overtures was nominated for ten Tony Awards that year for Best Musical, Prince's direction, Sondheim's score, Weidman's book, Birch's choreography, actor Mato, featured actor Isao Sato and designers Tharon Musser, Boris Aronson and Florence Klotz — only the latter two won.