The comedy of manners opened to critical and audience acclaim Feb. 14, 1895, at London's St. James Theatre. The production would close after only 86 performances due to Wilde's notoriety brought on by his infamous trials and legal battles with the Marquess of Queensberry.
Earnest debuted in New York April 22 of the same year at Broadway's Empire Theatre. Among the cast were William Faversham, Henry Miller and Viola Allen. The show has been revived on Broadway eight times since then.
BROADWAY 1895 AND 2011
photo by Joseph Marzullo/WENN
LONDON 1895 AND BROADWAY 2011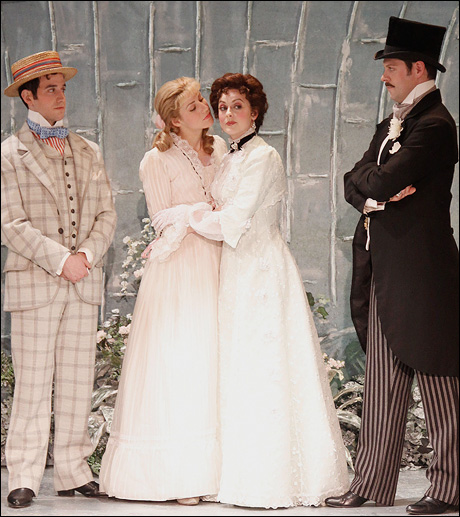 photo by Joseph Marzullo/WENN
The current production, directed by Brian Bedford (who also plays Lady Bracknell), opened at Roundabout's American Airlines Theatre Jan. 13. Originally scheduled for a limited run through March 6, the revival recently announced a 17-week extension through July 3. The cast also features Dana Ivey as Miss Prism, Paxton Whitehead as Rev. Canon Chasuble, Santino Fontana as Algernon Moncrieff, David Furr as John Worthing, Tim MacDonald as Merriman, Paul O'Brien as Lane, Charlotte Parry as Cecily Cardew and Sara Topham as Gwendolen Fairfax.
Tickets are available by calling Roundabout Ticket Services at (212)719-1300, online at www.roundabouttheatre.org or at the American Airlines Box Office (227 West 42nd Street). Ticket prices range from $72-122.