*
All three Tony-winning Billy Elliots — David Alvarez, Trent Kowalik and Kiril Kulish — turned up as one on Sept. 30 at the Samuel J. Friedman Theatre to witness the favorite diamond-in-the-rough trick of their creator, Lee Hall: finding the soul of an artist in the mineshafts of England.
Souls, in fact. The title of Hall's play and the William Feaver biography that inspired it is The Pitmen Painters, which chronicles a creative miracle that was brought on in 1934 by a well-meaning government arts program designed to bring a prism of culture to the grim and grimy lives of the men in the pits in Northeast England.
An art instructor named Robert Lyon was imported to teach a class of 30 or so (a representative five in the play) in Ashington, but, when a fast slideshow of Michelangelo and his cronies failed to make a dent on their sensibilities, he decided to shift gears and turn them loose on their own canvases, allowing them to learn art history by making a little do-it-yourself history of their own. The results were exhibited in Newcastle upon Tyne some 20 miles away, then London, then all over.
The play only goes to 1947, but their work lasted 45 years — until all the mines in the area were firmly and emphatically closed. The mine in Ashington is now a museum housing the creative output of the group, with a special room for its most promising student, Oliver Kilbourn, who outlived the others and into his 80s. Billy Elliot's grandfather could have been in the founding art class, to give you a perspective, and some of the more primitive handiwork resemble a Grandpa Moses. "I always think that I've had enough of mining stories," insists Hall, who got his Tony for the Billy Elliot book and appears to be going back for seconds, "but I have a passionate feeling inside me that there will be another story there. What's really remarkable about this play — because we've all worked together for 20 years at Live Theatre in Newcastle — is that it's something that's shared, which is a very different experience of work where you go away from the place you're from and make your own way in the way that Billy Elliot has to leave his community to succeed. But we've rather been like the pitmen and stuck together and made this piece of art."
While film rights to Billy Elliot and The Pitmen Painters are flapping tantalizingly in the wind, Hall has eliminated the middle medium and started writing directly for the screen. Steven Spielberg now has a script he wrote with Richard Curtis before the cameras in the U.K. with Jeremy Irvine, David Thewlis, Emily Watson and Peter Mullan; it's called "War Horse" and will cover the same ground that Michael Morpurgo's play will at the Vivian Beaumont in April. Hall also scripted "Toast" for BBC Films and Helena Bonham Carter, a true story of a famous chef in the U.K.
Like the whole cast of eight he imported from his Live Theatre company in Newcastle, director Max Roberts is making his Broadway debut. "I suppose it's true, but I still have to laugh about that," he admits modestly and incredulously.
The changes he made for Broadway were "in the pace and the timing and the accessibility of the language. We wanted to let the American audience in so we slowed things down a little bit early on and changed words we knew weren't going to resonate to an American audience. But it's the same story."
[flipbook]
David Whitaker, who plays the banty rooster of the group, Jimmy Floyd, came in for some special accent fine-tuning. "His character is very, very Northeastern-based, and Davie himself is from that particular part of the world. He's actually from a mining village, and his dad was connected to the mining industry, and he grew up in that whole culture, but Davie had a great talent to play the piano and perform and he went into another direction. But his accent's absolutely truthful.
"I've been working with some of these actors — Davie, for example — since I was 21. We're talking 25 or 30 years. I've worked with Lee for 20 years. He started off as a young writer in residence for the theatre company I run. I've directed five or six of his plays. I think that's exactly what our theatre company's about, developing long-term creative partnerships with all the artists who go into the theatrical process."
Whitaker has yet to wrap his head around the idea of Broadway Actor. "I still see myself as a Live Theatre actor, but you know how it is: You go where you're asked to go." He says he has worked up some affection for the character he plays. "I've lived with the bugger for three years — plus he makes me wear this horrible thing." (He points to a sad moustache.) "This is for the show only. On the very last night, off it comes."
Hair tricks seem to be a specialty of the Live Theatre. Deka Walmsley, who plays the silver-haired top-honcho of the group ("George thinks he's in charge, and that's where the comedy lies"), turns out to be, up close, only 45.
"I think I have one of those faces," Walmsley offers. "I think that three-piece suits and slicked-back hair do that for me. If you look at photographs of those men in the '30s and '40s, they all looked ten years older than they were. There's something about that rigid presence that ages people, but I get the benefit of everybody saying to me afterward, 'You look much younger in real life,' so that's a little bonus."
At the Hard Rock Café party that followed the opening, he had not lost his debut glow. "It felt fantastic," he trilled. "I have never seen that moment — which is very common, apparently, and happens all the time — when, as soon as the lights go down, those back doors open and photographers come screaming down the aisle. That was really, really thrilling — and not only in a kind of glamorous way but I'm just so pleased at the attention the play is getting because it really deserves it."
But the neatest bit of hirsute trickery is brought off by Brian Lonsdale, who manages to slip in another character into the second act while playing the youngest of the five main painters. "I get that quite a lot," he admits. "People ask, 'Well, how do you do it?' Well, it's me job — that's how I do it. All I did was slick back my hair and put on a posh voice, and there you go. That's it. My original voice is a Geordie accent, a regional accent from Newcastle in the Northeast of England. I learn me lines. I put on a posh voice, and I get on stage." (It takes two understudies — Jack Koenig and Trevor Fox — to take his place.
Michael Hodgson, who plays the Marxist and non-miner of the group (one Harry Wilson), appears less lofty off-stage — an illusion that he quickly attributes to his costume designer, Gary McCann. "I think the suit helps if you move in a certain way because it's an ill-fitting suit. It's quite a threadbare suit. He probably only owns one suit. The suit was such an important part of forming the character."
But he still put in his research on Wilson. "There's quite a bit about him. I know he fought in the Somme in World War I and got his lungs burned by mustard gas. He didn't actually pass the health test to go down in the mines, which is what he always wanted to do and got ripped by the rest of the group for not doing a proper job of being a miner. He became a dental technician instead. I think the art channels his anger, his frustration at the world. Through that, I think he becomes more tempered, more considerate. Before, he's burning with the injustice of the world."
As for the actor, he was still burning with post-Broadway exuberance. "After watching films and television shows set in New York, for me to come to New York and live here a bit and do a Broadway show is just out of this world. Most actors in England don't get a chance to do that. If you do it once, possibly twice, in your career, I think you're probably very blessed. So I feel very, very blessed, indeed."
Seconding that was Christopher Connel, the play's Oliver Kilbourn. He was musing over the show's humble beginnings: "We were rehearsing in the Quaker Meeting House, and, on the very first day, we had to chase pigeons out of the place, and Deka Walmsley got stung by a wasp. At no point on that day did I imagine I'd be making my Broadway debut with this show, but three years later here we are.
"If the worst comes to the worst and I never do anything again in my life, I can always say that I have been on Broadway. There are a lot of very famous, very good actors who can't say that they have been on Broadway, but I can say it. That is the one thing that nobody can take away from me, no matter what happens."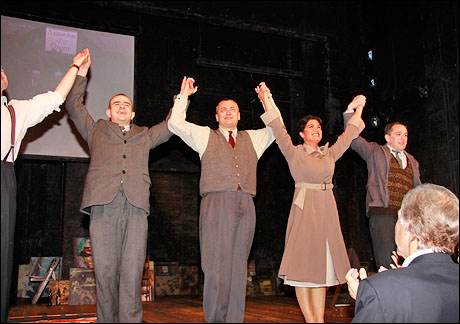 photo by Joseph Marzullo/WENN
The cultivated head of the class, Lyon, is played by Ian Kelly, who appreciates the distance he keeps from his students. "I like the separateness of my character from the others. It has to be. He's from another world. He's from the world of art. He's from the world of London. And he's from the world of education. And, yet, those are all things that he chooses to give rather than be exclusive with.
Essentially, the actor comes from the same place as his character. "Our cast is a wonderful gang, and we get on well. But they're quite funny about my other world and life, as a Southern and a Londoner and a writer. Everybody's from Newcastle apart from me. I'm the ringer."
So how did he ever get in? "Lee and I went to Cambridge together. We did student theatre together, wanted to be in the theatre and writers and such, so what an amazing thing is this, 20 years later, to find ourselves both on Broadway!"
In a play about making art, Kelly is the only one who has to actually sketch on stage (with the result in full view of the audience). "I also painted the stuff you see early on in my art studio, three scenes into the play, based on Robert Lyon's original work. Lee knew I was a drawer. He wrote the part for me."
Two women manage to infiltrate this man's world — Lisa McGrillis as a fictionalized figure model who contributes a flash of flesh to the proceedings (much to the shock and chagrin of the men) and Phillippa Wilson as Helen Sutherland, a factual if eventually fickle patroness of the art of The Ashington Group. "In real life, she didn't offer Oliver a stipend," the actress asterisks, "but she was a very, very good friend of the miners and was a benefactor to them. That was just a dramatic license of Lee's to introduce the potential of somebody to come out of that daily grind of working 12 hours down in the shaft and become an artist. Then his argument is 'If I'm not a miner, what would I paint?' He was the best of the lot."
Wilson couldn't help but flashback to her very first Broadway memory — seeing Glenn Close do Sunset Boulevard. "Honestly," she says, "I never dreamed when I sat there and watched that show that day that I would be here, opening a show on Broadway and be part of this wonderful show. It's the highlight of my career. I think it will remain the highlight of my career."
Newcastle's favorite daughter — Janet McTeer, the Tony winner (A Doll's House) and Tony contender (Mary Stuart) — arrived on the arm of her regular beau, Joe Coleman — to cheer the home team on to Broadway glory.
"I'm about to go into a couple of films in Europe," McTeer declared. "One is 'Albert Nobbs' with Glenn Close, and the other is 'The Woman in Black' with Daniel Radcliffe and Ciaran Hinds. There's a two-man play version of that which is still running in England, but this will be based on the original novel."
Less chauvinistic but no less enthusiastic first-nighters included Marian Seldes, pretty in pink; Jamie deRoy; producer John Hart; director-screenwriter Richard LaGravenese, who adapted the bestselling "Water for Elephants" for Robert Pattinson and Oscar winners Reese Witherspoon and Christoph Waltz; publicist Shirley Herz, revisiting her namesake lobby at the Friedman; F. Murray Abraham, readying his Shylock for Pace University in the spring; lyricist-director Richard Maltby, Jr., who has reworked The Story of My Life for another life in Chicago Nov. 9 with Jack Noseworthy and Davis Duffield; Beau Willimon and Henry Wishcamper, the writer and director of MTC's coming City Center offering, Spirit Control.
Madly trying to cluster around Lynne Meadow, Manhattan Theatre Club's artistic director, Margaret Colin accidentally stepped on Frances Sternhagen's tootsies and apologized profusely. There is honor about series regulars: Colin is on "Gossip Girl," and Sternhagen is headed to L.A. till late October to do more "Closer" episodes. Plays are going to have to wait for both.
Daphne Rubin-Vega is pumping up for a stage return in December via Tommy Nohilly's play for The New Group, Blood From a Stone with Ethan Hawke, Natasha Lyonne and Becky Ann Baker.
The Bakers were working both coasts of red carpets. Dylan Baker was walking it in L.A. with daughter Willa for the premiere of his "Secretariat" flick, while Becky Ann took her actress pal, Barbara McCulloh to The Pitmen Painters. Another thing that kept her in town was the big Oct. 1 reading-presentation of Susquehanna, a new musical by singer-songwriter Sophie B. Hawkins and book writer Thomas Meehan. Others participating include Kristin Chenoweth, Douglas Sills, Rachel York and Walter Charles.
Lee Hall tells the true story of the Ashington Group miners:
Lee Hall's Pitmen Painters, With Original U.K. Cast, Opens on Broadway