*
Stage plays about life on the stage are nearly as old as the theatre, from sections of Shakespeare's Hamlet and A Midsummer Night's Dream to, more recently, works like Lend Me a Tenor and Curtains. Similarly, Hollywood started making movies about making movies in the Silent Era, beginning with flicks like "Show People" and "The Cameraman" and continuing with "Sunset Boulevard," "The Player" and "Synecdoche, New York," among many others.
A hybrid genre of these two art forms — and hardly less robust — is the theatre film. From film's earliest days, directors and screenwriters drew on the intrinsically dramatic world of the theatre for story plots. Autocratic producers, egomaniacal directors, idealistic playwrights, vain actors, dreamy-eyed ingenues — all these and many more quickly became familiar stock figures in Hollywood's many backstage dramas of the 1920s and 1930s. As the theatre's central role in American culture declined, the number of theatre films dwindled, but filmdom's fascination with the stage has never completely vanished, with a "Topsy Turvy" or a "Bullets Over Broadway" appearing every few years.
In celebration of the silver screen's rich tradition of capturing on celluloid the life before and beyond the footlights, Playbill.com has selected what it considers to be the five greatest theatre films of all time. Each is not only a peerless depiction of The Life Theatrical, but an excellent example of the filmmaking art. (We did not pick movies that were simply film versions of established plays and musicals, as they were not strictly films made about the theatre, but simply films of plays about the theatre. Thus, no "Stage Door" or "Kiss Me, Kate." Also — no documentaries.) In support of our choices, we've solicited commentary from a handful of seasoned professionals and critics from both theatre and film. Here are our choices.
© 1933 - Warner Bros.
42nd STREET: The ultimate backstage drama, and mother of a hundred similar valentines to the hectic creativity and crazy behavior that leads up to an opening night. Made in 1932, and based on a novel by Bradford Ropes, "42nd Street," from Warner Bros., established a host of theatre cliches that endure to this day. Among them: The driven, abusive, but possibly genius director pulling his hair out; the hard-bitten, cigar-chomping producer sourly worrying in the rear orchestra seats; the fretful, aging leading lady jealously guarding her status; the sarcastic, knowing, gum-snapping chorine of questionable morals (played by Ginger Rogers); and — the most deathless cliche of all — the naive "youngster" (doe-eyed Ruby Keeler) who comes out of nowhere and goes on to save the show and become an overnight star. (Followers of the television series "Smash" will have noticed several "42nd Street" motifs running through the plot.) Broadway paid the ultimate homage to this ode to the boards by transforming it into a megahit stage musical — with songs from other Warner Bros. musicals added into the score — in 1980.
"There's nothing like a vintage Warner Bros. production, and this is one of them," said Robert Cashill, an associate editor of Cineaste magazine, a Drama Desk nominator, and a longtime chronicler of both theatre and film. "Rawboned, sharp and funny, and gleefully minting cliches that would never be served up as succulently…. The film fuses theatre and movie love into a giddy, breathless hybrid." "If you forget the airbrushed and candy-coated stage adaptation and watch the flick with fresh eyes," said David Cote, Time Out New York's longtime drama critic, "you may be surprised by its shrewd mix of sweet and sour. Busby Berkeley's vertiginous girlie-prisms are balanced by a sense of genuine desperation to get the show up and make some money. Don't forget: This is a Depression-era tale of making a quick buck. And I love how in every scene, it looks like Warner Baxter's Julian Marsh looks like he's about to stroke out in the rehearsal room." Broadway playwright-librettist Douglas Carter Beane added, "All the lines they say about the chorus girls, today we say about the chorus boys."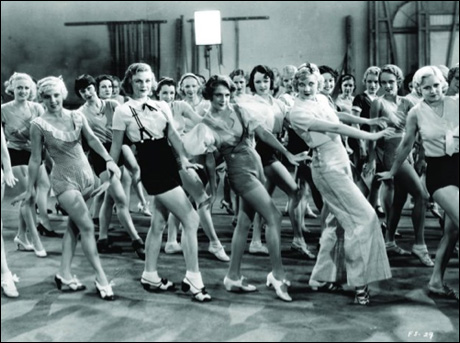 © 1933 - Warner Bros.
© 1950 Twentieth Century Fox
ALL ABOUT EVE: If "42nd Street" is the most influential of all theatre films, 1950's "All About Eve" is probably the most beloved. An acid love letter to the heady, roiling Broadway mileau in the mid-20th century, filmmaker Joseph L. Mankiewicz's literate screenplay glitters with wit and observation. No one in this story — with the possible exception of the calculating, back-stabbing, would-be starlet after which the film is named — is at a loss for a bon mot or appropriate exit line. The most colorfully outspoken are Margot Channing, the stage diva played by Bette Davis, and Addison DeWitt, the dapper, acidulous, all-powerful critic who charts Margo's decline and Eve's rise. Any theatre professional or theatre lover worth their salt can quote at least a dozen lines from the script by heart. (Tony Award-winning Hairspray lyricist Scott Wittman said he "can recite it backwards and forwards. Not a line in it that doesn't come in handy at sometime every day.") As with "42nd Street," Broadway showed its appreciation of this mirror image of itself by turning the film into a musical, Applause.
"'All About Eve' is the ultimate theatre story because is resonates far beyond the theatre," said Tony-winning Broadway producer Robyn Goodman, who loves the movie so much she named her business, Aged in Wood, after the play Margo Channing headlines in the film. "Every business has an Eve Harrington story and every critic has a bit of Addison DeWitt in them." Tony-winning director Michael Mayer concurred that "All About Eve" is "the best depiction of the world of the theatre — the players and the people who love them — God help 'em. The writing is ridiculously good (and quotable) and the story is completely absorbing no matter how many dozens of times you've seen it." Cote called it "A movie dear to every critic's heart, if only for making us look like epigram-spouting tastemakers with gorgeous starlets draped on either arm." The film won six Academy Awards, including Best Picture, Best Screenplay and Director (both to Mankiewicz), and black and white Costume Design (Edith Head). Sanders won the Oscar for Best Supporting Actor.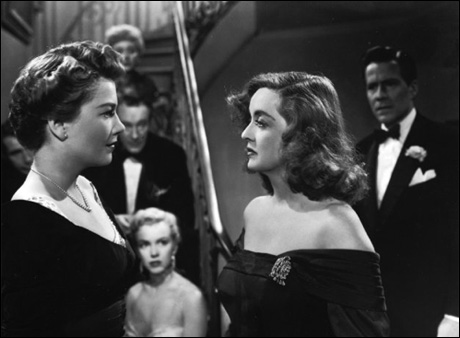 © 1950 Twentieth Century Fox
THE BAND WAGON: As often as not, the film world salutes the stage through song. There are dozens of movie musicals that tell the story of a stage musical. The Band Wagon, released in 1953, is one of the best. Though named after a famous Broadway stage revue of 1931, the plot has little to do with the original Broadway production, and the score retains only a couple songs from the show (the catalog of songwriters Howard Dietz and Arthur Schwartz was plundered for it, and they wrote a new number for the picture — "That's Entertainment!"). Like about half of the theatre films ever made, it's about a show in trouble. The director (played by Jack Buchanan) is a visionary kook. The leading players — Fred Astaire playing a has-been film idol looking for a career jolt and Cyd Charisse as a ballet stage who is contemptuous of stage folk — don't like each other. The playwright-songwriters (Nanette Fabray and Oscar Levant) are based on Broadway's Betty Comden and Adolph Green (who wrote the screenplay). The show-within-the-movie ends up being rewritten top to bottom out of town.
"Writing 'That's Entertainment!' into the Great American Songbook would be enough to ensure this musical about musicals into the pantheon," said Cashill. "But there's so much else going on. With Nanette Fabray and Oscar Levant 'doing' the writers, the incomparable Comden and Green, we get a musical comedy view of how a show changes on the road, with all the ups and downs along the way. It's as well-observed, and amusing, as the silent-into-sound-era shenanigans of their 'Singin' in the Rain' [screenplay]." Tony-winning composer-lyricist Marc Shaiman called it his "favorite M-G-M musical." Wittman said of it, "After watching Nanette Fabray and Oscar Levant...I said, 'That's what I want to do. Be a married composing team!,'" while Beane quipped, "A washed-up film star tries his hand at Broadway to get his career restarted? Completely unrealistic." (Beane happened to pen the libretto of a stage version of the movie, retitled Dancing in the Dark. It stalled following a 2008 world premiere at The Old Globe in San Diego.)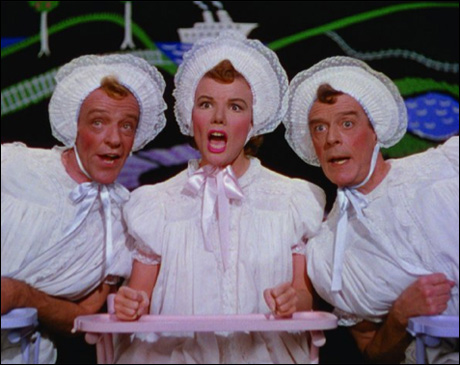 © 1953 - Warner Bros.
CHILDREN OF PARADISE: Not every film about the theatre was made in Hollywood. Marcel Carné's film (with a screenplay by Jacques Prévert) was released in 1945. It was made when Paris was occupied by Nazi Germany, and nostalgically looks back at the Parisian theatre scene of the 1820s and 1830s, dwelling particularly on a famed actress, Garance (played by the mono-named Arletty), and her many lovers. Three hours long, and rich with characters, it was described as the French "Gone With the Wind" at the time of its release. As with "42nd Street" and "All About Eve," there was an attempt to bring the story to the stage, by Simon Callow at the RSC in 1996, but the production was a flop.
"I saw this movie in college and remember being quite moved by its mix of innocence and cynicism," said Cote. "It's also nice to see a movie included [in this list] that isn't about glamorizing the American musical." Opined Cashill, "Centered around theatre, the movie, set in a bawdy, freewheeling 19th-century Paris, is full of characters who pretend, and seeing vanities and passions and the stuff of existence back on the screen once the war years ended was a tonic for weary French viewers. Today we enjoy the indelible performances and the heady atmosphere, and marvel at a movie that gets us to contemplate mime, an art our culture threw under the bus long ago." Jean-Louis Barrault plays the mime, one of four men in love with Arletty's character. An upgraded DVD edition and Blu-ray edition of "Children of Paradise" will be released by Criterion on Sept. 18.
© 1979 20th Century Fox.
ALL THAT JAZZ: "It's showtime, folks!" The most recent film on this list, it was released in 1979. It was director-choreographer Bob Fosse's second-to-last film (though, considering what "Star 80" became, many wish it had been his final cinematic gesture), and it is largely autobiographical, with Roy Scheider standing in as an overworked, over-extended, medicated and dying director-chroegrapher who is pulled in several directions by a movie stuck in the editing room (a thinly veiled "Lenny"), a new musical running off the rails (Chicago), and the needs of the many women in his life (including Jessica Lange, as the Angel of Death). The razzle-dazzle found in Fosse's stage musicals is all here, with the stand-out musical numbers almost too many to count. And while the story is told with almost zero sentimentality, there is nonetheless a lot of theatre-love on display.
"Fosse was a genius," said Goodman, "and his ferocious self-destruction is riveting. The use of the camera to express dance is also astonishing." Mayer said that the movie "is the best rendering of the creative process as it relates to the (relatively) contemporary theatre. It's the movie that mercilessly explores where true creativity meets self-destruction; psychology meets imagination; and the terrifying place where art meets commerce…. Brilliant filmmaking. And then there are the theatrical elements which betray the reach of his ambitions. But, man, is he reaching! And that's ultimately the most moving thing about the film." A few commenters agreed with Beane — "Fosse does Fellini" — that the film showed the clear influence of Federico Fellini's "8 1/2," while Cashill pointed out the movie's influence on other flicks, like the recent "Synecdoche, New York." "A portrait of the artist hooked on an art that is killing him day by day," summarized Cashill. But, then, that could arguably be said of every film on this list. The theatre, she is a cruel mistress. The film was nominated for a Best Picture Oscar. (The DVD of "All That Jazz" is among films available at PlaybillStore.com.)
RUNNERS-UP: Everyone interviewed for this article (and certainly everyone reading it) has a favorite movie or two they wish had made the cut. Cashill mentioned the cult classic "Theatre of Blood," from 1973, in which "Vincent Price's egocentric Shakespearean actor, thought dead after losing London's top theatrical prize, returns to avenge himself on the critics in the manner of the Bard." Cote wished that "Topsy Turvy," Mike Leigh's bio-pic of Gilbert and Sullivan, and Christopher Guest's satire of small-town theatricals, "Waiting for Guffman," had been included. I, myself, was torn over omitting Woody Allen's "Bullets Over Broadway" (which is being developed into a Broadway musical). Ah, well. That's showbiz, folks.
What's your favorite movie about the theatre (one not based on stage property)? Let us know on our facebook page.
Visit PlaybillStore.com to check out theatre-related DVDs for sale.