*
Photo by Carol Rosegg
Shakespeare did romance well; he basically invented it as a stage concept. Antony and Cleopatra. Beatrice and Benedick. Kate and Petruchio. Rosalind and Orlando. The nutty quartet of lovers in A Midsummer Night's Dream. His comedies, and a few of his tragedies, are riddled with couples entangled in love-love or love-hate relationships. But no pair of lovers bests the devotion and reputation of the title teens in Romeo and Juliet. They defy family and friends for their forbidden love. They, in fact, literally, and willingly, die for love. Four-plus centuries later, the two Veronese's names are synonymous with amour at its most extreme. The play itself, in fact — unlike other works by the Bard that place a romancing couple at the center — has no other theme than love. As such, most of its famous speeches are dedicated to that subject. Playwrights and the lovers they have created have struggled to reach R&J's heights of ecstasy ever since.
The Taming of the Shrew/Kiss Me, Kate
You know a stage couple's love affair had an impact when the material is later turned into a musical, and the love story scores again. Shakespeare's 1592 comedy about the shrewish Kate and her Petruchio, who tames her through neglect and abuse, only to have the battling couple discover in the end that they truly love each other, was converted by Cole Porter and Samuel and Bella Spewack into the 1948 musical Kiss Me, Kate. The musical turned the character into warring actors who, once married, must now star opposite each other in a stage show. Accusations of misogyny and paternalism dog both scripts, but the story has never fallen out of production.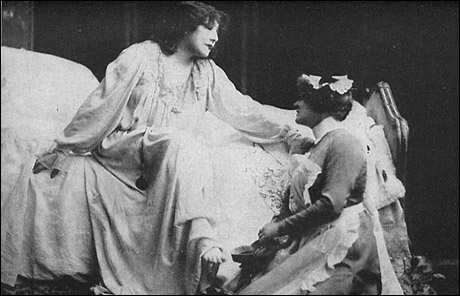 In real life and in fiction, love and death often go hand in hand. (See Romeo and Juliet, above.) And one of the most famous lover's death was handed by French author Alexandre Dumas, fils, to Marguerite Gautier, the virtuous but tubercular French courtesan at the center of his 1848 novel "The Lady of the Camillas." The novel was popular, but the play Dumas drew from the book, titled Camille, was an international smash. For half a century, if you were a premier stage actress, it was a role you were almost compelled to take on. Eleonora Duse, Tallulah Bankhead, Eva Le Gallienne, Lillian Gish and, most famously, Sarah Bernhardt, all offered their interpretations. Between 1900 to 1935, Camille was done on Broadway 14 times, and Marguerite died grandly for love of her suitor Armand in every single production.
Photo by Michael J. Lutch
George and Ira Gershwin's classic American folk opera based on the play Porgy, by DuBose and Dorothy Heyward, brought to life the denizens of Catfish Row and put into rhapsodic song the story of the crippled beggar Porgy and his love for the tempestuous addict Bess. Porgy and Bess' Boston premiere at the Colonial Theatre Sept. 30, 1935, presented the largest African-American cast ever assembled on a professional stage and was a watershed moment in the history of American drama in terms of the relationships explored in the musical form and in terms of the actors it employed. The Gershwin melodies of "Summertime," "Bess, You Is My Woman Now" and "I Loves You, Porgy" continue to pull at the hearts of audiences, all the way up to the 2012 Tony Award-winning revival.
Photo by Joan Marcus
The ultimate tale of selfless and unrequited love, Edmond Rostand's 1897 play tells of a brave and dashing soldier in the French Army who loves the beauteous Roxanne but feels he has no chance of winning the lady owing to his prominent proboscis. Instead, he helps the tongue-tied but handsome Christian woo her, feeding him witty and literate speeches, which Roxanne takes for Christian's own words. Cyrano continues to pine in silence, and Roxanne only learns the truth just before Cyrano dies.
Photo by Joan Marcus
The reunion of Coalhouse Walker Jr. and Sarah, after she gives birth to their son, should have led to a happily-ever-after for the two lovers. Determined to build a better world for their son, the duo are filled with hopes for the future, beautifully expressed in the duet "The Wheels of a Dream," until Sarah's life is tragically taken and Coalhouse swears to avenge her death. But the socially progressive musical, setting a tumultuous historical story to a melodic score, ended with hope for the better future that Coalhouse and Sarah dreamed of.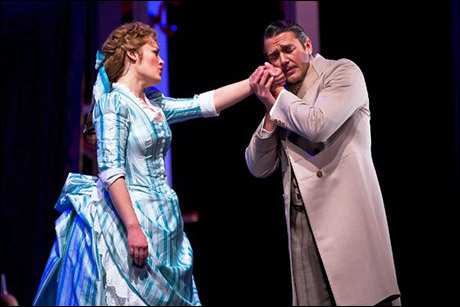 The paddlewheel that propels the plot of Jerome Kern and Oscar Hammerstein's landmark 1928 musical, which helped usher in the golden age of the musical theatre, is the up and down romance of Gaylord Ravenal, a riverboat gambler, and Magnolia Hawks, the young daughter of Cap'n Andy, the captain of the Cotton Blossom. As such, they get to sing such classics as "Make Believe" and "You Are Love." Gaylord isn't much of a catch — he gambles and abandons his family for 20 years — but, as Magnolia sings, "Can't Help Lovin' Dat Man."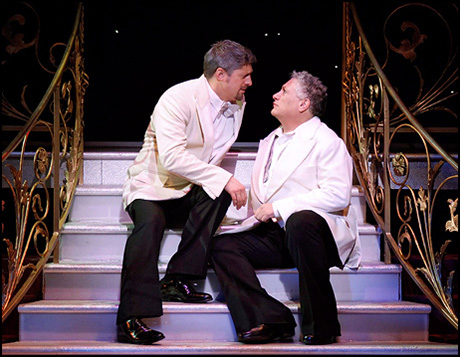 photo by Joan Marcus
The Jerry Herman-Harvey Fierstein musical that put a gay family front and center premiered in the early years of New York City's AIDS crisis on Aug. 9, 1983, at the Palace Theatre. Herman's ever-memorable melodies thread the love story of female performance artist Georges and club owner Albin, who momentarily attempt to appropriate a "normal" home life as their son brings home his new fiancee and her conservative parents. The deeply romantic ballads "Song on the Sand" and "Look Over There" stood as testaments to true love no matter the gender, and the anthem "I Am What I Am" was a declaration that the gay identity was ascending its place in mainstream culture. Helmed by the late Arthur Laurents, La Cage won six 1984 Tony Awards, including Best Book, Best Score and Best Musical.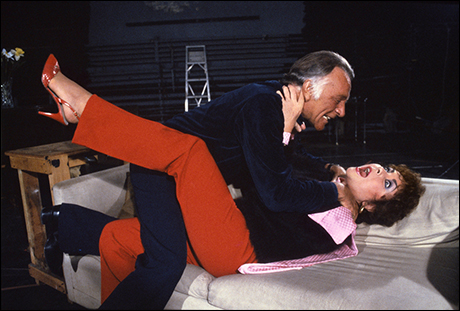 photo by Martha Swope
They coo. They cut. They cuddle. They throw objects. They kiss. They punch. Elyot and Amanda aren't the ideal love match. But what they've got has a lot of spunk, and it never seems to quite die out. Playwright Noel Coward, after all, has the two meet again while honeymooning (in neighboring suites with adjoining balconies) with their new spouses. Who wins out? Well, not the spouses. Despite the fractious nature of the central relationship, the 1931 comedy has become a byword for urbane, sophisticated, modern romance. So much so, in fact, that it is often enacted by real-life couples, never more famously than when Elizabeth Taylor and Richard Burton (by that time, divorced for the second time) did it on Broadway in 1983. They, too, got along as often as they didn't.
Photo by Carol Rosegg
Eugene O'Neill is not typically thought of as a chronicler of great love. But anyone who saw the 1992 Broadway revival that brought Liam Neeson and Natasha Richardson together as a real-life couple knows that that characterization is unfair. The quickly budding love between the hardened prostitute Anna Christopherson and the roughhewn sailor Matt Burke is replete of full-throated testaments of desire, tormented revelations, fiery reversals and teary forgiveness. In O'Neill's hands, true love never runs smooth.
Jonathan Larson measured life in love with his 1996 gritty rock opera that thrusts various interracial — and extremely diverse — relationships into the spotlight. From Mimi Marquez and Roger Davis (a drugged-up dancer and a former junkie) to lesbians Maureen Johnson and Joanne Jefferson (a flirtatious performance artist and an Ivy-League educated lawyer) to gays Angel Dumott Schunard and Tom Collins (a street percussionist and an anarchist, both living with AIDS) to filmmaker Mark Cohen and his camera, Rent explores each facet of love, including an everlasting friendship that spanned over a decade on Broadway.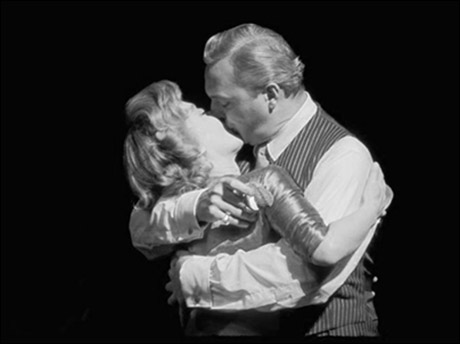 photo by Friedman-Abeles
Is there any musical more patently romantic than Sheldon Harnick, Jerry Bock and Joe Masteroff's 1963 masterpiece, adapted from the stage play by Hungarian playwright Miklos Laszlo? Georg Nowack and Amalia Balash, clerks at Maraczek's Parfumerie in Budapest, meet as cute as cute can be — as beknownst pen pals. In real life, they fuss and fight; on paper, they are soul mates. It all comes out well in the end, of course. Along the way, they sing such unabashedly love-smitten songs as "Will He Like Me?," "Dear Friend," "Vanilla Ice Cream" and "She Loves Me." As if that weren't enough, the show contains the satiric number — sung by a hasty maitre d — "A Romantic Atmosphere."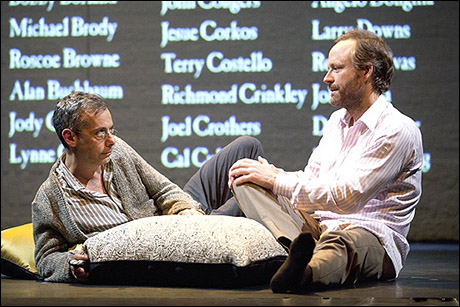 photo by Joan Marcus
Love takes a tragic turn in Larry Kramer's The Normal Heart when outspoken activist Ned Weeks meets closeted New York Times reporter Felix Turner. Fiery and passionate, Ned's devotion to the AIDS crisis sweeping New York is countered by his falling in love for the first time in his life with the amiable style writer. Felix helps to balance out Ned as his devotion to bringing the government's attention to AIDS grows — and when Felix is diagnosed with the disease himself. The two do not share a happy ending, holding a marriage ceremony in the hospital just before Felix dies, but Kramer's award-winning drama has ensured their place in the theatrical canon.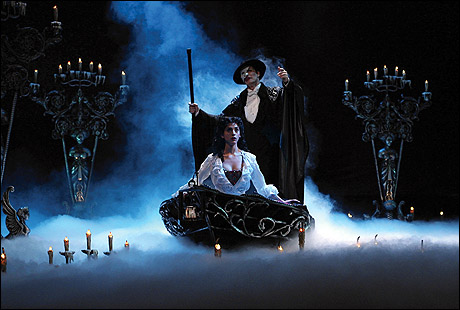 photo by Joan Marcus
She's a sweet and pretty young opera singer. He's a deformed and vengeful ghoul who haunts the opera house and lives in a watery cave. But, hey, it's love! (Of a sort, anyway.) Andrew Lloyd Webber wasn't the first artist to adapt the tortured "Beauty and the Beast"-like love story created by French novelist Gaston Leroux. But his 1986 blockbuster musical, still running in London and New York, may at this point be the melodramatic story's most famous expression.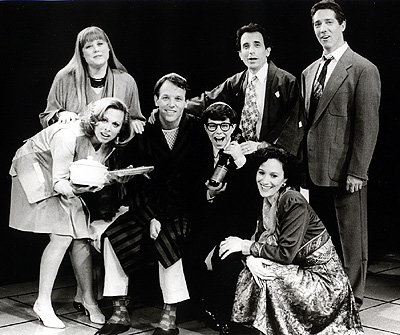 photo by Carol Rosegg
William Finn and James Lapine's 1992 musical tale of "Unlikely Lovers" is not your standard love story, that's for sure. Marvin leaves his wife Trina to be with his male love Whizzer. Mendel, Marvin's psychiatrist, falls in love with Trina, who becomes his patient. And there's lot of fighting and arguing. But there's also lots of love, on all sides, from Marvin and Whizzer, Cordelia and Charlotte, and Mendel and Trina.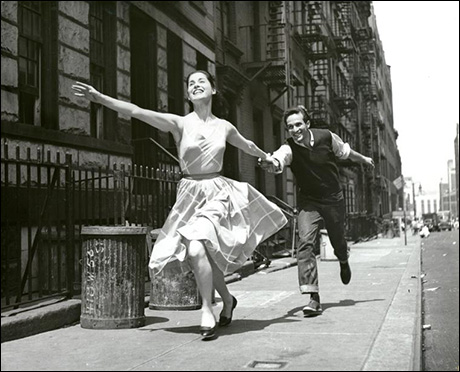 photo by Friedman-Abeles
In 1957 composer Leonard Bernstein, lyricist Stephen Sondheim, playwright Arthur Laurents and director-choreographer Jerome Robbins introduced audiences to Tony and Maria, contemporary versions of Shakespeare's Romeo and Juliet, in the landmark musical West Side Story. The star-crossed lovers from warring families were reconceived as heralding from warring backgrounds – the established caucasian-American culture and the Puerto Rican immigrant families who were moving into the gritty Hell's Kitchen neighborhood of New York City. With its message of tolerance and plea for peace, West Side Story's characters and songs, including "Somewhere," "Tonight," "Maria" and "America," have become a part of classic American culture.