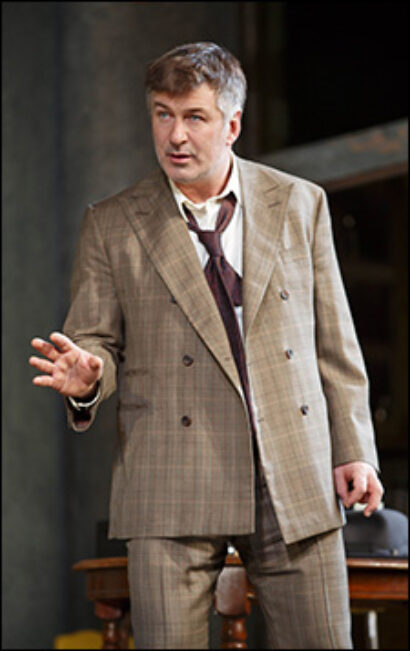 Lyle Kessler's three-person drama Orphans, which took three decades getting to Broadway, but garnered only two Tony nominations, will play its final performance May 19, producers announced. The play had been scheduled to run through June 30. Alec Baldwin, the star of the show—and not the recipient of either of those Tonys nominations—was not happy about this, and, being Alec Baldwin, he didn't keep his feelings to himself for very long. He went on the Huffington Post on May 7 and wrote about 1,000 words on how much Broadway had changed and how much he hated Ben Brantley, the New York Times chief drama critic, comparing him unfavorably to his predecessor, Frank Rich.
Tempers run high during awards seasons, and Baldwin wasn't the only Broadway bigwig who felt like taking the New York Times to the woodshed this week. Scott Rudin, a lead producer on the short-lived 2013 Tony Award-nominated Best Play The Testament of Mary—and, by reputation, not a man to cross—criticized New York Times theatre reporter Patrick Healy in the very pages of the broadsheet he worked for. Healy's interview with Testament playwright Colm Toibin was published May 1, in the Saturday Arts section theatre listings, and, apparently, Rudin didn't like it.
In the printed Testament of Mary advertisement in the May 4 issue of the New York Times, announcing the production's final three performances, a quote from Rudin read, "Let's give a big cuddly shout-out to Pat Healy, infant provocateur and amateur journalist at The New York Times. Keep it up, Pat—one day perhaps you'll learn something about how Broadway works, and maybe even understand it."
Also announcing its closing this week was the Broadway revival of the musical Jekyll & Hyde. It will shutter Sunday, May 12, after only 15 previews and 30 regular performances at the Marquis Theater. This news was not followed by an attack on the New York Times. I guess the producers of the Frank Wildhorn piece felt the paper had had enough.
*** But there was some good news out there.
The new Broadway production of Horton Foote's The Trip to Bountiful, featuring Emmy-winning stage and screen star Cicely Tyson, extended its run at the Stephen Sondheim Theatre.
The production, which officially opened April 23, had been scheduled for a 14-week limited engagement through July 7. It has now extended an additional eight weeks and will continue through Sept. 1.
Bountiful was recently nominated for four Tony Awards, including Best Actress in a Play (Cicely Tyson), Best Featured Actress in a Play (Condola Rashad), Best Sound Design for a Play (John Gromada) and Best Revival of a Play.
***
The Broadway revival of Annie—which did not reap a lot of Tony nominations—will get a shot in the arm on May 15 when Jane Lynch, known for playing a bullying cheer coach on TV's "Glee," will begin performances as orphanage matron Miss Hannigan. (Typecasting, no?)
Lynch, making her Broadway debut, will perform for a mere two months, through July 14. Katie Finneran, who created the role of Miss Hannigan in the new production at the Palace Theatre, will exit the production at a date to be announced, in order to begin filming a new NBC comedy series with Michael J. Fox.
Off-Broadway saw a few notable openings this week.
Richard Foreman, the quintessential downtown theatre auteur, who has been threatening to completely retire for the past decade, returned with his first new play in years.
Rocco Sisto, Stephanie Hayes, Alenka Kraigher, Nicolas Norena and David Skeist starred in the Public Theater world premiere (presented in association with Foreman's Ontological-Hysteric Theater) Old-Fashioned Prostitutes (A True Romance)—a very Foreman title.
The New York Times' Brantley, always a Foreman fan, was glad to see the old man return. "Retrospect seems like the appropriate viewpoint for the return of a grand master with a long, dense and passionate past in artistic experimentation. Mr. Foreman is the most eminent elder statesman of the avant-garde in New York theater and its most exacting auteur…What makes Mr. Foreman's work so entertaining is his ability to turn these classic, head-scratching concerns into phantasmagorical vaudevilles in which all the world's a stage that keeps changing shape on you."
Of course, not everyone's a fan. Foreman's the sort of artist that, if you like his stuff, you like all his stuff. And if you don't, you don't. As the New York Post opined, "Prostitutes is fairly standard for Foreman, which means it's unlike anything you've ever seen, except for the last 20 Foreman shows. In other words, it looks great and makes no sense." Way further uptown (both figuratively and geographically) was Nikolai and the Others, the world-premiere play from the tirelessly productive Richard Nelson. Directed by David Cromer, it opened Off-Broadway May 6 at Lincoln Center Theater's Mitzi E. Newhouse Theater. The cast included Michael Cerveris as choreographer George Balanchine, John Glover as composer Igor Stravinsky, Alvin Epstein, Stephen Kunken, Blair Brown, Kathryn Erbe and many, many more.
The ambitious drama imagined a weekend shared by Russian artists George Balanchine, Igor Stravinsky, Nikolai Nabokov and more—the kind of high-art figures that only Nelson and Tom Stoppard would think to stuff a play with.



photo by Paul Kolnik
The New York Times made the connection as well. "What is it with Lincoln Center Theater and Russians who take their time?" it asked. "Six years ago, New Yorkers fought for the chance to spend nine precious hours watching the late-imperial-age intellectuals of Tom Stoppard's
The Coast of Utopia
talk about revolution… [It] cannot be recommended to people of limited patience…Still, one man's sleeping pill is another's hot toddy. And having survived the hurly-burly of an exceptionally crowded April on Broadway, I found it rather pleasant to hang out with the squabbling, mumbling, cloud-gathering Nikolai and George and Igor and Vera and Sergey and Natasha."
AP said that "Nelson has created a beautifully moving look at a dark time in America, when government suspicion of even its most lustrous citizens could escalate into threats against their personal freedom and livelihoods."
Variety, less impressed, thought the production "stylish," but added "the essential take on this is that famous people can be just as dull as regular folks on a lazy weekend in the country."
***
How many reaction plays get a reaction play of their own?
First there was Bruce Norris' Clybourne Park, the comic drama about race and real estate that was famously inspired by Lorraine Hansberry's A Raisin in the Sun. And now we have Kwame Kwei-Armah's new play Beneatha's Place, which began previews May 8 at Centerstage. It was inspired by Clybourne Park, and will be presented in repertory with the Norris play, using a single company of actors.
"I find Clybourne Park to be a brilliant play, all that we want a modern play to be—a magnificent catalyst for a debate," Kwei-Armah told the New York Times. "However—and I don't think Bruce set out to do this—but connotationally, the play says that whites build and blacks destroy."
The new play "explores identity, leadership, and legacy through the story of one powerful African American woman, following Beneatha Younger far beyond that iconic Chicago living room, from 1959 to today, and from her home in Nigeria to her career at a California university."
If any playwright out there has a problem with Kwei-Armah's vision, well, you could always write your own reaction play.