Each month for a year Prudential is gifting free tickets to theatre fans from across the U.S. with the Prudential Standing Ovations Ticket Giveaway, presented by Playbill. For the chance to win, entrants are answering the question, "Which Broadway character or song inspires you, and why?" in a short essay or video. Read a few of last month's most stirring responses below.
Want to share your own story and enter to win your own Broadway tickets? Click here.
Owen Kalmbach: "I feel inspired by Orpheus from Hadestown because of his sheer dedication to saving Eurydice from a fate worse than death. Orpheus' priorities are askew in the beginning of the show, as he literally tunes Eurydice out and works on his song. He doesn't even notice when she leaves the earth for a job in Hadestown, having to sacrifice her life just to satisfy her hunger. Yet when he realizes his mistake, he moves heaven and earth to rectify it, putting himself in danger just to have the chance to see Eurydice again. The part of the show that was the most impactful to me though was when he proved that he was mortal after all, by turning around and looking at his lover before they had both left the underworld. I sympathize with Orpheus because I too have been so close to achieving a long-term goal for myself, only to fail in the 11th hour. Overall, Orpheus is a complex, thoughtful character who has kept me up at night thinking about the lengths I would go to to reclaim the most valuable thing in the world."
Erin Chang: "Kim from Miss Saigon inspires me because she is the epitome of love and sacrifice. She gave up her own life so her son could have a better one, a chance to get out of the poverty that he was born into. As an Asian American whose parents are immigrants, it means so much to me to see a young Asian woman fervently determined to survive and make a life for herself and her child. Even when all the odds were against her, she never gave up. She remained loyal towards her son and protected him at all costs. Her strength and determination reminds me of my mother and the many things she sacrificed so I could have the wonderful life I live today. I think that Kim is one of the bravest and most selfless characters in Broadway history."
Andrew Ni: "The song 'Tomorrow' from Annie inspires me precisely because of its simplicity; what smacks as childhood naïveté on the surface is instead a painstaking ode to resilience. 'Just thinking about tomorrow,' the song goes, 'clears away the cobwebs and the sorrow 'til there's none.' In a practical sense, what are the 'cobwebs' and 'sorrow?' To me, they are one's implicit core beliefs, chiseled by trauma and experience—a funhouse mirror of one's true situation. In that sense, Annie reminds me not to let these previous experiences distort my grasp on reality. By 'clearing away the cobwebs and the sorrow,' I'm able to look at the world with a rational lens. More often than not, the sensible conclusion is that with assiduous efforts, the sun will indeed come out tomorrow. The key is not to beat oneself before one gets there—to 'stick out my chin and grin' and to 'hang on… come what may.' Beyond that, 'Tomorrow' reminds me that the arc of achievement is long. There may be times when I am 'stuck with a day that's gray and lonely.' But I am young, and there will be many more tomorrows. You're only a day away."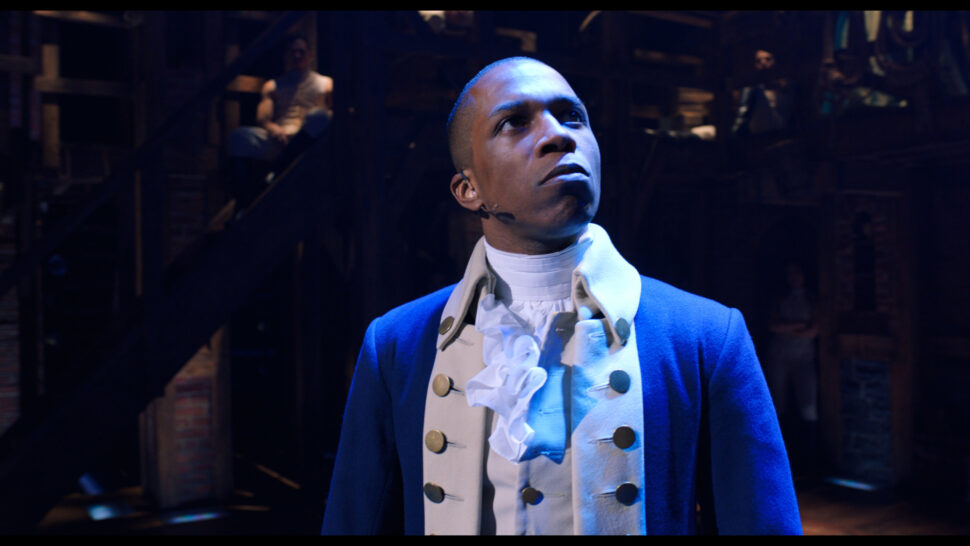 Justin White: "I really enjoying listening to Aaron Burr in Hamilton. But more specifically, I love his 'Wait for It' number. There's so much about Burr's character that I just love and this song really lays the foundation on what he wants to accomplish. He wants to become great and Hamilton is keeping him from being able to, but he doesn't let it affect him. Not yet at least. In this number, he's really making a point that he's willing to wait for his chance to do great things and that nothing's going to stop from it. I saw it with Nik Walker and he's amazing but hearing Leslie Odom, Jr. sing, he's absolutely astounding with how he emphasizes some of the lyrics. The music is spectacular and these two actors make it even more fantastic."
Miriam Robin: "When I was a teenager, I took dance classes at a famous studio in NYC where the most popular jazz dance instructor used to bully me and embarrass me in front of the entire class. He would send me to the back of the room because I couldn't do a clean pirouette and he told me, in front of the entire class, that my tour jetés were 'horrors.' This really affected me as a young girl and I lost all confidence and self-esteem because of this terrible bullying, especially since most of my classmates were adults. But then I saw La Cage Aux Folles, and the song 'I Am What I Am' made me realize that I was an important young girl no matter what that dance teacher tried to make me believe about myself. After seeing that show, I went back to take that jazz class and when the teacher once again tried to embarrass me in front of everyone and say that I was a terrible dancer, I proudly stood firm in front of him and said 'I am what I am.' That shut him up for good and he never spoke to me again. Success!"
Isabella LeBarr: "The musical theatre character that inspires me is Veronica from the musical Heathers. Veronica was always viewed as an outcast. She was bullied and ridiculed on a daily basis. Even though, she went to school with these people her whole life. She makes the point at the start of the performance that all anyone is trying to do is survive. They are trying their best no matter what they have to give. When she sees the opportunity to help the most popular girls in school, she takes it. She sees it as her chance to survive her last year with no more pain. The popular girls take her in as one of their own and teach her their ways. When she sees them treat others poorly, she stands up. I think what truly inspires me about this character is that even though she has what she always wanted, it doesn't matter. Even if she can live in literal heaven her last year, she doesn't care. She cares me about standing against the bullies even if she can lose everything. She would rather others be treated right."