Bill Berloni has made a living training animals for roles on stage and screen, from Sandy in Annie to Bruiser in Legally Blonde the Musical. He has ensured that animals always have a welcome place on Broadway, but Berloni and his wife, Dorothy, have also dedicated themselves to ensuring they have a home offstage.
Long volunteer consultants with the Humane Society of New York, the Berlonis upped the ante two decades ago with the establishment of the Sandy Fund in honor of Bill's 40th birthday. Years later, "we'd been donating opening night gifts, and other people have been donating [to the Sandy Fund] and it was like, 'How could we do more?'" he says. "I said, 'How about we get a bunch of our friends to come together and sing a song and charge people to see it?'" And that was the birth of Best in Shows, the annual benefit cabaret—with music direction by Seth Rudetsky—that takes place this year at Feinstein's/54 Below on October 15, in addition to the Best in Shows auction through October 29.
Since its second edition in 2014, the Berlonis have also honored a member of the Broadway community, someone who has demonstrated "deep concern and work for rescued animals." So when the Berlonis thought of whom to honor for this year's fifth annual Best in Shows, the answer was obvious: Seth Rudetsky.
"Seth not only has rescued all of his animals, he speaks constantly for the cause," says Dorothy.
"He's always out there doing concerts, raising money. I don't know if anybody has recognized him for the work that he does—across the board," says Bill. "It's about time somebody starts thanking him."
Rudetsky, for his part, had no idea he was being considered as this year's honoree. "They invited me to lunch in the city under the guise of discussing what singers to book, but really to tell me they were going to honor me," says Rudetsky. "I was extremely honored and flattered and very moved! I hope the event can save every animal in every shelter. Ever!"
The music director and stalwart of the community has always loved animals. "I grew up in a family that always had doggies," he says. "At one point, we had three doggies and I especially loved a golden-furred mutt named Heather we got from a local vet. She would sleep curled up next to my pillow at night. (If I begged her. Sometimes, she'd desert me.) I would try to change my behavior to manipulate her to stay with me...leading to a string of unhealthy relationships in my 20s!" he jokes. "When I got older and moved to New York City, I would drive my friends crazy because I had to stop to talk to every dog on the street. My writing partner, Jack Plotnick, would always give me so-called 'courtesy lessons' and tell me I had to acknowledge the owner first but I would always go right to the dog. I remember once playing with a little dog in the village and looking up to see him being walked by Matthew Broderick."
Rudetsky adopted his first dog, Maggie, years ago. His husband, James Wesley, added his dog Sonora to the mix when the two got together. Soon, they added Wesley's mother's dog Scooby and then adopted canines Mandy and Bagel from the New York Animal Care Center and Romeo the cat from City Vet. After visiting a local animal shelter while on a Playbill cruise from San Juan, Puerto Rico, Rudetsky fell in love with a little mutt named Mateo, who he flew home the next month. "He's the cute and intrusive next door neighbor," says Rudetsky of the final addition to his menagerie. "He's basically Larry from Three's Company."
Rudetsky epitomizes the connection the Broadway community demonstrates towards animals, be they co-stars or beloved pets.
"The Broadway community is one of the most generous communities," says Bill. "I think the animal [proclivity] is if you have one at home, you can feel for ones who don't have a home.
"I also think it's a proven fact animals give us unconditional love, and in an industry that is sometimes hard to maintain relationship because of travel or because of being in and out of jobs, there is something about coming home to a dog or a cat that loves you."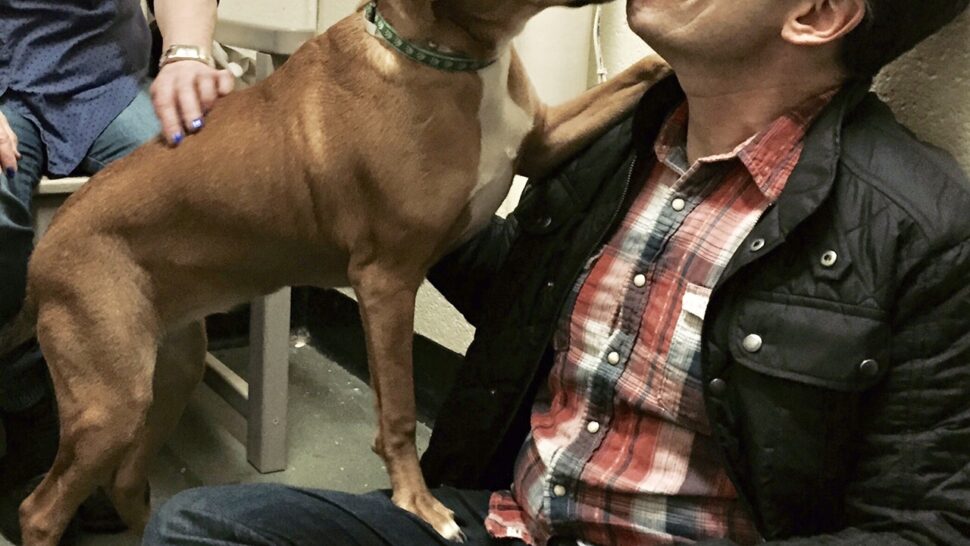 Clearly, the stars that mark this year's line-up agree. The evening will feature performances by Sierra Boggess (The Little Mermaid, School of Rock), Kevin Chamberlin (Wicked, Disaster! The Musical), Ana Gasteyer (Wicked, Saturday Night Live), Joanna Gleason (Dirty Rotten Scoundrels, Into the Woods), Adam Kantor (The Band's Visit, Fiddler on the Roof), Andrea McArdle (Annie), Lindsay Mendez (Carousel), Hugh Panaro (Phantom of the Opera), Christine Pedi (Host, Sirius XM Radio, Spamilton), Kate Rockwell (Mean Girls), Marc Shaiman (Hairspray, Smash), James Snyder (If/Then), Betsy Wolfe (Waitress, The Last Five Years) and Karen Ziemba (Contact, Bullets Over Broadway).
"We encourage people to bring their own pets, especially if they're rescue pets, and tell a story and sing a song about them or try to make it animal-related," says Bill. "For those who can't bring their pet or don't have one but have worked with our animals in the past, we'll reunite them once again onstage."
A casual evening, the Berlonis and Rudetsky hope to warm audiences' hearts while listening to great music. "What makes this event so special is that a lot of the belting is done with a doggie actually on the stage," says Rudetsky. "It's crazily adorable!"
Best in Shows Benefits the Humane Society of New York will be held on Monday, October 15 at Feinstein's/54 Below 7PM. Tickets available by calling (646) 476-3551. For further information, visit www.humanesocietyny.org.
For those who cannot attend the event, consider bidding on Broadway prizes through the Best in Shows Digital Silent Auction, which opens Friday, October 5 through OCtober 29. Prizes include tickets to the season's top shows (Hamilton, American Son, and more), private events with cast members, fabulous travel packages, and many more theatre-related goodies! Click here!