*
The hero who comes out swinging 1/11/11—a date with destiny that Spider-Man saw fit to skip — is a fallen lord of the rings named Patrick "Lights" Leary, a down-but-not-out boxing champion who loses his crown to a split decision, gets hammered into five years of domesticity and, like a phoenix, goes for the gold again.
Such is the stuff of which myths, and brutally believable movies, are made — and now, for the first time, it's the basis of a TV series that FX Networks will start airing Jan. 11 at 10 PM (ET), under the unblinking but on-the-button title of "Lights Out."
Make of it what you will, but "Lights Out" is the work of Warren Leight, arguably the only executive producer/showrunner in TV history to come to those jobs from being a Pulitzer Prize finalist and winning a Tony in theatre (for Side Man).
Like his 1998 play which explored the frayed lives, private and professional, of jazzmen in the '50s, "Lights Out" focuses on the contemporary boxing scene with a comparable kind of grainy realism and flinty humor — plus, it's been assembled with tough one-two punches. (Historically, boxing is the sport most honored with Oscars for editing — from "Body and Soul" and "Champion" to "Rocky" and "Raging Bull.") To throw the switch for their "Lights Out," FX didn't break out the klieg lights, but they did rent a (once) legitimate Broadway house — the Hudson on West 44th Street where The Hasty Heart first thumped and The Voice of the Turtle was heard in the land — to give the pilot a properly splashy premiere screening on Jan. 5.
photo by Frank Ockenfels III/FX
No stranger to Broadway openings himself, Leight happily drank in the glamorous commotion but knew it wasn't quite the same thing. "I've never seen seven world-champion boxers at a Broadway premiere," for instance, "so, right away, it's different. They don't usually make the Broadway openings," he drolly understated.
Smokin' Joe Frazier was expected to be a no-show because of his ailing mother but surprisingly surfaced, stayed fairly stoic and to himself and won the evening's only standing ovation. "Irish" Micky Ward, who's now getting a nomination-worthy impersonation from Mark Wahlberg in "The Fighter," acknowledged the applause and then, almost immediately, bolted back to Boston.
The current heavyweight champion of the world, Wladimir Klitschko, arrived with some flashy movie-star arm-candy (Hayden Panettiere).
Giving off their own gritty glamour or posing for photos with their fans were Gerry Cooney, five-time New York Golden Gloves champ and "Lights Out" guest-star Mark Breland; Ireland's John Duddy; ex-IBF junior welterweight champion Paul Malignaggi; and boxing legends with masked-man monikers like "The Blade" (Iran Barkley), "The Eastern Assassin" (Larry Holmes) and "The Pugilist Specialist" (Lennox Lewis).
The screening guest-list comprised an impressive jury of one's peers, but leveling off the authentic boxing-world types a bit were theatre actors who played them on TV.
"We raided Broadway pretty well," Leight admitted with no small measure of pride, but he quickly had to point out his prize acquisitions, who had dropped by for the inevitable red-carpet photo-op, then swiftly split to make their respective curtains.
Stacy Keach and Elizabeth Marvel, who play Leary's dad and sister in "Lights Out," made a beeline uptown to Lincoln Center's Mitzi Newhouse Theatre to continue their father-daughter act in Jon Robin Baitz's Other Desert Cities. For Pablo Schreiber, who plays Leary's brother and manager in the series, it was just a short three-block skip over to Second Stage where he and Jennifer Carpenter of TV's "Dexter" began previews for a Jan. 31 opening of Rajiv Joseph's new opus, Gruesome Playground Injuries.
Bill Irwin, another key supporting player, had a filming in California that he couldn't leave for the premiere, but the actress playing Leary's wife, Catherine McCormack, jetted over from London expressly for this series launching.
photo by Craig Blankenhorn/FX
All three darling Leary daughters (Meredith Hagner, Ryann Shane and Lily Pilblad) were present and accounted for, as were less supportive character types like Leary's ring nemesis, Richard "Death Row" Reynolds (Billy Brown), sports scribe Mike Fumosa (Ben Shenkman of "Blue Valentine" and Broadway's Proof) and flamboyant fight-promoter Barry K. Word (Reg E. Cathey, who, the day of the series debut, begins work at The Public, rehearsing Alcibiades to Richard Thomas' Timon of Athens).
All of the above were acknowledged to the audience in pre-screening intros either from John Solberg, FX's media-relations exec, or from Leight himself. Series creator Justin Zackham was not at the launch.
"Early on, I said to some of the cast, 'I think we have a chance to do something special," Leight recalled. "Part of the reason I thought that was that [executive producer] Ross Fineman's idea was not a typical television idea. Part of it was I sensed right away that the studio and the network wanted it to be something special. They wanted us to drive into the skid of the drama and the stakes. They wanted a real, naturalistic drama. Not once in a year and a half was I ever asked to tone anything down or make something weird. It was always about making it as good as you can.
"We're particularly honored to have the world-class boxers we have here tonight. One thing that struck me as I met all of you today, as I was reminded throughout this process, is: You guys are much more thoughtful and accommodating than people know. We did everything we could to honor what's great about the sport. When you guys go into the ring, you go in by yourself. When you do a TV show, you need 200 people to get where you are. It requires a lot of people who kill themselves to make this pilot and these shows. It's a collaborative combat sport, TV — not like other arts.
"I see the writers back there. Their minds must have been exploding as the boxers were introduced because we've been watching all of your fights. Every fight you ever had is on YouTube. I'm sure you are getting rich off of that." (Pause for laugh, which was loud and long.) "We watched your fights. We immersed ourselves in your stories. And I can only imagine what we are all thinking tonight as we go back to those first days in the writers' group when we were trying to think, 'What is the arc of a champion making his comeback?' Early on, I decided — which I think boxers do: 'Don't save anything for the rematch. Put it all in the first season, and, if we're lucky enough to have a second season, we'll figure it out, but don't save anything.' I think the whole season reads that way because of their enormous creative contributions."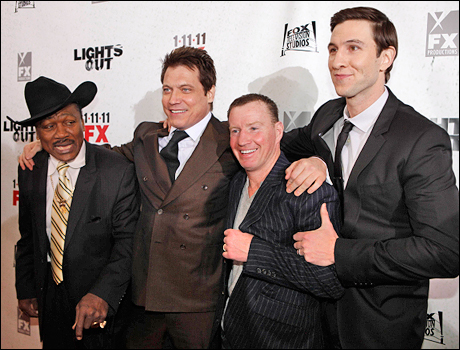 photo by Craig Blankenhorn/FX
photo by Craig Blankenhorn/FX
The best and most daring thing "Lights Out" does is to serve up stardom on a silver platter to Holt McCallany, an "overnight discovery" of 26 years who has been kicking around in movies and on TV in supporting roles too small for his talent.
Ray Liotta toyed with the idea of playing Patrick "Lights" Leary but eventually passed, prompting McCallany to pounce and ultimately triumph over the career-long handicap of not being a Name. He had an edge here: Being 46 years old when The Big Break comes along gives an actor a certain desperate urgency he can use in his work, particularly if playing a defeated boxing champ reduced to money-making indignities like calling out bingo numbers and manhandling deadbeats.
"When you struggle for years as an actor, you understand how rare and special it is to get a tour de force part — the role of your dreams," McCallany said. "Some guys never get it. That doesn't mean they're not good, and it doesn't mean they're not deserving. It's just the breaks. It's a business where luck and timing are everything. There are a lot of factors an actor can't control that can make or break his career.
"It's a really difficult thing for a lot of actors, being forced to retire while they're still relatively young. Trying To Find Your Second Act becomes the name of the game. You're still a young man. You have all those years left ahead of you, but the thing that you've devoted all of your life to — you can't do anymore. What comes next? A lot of guys have trouble answering that question. I was one of the lucky ones. I got a great part. Now, at this stage of my career, I have a lead — basically, my first lead."
photo by Craig Blankenhorn/FX
At long last, the lead — and, recreationally, he was born for it. "I've always loved boxing," declared the bruiser you may have seen fleetingly as boxing trainer Teddy Atlas in HBO's telefilm, "Tyson," or as The Mechanic in "Fight Club" (both the movie and the video). "I think boxing is inherently dramatic. That's why we've seen a love affair between Hollywood and boxing for so long. I remember how moved I was by Jack Palance in 'Requiem for a Heavyweight' — that 'Studio One' version on TV — and by a movie Robert Wise did with Robert Ryan, 'The Set-Up.'" How McCallany fits into this dream of things was gleefully relayed to the audience by FX's top honcho, John Landgraf, quoting TV Guide's just-in review: "You remember the first time you saw Jon Hamm's Don Draper and James Gandolfini's Tony Soprano? Well, get ready for some déjà vu as McCallany, a former amateur boxer, will have you wondering, 'Where's this guy been all my life?'"
Where, indeed! Anyone who saw him step on stage at the Provincetown Playhouse in April of '92 for his first lead role, opposite Tatum O'Neal and William Hickey, in the five fast performances of Kevin Breslin's A Terrible Beauty could have seen this day coming. He had the trademark stamp of a star.
Great showbiz genes account for this charisma and hormone count. His dad, Michael McAloney, was the Dublin actor who produced the Tony-winning Best Play of 1970 (Borstal Boy). His mom is the much-loved and longstanding nightclub institution, Julie Wilson. When the screening morphed into an after-party at the Edison Ballroom, she formed her own receiving line right beside her son's.
Elegantly outfitted in a wrap-around black-lace gown, she warmly accepted the good wishes of any and all who rushed up to her. It being his evening, she made a token attempt to dress down for the occasion by not wearing the signature gardenia in her hair. I didn't notice one when I whispered in her ear, "A star is born."
Appreciatively, her eyes widened, and her smile broadened. "Can you believe it?" she said incredulously. "After all these years, a gate finally opens, and here we are."