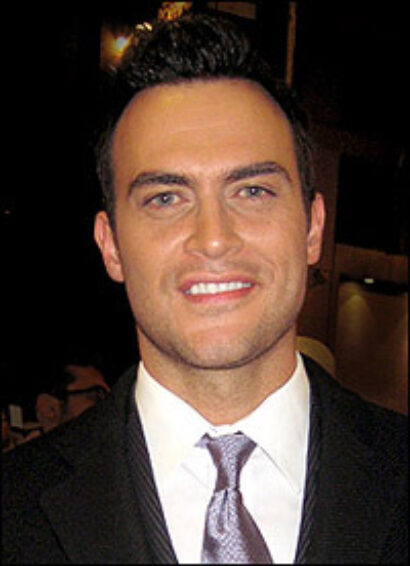 The Table Ten Films production was directed by Steven Williford and produced by Molly Pearson and Paul Marcarelli.
Described as "a tense, intimate drama about a gay teacher (Harner) at an elite private school accused of misconduct with a male student," the cast features Jackson as Harner's life partner with Illeana Douglas as their best friend, Julia Ormond as the lawyer who defends Harner and newcomer Chris Bert as the student.
Also in the film are Karen Young, Bill Sage, Marcia DeBonis, Mary McCann, Laura Esterman, Michael Godere, Mark Blum and Boris McGiver.
The 90-minute film, which is not rated, has a suggested retail price of $24.99. Bonus features on the DVD include commentary, deleted scenes, trailer and closed captions.
"Having left behind a life in New York City for the village charm of shoreline Connecticut, Michael Gavin, a drama teacher at a progressive private high school," production notes state, "thinks he can live a simple, harmonious domestic existence with his partner Daniel, a locavore caterer. Seemingly more concerned with the minutiae of suburban life than he is about challenging the bias he experiences in the provincial, recession-weary yankee bastion, Michael adheres to an unspoken survival code: Don't speak up, don't make trouble. But Michael's world is turned upside-down when he is accused of engaging in 'inappropriate behavior' with a male student, who runs away from home leaving behind his financially-strapped mother and her mercenary boyfriend to capitalize on the school's culpability in the alleged affair. With his job, relationship, and freedom in jeopardy, Michael must confront the suspicions of his co-workers, the latent homophobia of his friends and neighbors, and Daniel's doubts about his partner's innocence after the investigation reveals a secret from his past." Jason Butler Harner has been seen on stage in Barrow Street Theater's Our Town, Donmar Warehouse's Serenading Louie, Lincoln Center Theater's Coast of Utopia trilogy, Second Stage's Crimes of the Heart and more.
Cheyenne Jackson, who was seen in the film "United 93" and the TV series "30 Rock," has appeared on Broadway in Finian's Rainbow, Xanadu, All Shook Up, Aida and Thoroughly Modern Millie. He starred in the premiere cast of Altar Boyz, and his regional credits include West Side Story, The Most Happy Fella, Children of Eden, Hair, Carousel, Damn Yankees and Kismet. Jackson is a member of the Broadway Inspirational Voices and was seen Off-Broadway in The Agony and the Agony and at City Center in Damn Yankees and Finian's Rainbow.
Table Ten Films was founded by Pearson and Marcarelli in 2009 to "seek out, develop, and promote the work of artists communicating from unique, diverse and under-represented perspectives."