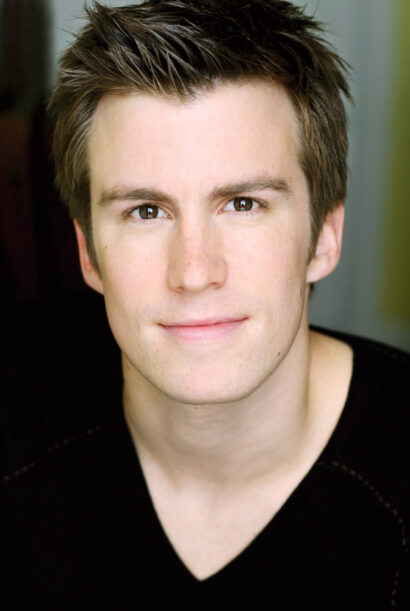 *
THE CREEL DEAL
I have a memory of walking on 45th Street one evening a few years back and seeing Gavin Creel in full sprint toward the Marquis Theatre, the pony tail he was sporting while playing the uptight Jean-Michel in La Cage aux Folles trailing close behind. Turns out this might have been a common sight for anyone walking on 45th Street close to call time during the run of that show. "I was never late to a show more often than La Cage," Creel says. "Because I lived close, and I didn't really do anything in that show."
The same cannot be said of his current role of Claude in Broadway's vibrant new production of Hair. As far from Jean-Michel as one can get, Creel's Claude has to be the emotional center of the hippie party, balancing out the carefree rest of his tribe with his introspection. The role has inspired no shortage of introspection from Creel himself who has taken the show's messages to heart. He says, without a trace of salesmanship, "It's more than a musical to me, it's an experience," and it is clear the show has impacted his worldview.
Question: How has doing Hair changed you?
Gavin Creel: It's been a joyful, expressive, freeing creative process. Working with this tribe, it's really freeing. There's not as many boxes put around you physically and vocally. I've really enjoyed the place it has delivered me as an actor. I hope it runs a nice long time and I get to keep exploring through the run.
Q: You have a little history with the show, but what was your first experience with it?
Creel: I first met the show, you could say, when I was in high school in Findlay, OH. I went and got the CD out of the library, borrowed it, listened to the music, had no idea what it was about. When I came to New York, after I had been on a tour or whatever, I auditioned for Hair at the Encores! series they were doing. I auditioned to play Claude, and I didn't get it, but I got [cast as] a tribe member, and it was an incredible experience. Unbelievable cast members. And I did one song for an Actor's Fund benefit. So I flirted with it, but never more than a weekend in the production, but now to be able to sit down and study it is really great. Q: What have your studies shown you so far?
Creel: Not only is the score incredible, but the story is topical, even now. It's about a country that's falling apart and is trying to find its identity, and a generation is trying to find its identity, and there is chaos. It's kind of like now. A generation is trying to figure out, "Where do we fit in this world, with these wars?"
Q: Hair has always been an evolving piece...
Creel: The cool thing about it changing is we've got two of the three creators alive and willing to let us reinterpret things or cut lines or change lines or re-examine scenes. Gerome Ragni [co-author] and Galt MacDermot [music] are so willing, and that's what makes this experience so unique and makes Hair so unique. While we still honor the original source material, we're given a chance to take a new look at it.



photo by Joan Marcus
Q:
What makes Claude so affecting?
Creel:
He finds an identity in this tribe that's so unique and expressive and free. Of course the undercurrent of the whole thing is this draft, this looming death sentence. If he's able to escape the draft, he's free. That's what I love about the character, he's willing to try anything to live and be free, as long as he doesn't get that letter in the mail.
Q:
That's a whole different set of worries we don't have today. Did you talk to anyone to get a sense of what living with that fear was like?
Creel:
My dad was drafted. It's amazing, I talked to him about it because of this play. We just had a conversation one night when I came from rehearsal. I said, "You never really talked about your draft experience." He opened up about how he and my mom were out to lunch, and he came back and there was the letter in the mail, and he was almost 26, almost out of draft age. He got drafted and actually served in Thailand in the finance department for the Vietnam war. So luckily, he didn't have to go fight, but he said, "If I got called, I was going, and I was going wherever they told me to go." His assignment was in Aberdeen, MD, for a year, and then Thailand. The amazing thing was after basic training in Aberdeen, my mom came and said she was pregnant with her first kid, my oldest sister. And she moved to Maryland, then he got assigned to go to Corpus Christi to train and then to go fight. His commanding officer said, "No. I'm sending you to Thailand because you have a baby and a young wife." I don't even know what the officer's name was, but he was like an angel. What's weird is that, when my dad finished serving, six or seven years later I was born. All of that happened before I was even here, but not too long before. Just to think that he was just a kid, starting a family. It's incredible. My parents are coming opening night, and I can't wait for them to see the show and see his reaction.
Q: Some of the show's reputation is built on the audience interaction. Do you think the show can still connect directly in the way the original did?
Creel: Yeah. I definitely do. I think people are more cynical now, so we can't worry about getting every single person. New York is, by nature, a more cynical place. What I've seen happen in the theatre in previews is pretty magical. People losing their minds, and they're not afraid to. It's almost more celebratory to me because they're like, "Screw these people around here with their stuffy attitudes and thumbs up their noses. I'm gonna stand up, I'm gonna grab that flower, I'm gonna go to the Be-In, and I'm gonna go onstage at the end and dance!" It's beautiful, people are having a wake-up at our show.
Q: I imagine it is harder to get people to let go nowadays, they have to be "cool."
Creel: I'm so tired of "cool." Screw "cool." It's so boring. I want to be a poster-boy for the uncool.
Q: This show is really the last Broadway show to have massive hit songs on national radio…
Creel: Even something like Rent wasn't playing on the radio. The pop-music culture of then was about expressing yourself and about being heard and about breaking outside the lines, and what nauseates me is the pop culture of now is all about being famous, about being on reality TV, and about celebrity and materialistic goods. It's like we're about to explode and I hope we explode with a big hippie revolution. I hope people see this show and realize, "What are we doing? What am I contributing?" I'm thinking about it myself, being in this play, I'm like, what do I really want? What noise am I willing to make? Why do I want people to pay attention to me? Is it so that I can be on TV? Be on the next "Survivor", win a million dollars? Ugh. Screw that! It's tired.
[Hair music] was on the radio because that was what people were making music about. The artists were there to make great music and to be expressive and talk about what was happening then. Then it ballooned into, "Ooh, look what I can do on synthesizers, and now I've got bling." Hopefully we'll get back to what music is really about.
[Hair is now playing at the Al Hirschfeld Theatre, 302 W. 45th Street. For more information, go to www.hairbroadway.com]
A BUSHEL AND A PLATT



photo by Andy Ryan
Talked to
Oliver Platt
almost a month into his run as Nathan Detroit in
Guys and Dolls
. The risk-taking actor, renowned lovable loser of film ("Frost/Nixon," "The Ice Harvest") and TV ("Huff," "The West Wing") admits the venerable musical rates as one of the most hectic things he's ever been involved with, and he's happy the preview period is over so he can enjoy being good ol' reliable Nathan.
Question:
Nice to connect with you after the show is up for a bit and see where you are.
Oliver Platt:
It's amazing how there's so much work to do to get it on its feet, then how satisfying it is to relax in the run and play around with the structure that has been left you, to see how the different audiences work and how patterns emerge. It's an adventure. We're still very early in, but what's nice is that people are coming and enjoying it.
Q: You sound a little surprised.
Platt: Hey, what do you mean? You never know. You telling me there's a sure thing in this business? I never take anything for granted.
Q: Guys and Dolls is one of those shows close to being a sure thing though. Does that add any extra pressure to do the show people expect?
Platt: In a weird way, you're damned if you do, and damned if you don't. What is the standard production of Guys and Dolls? Every time out, you're going to be interpreting something, but yes, because it's a classic, and because it is so enduring, people are going to have their ideas about it. I'm lucky because I'm not any sort of musical theatre aficionado. To me, the fun thing is to treat it like a fresh piece of material and see how it approaches you, how it comes off the page at you. [Director] Des McAnuff's approach of wanting to take the two central relationships seriously is something that is very appealing to me.
Q: How crazy was everything leading up to the opening?
Platt: The preview process was exhausting. You're working in the afternoon, then doing a show at night. We did that for a month. I've never done a musical before, so I wasn't really prepared for the technical side. There's a lot of traffic! There's so many moving parts, so many technical demands, and music and choreography. It takes a tremendous amount of concentration. There's a certain relief when the show goes up, the creative team stops tweaking and that's what allows you to relax, because you're not about, "What bars are we cutting today? What step are we changing?" There was never a sense of chaos. It was more like, fatigue.
Q: Did you ever reach a point of "Oh no! What have I done?"
Platt: Totally. Absolutely. When they say, "Hey, c'mon, let's go do Guys and Dolls, you're like, 'Oh, yeah! Guys and Dolls!'" And you don't realize! The material demands a lot of respect. You get too cute or ironic with this material at your peril. The book is remarkable. And there's a combination of what you said about wanting to live up to everyone's expectations of it, and you as an actor wanting to make it fresh. It has been really challenging, really fun, but not easy. Q: But you've been able to stop and smell the roses a bit?
Platt: I don't want you to think it has been misery! It has been fun throughout. I just wasn't prepared for how much work it was going to be.



photo by Carol Rosegg
Q:
I read an interview where you said you were quite terrified about the singing. Are you past that?
Platt:
The singing, there is still a little anxiety every time I open my mouth. Sam Levene, the original Nathan, couldn't sing that well, so they cut all the songs they originally wrote for him except for "Sue Me," because that's such an amazing number. They built a musical ladder for Sam — when he sings "Call a lawyer and Sue Me…" they built that ladder in so he could find that note, starting with his speaking voice. So that makes it easier, but I'm much more comfortable with the singing now that I can do it without embarrassing myself.
Q:
Dancing, you have done before. I recall the humorous choreographed ending of the movie "The Impostors" you did with Stanley Tucci.
Platt:
Somebody told me I didn't list "The Impostors" in my Playbill bio, and I was shocked and dismayed, because that is in my top five. I love that. There is some
Guys and Dolls
in there, totally.
Q: A couple years back, I saw you in Shining City, the play that contained one moment of sheer gasp-inducing terror for the entire audience. What was that like to witness from backstage?
Platt: That was very satisfying watching every night, knowing that was coming, and listening to that reaction. It was remarkable because people so didn't see it coming. The first responders in the audience would yell, then the people sitting next to them who maybe weren't so on the ball, would be scared by the yell. So there were waves of surprise, it was a lot fun to hear.
Q: As a rare-record fiend, I must ask about an album your father released.
Platt: It was called "The Country Team," and it was a joke. He put it out privately. If you find a copy, I would be amazed. My dad was a diplomat and the other guy was an international aid worker, so they called themselves The Country Team, even though it was not country music, more like folk. My dad was fluent in Chinese, so he would sing Chinese communist folk songs in fluent Chinese back to all these refugees living in Hong Kong, and they would just go nuts.
Q: Last question. What G & D musical number do you enjoy most that you are not involved in?
Platt: "Fugue for Tinhorns" is an extraordinary piece of music. I always sing along with that backstage as part of my warm-up. Lauren Graham and I sing together. We do our own special versions of it. What's remarkable is people come to the show and leave humming the songs and saying, "I didn't know I knew that song!" Believe it or not, there are still people out there who have not seen Guys and Dolls!
[Guys and Dolls is playing at the Nederlander Theatre, 208 W. 41st Street. Check out guysanddollsbroadway.com.]
*
BROWN'S IN TOWN
Jason Robert Brown
, composer, performer, the man behind Broadway's recent
13
, and the much-beloved
The Last Five Years
is at Birdland nightly until April 4 with his band, the Caucasian Rhythm Kings. My hope is you are reading this column early enough in the month to go catch the show. In any case, you can augment your Brown knowledge with this little interview. PS: He will be performing a few songs from his Broadway-aimed show,
Honeymoon in Vegas
at Birdland.
Question:
Hi. Happy to be returning to Birdland?
Jason Robert Brown:
I'm always excited to play at Birdland. Every Spring we've been doing these weeklong stands there, which is exciting because it makes me feel like I'm a jazz guy, when of course I'm just a musical theatre freak, like everybody else. What we try and do every year is something different then the year before. Last year we did
The Last Five Years
. Lauren Kennedy and I did several performances of that show in a concert setting which was a blast. This year, I didn't want to do anything that formal or anything that hard, so we're doing a concert, some of the stuff we've done before and some new songs we've been working on. There's also a girl named Kate Pazakis, who is also a great singer. There are two nights when Lauren won't be able to make it and that is when Shoshana Bean is coming in, who is just an awesome singer. So we have all these great chicks belting their brains out, and I'll play a lot of notes and the band will make a lot of noise and it will be a fun couple of nights.
Q: Do you like to let your material speak for itself or do you reach out with the verbiage?
Brown: I'm a performer as well as a writer. I tend to talk a lot during shows. That keeps the audience amused in between the six-minute piano solos. There tends to be a pretty wide range of entertainment options at a Jason Robert Brown show.
Q: Who are some folks whose live performances inspire you?
Brown: I've seen a lot of them over the years that were influential in terms of what I wanted to do and what I like to see. I go to see John Pizzarelli, who will be following me at Birdland, all the time. And John's shows are the perfect mix of loose and musical and very well structured. They never feel like they are out of control. Lyle Lovett is the same. Very swinging, anything can happen, and at the same time, whatever happens, you know you are in good hands.
Q: How began your love affair with the piano?
Brown: I'll never really know exactly what happened. When I was six or seven years old I told my parents I wanted a piano, and it turned out my grandfather had one in the basement of his house in Brooklyn, so they dragged it to our house and I sat down and started playing it. It is as mysterious and prosaic as that. I wanted one, I had one, and all of a sudden, I was playing it. I know that I connected to the instrument on a visceral level very quickly.
Q: Describe how your career has changed from the time you began 13 until now?
Brown: When I started 13 I was living in New York, and primarily a musical theatre composer and that was my main gig. Now, I've branched out in a lot of different directions. I'm still primarily a musical theatre writer as far as people are concerned, but most of the work that I do is in performing these concerts and teaching. I do a lot of master classes and teach at USC on a regular basis. I moved out to Los Angeles, which is a major shift for anyone who works in the theatre.



photo by Ryan Miller
Q:
You are married to composer Georgia Stitt. Do you ever have battles over a tune that you were humming in the shower that she overheard and used in a show — things like that?
Brown:
I think we both have our individual voices, I don't think that's the concern. The bigger concern is that two piano players make an awful lot of noise. We need to make sure there is enough space that she can do her work and I can do mine without both of us stepping on each other. Space was more of a problem in New York than it was here, but now we have a three-year-old, so we don't get to be creative at all! [Laughs]. [Jason Robert Brown is at Birdland until April 4, one show nightly at 7 PM. Birdland is at 315 8th Ave. Call (212) 581-3080 for reservations. Visit jasonrobertbrown.com.]
*
HITHER AND YON
Alberta-native Ryan Silverman is thrilled to be joining the cast of Phantom on April 24 as Raoul, a part he played for six months in Las Vegas. I spoke to him about his excitement at being a part of the Broadway cast. "For several years I've been living in New York but going all over the world working, so to get to do a show and come home at night will be a good feeling," he says. Look for the entire interview with Ryan next month right here…April 3, Lee Markham becomes the new Luke in Altar Boyz, replacing Neil Haskell. The rest of the Boyz are Michael Kadin Craig, Travis Nesbitt, Mauricio Perez and Ravi Roth. Check out the www.altarboyz.com for all things Altar.
Scoured the remains of Virgin Megastore Times Square before it closed up for good, and most of the show music was long gone. Not that it had the world's greatest selection, but it was rather conveniently located, so I put it to you, NYC readers: Where do you shop for your show music, those of you who like to shop in actual shops with walls and cash registers? The other question is, where will the casts of shows go now for signings when a cast album comes out? Virgin had a pretty good set-up for that. Sad to be lamenting something called a "Megastore," but it wasn't a bad place on a Rainy Day in Times Square. See you in May!
Tom Nondorf can be reached at [email protected]