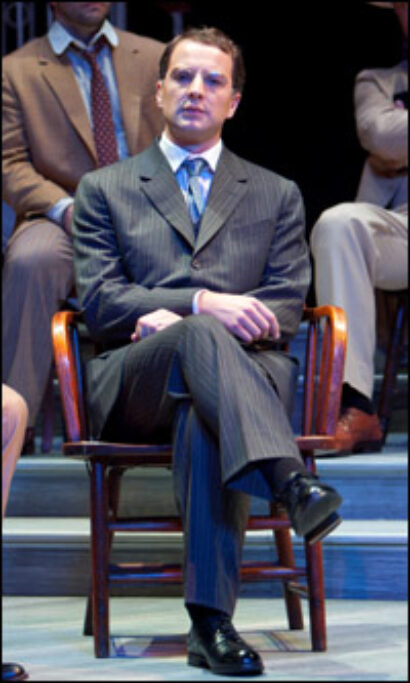 Matt Blank, Playbill.com Photo Editor
Follies at the Kennedy Center. I had never seen a fully-staged professional production of the show and, with that dream cast signed up, I wasn't about to miss this chance. A Broadway transfer was still wishful thinking at that point, so it was well worth the trip to see such an emotionally powerful staging executed by an all-star roster of talent. I've been back to see it at the Marquis more times than I care to admit.
Mark Rylance's powerhouse turn in Jerusalem. I didn't think it would be possible to top his 20-minute La Bete monologue, but 3.5 hours of Johnny "Rooster" Byron accomplished exactly that. The man is a force of nature. I can't wait to see what he gives us next.
Lillias White's (literally) show-stopping performances of "The Oldest Profession" from The Life, for which she won a Tony Award. I was lucky enough to see her deliver the song twice this year: as part of the Cy Coleman revue The Best Is Yet to Come and at Town Hall's Broadway Musicals of 1997 concert. The audience erupted into a seemingly endless mid-act standing ovation both times.
A bit of regional love for a standout Guys and Dolls at Long Island's Engeman Theatre. I'm a sucker for this show to begin with and will happily travel for a good production. It was a thrilling, colorful staging in a gorgeous venue not too far a train ride from Manhattan, with spot-on perfect leading lady performances by Jessica Grové and Andréa Burns. Musical comedy gold. The Book of Mormon. Seems an "easy" choice but it really is such a joyful, naughty, original piece of work that is very difficult not to embrace. I went in determined not to get swept up in the hype, and I failed miserably. Laughed harder than any time I can recall, and that music is still stuck in my head.
Euan Morton's breathtaking "Leo Frank" in The Ford's Theatre production of Parade. It was a treat to see the show up onstage (with post-Donmar revisions in place) and to hear Jason Robert Brown's glorious score in person. Morton was flawless both in voice and character. His Act One solo "It's Hard to Speak My Heart" stands out in particular.
photo by Michael McCabe
Andrew Gans, Playbill.com Senior Editor
Chinglish: This latest offering from David Henry Hwang is part comedy, part drama, part love story and part mystery, but all wonderful. I was particularly taken with the performance of Broadway newcomer Jennifer Lim and loved the highly theatrical touches peppered throughout Leigh Silverman's production.
Josh Gad and Andrew Rannells in The Book of Mormon: I'm not sure which of these actors was funnier in The Book of Mormon, but thankfully audiences didn't have to choose. We got to see both of these actors triumph in one of the most hilarious and outrageous musical comedies in years. In fact, it's the one new production I wanted to see again as soon as the curtain came down.
Frances McDormand in Good People: The Oscar-winning "Fargo" star once again proved how wonderful she can be on stage, bringing the working class Margaret to full life, making audiences feel deeply for her plight to save her job, her daughter and, ultimately, herself.
The Normal Heart: From the moment Larry Kramer's drama began through its heart-stopping conclusion, I was completely absorbed by each and every moment on stage. In fact, it would have been hard to imagine a better ensemble of actors to bring to life this harrowing tale of the dawn of the AIDS epidemic in New York City.
Other Desert Cities: Both Off-Broadway and on.
War Horse: I had the most visceral reaction to this visually stunning work, barely able to watch the conclusion of Joey's epic journey.
For Gans' 2011 Diva picks click here.
photo by Joan Marcus
David Gewirtzman, Playbill Special Projects
The Normal Heart: From Lee Pace's monologue late in the second act, through to the end of the play, and then out on the street reading Larry Kramer's letter to the audience, it took most of a long walk back to my apartment just to stop crying.
Richard Nelson's Sweet and Sad: The Apple family's return to the Public Theater for the 10th anniversary of 9-11 managed to perfectly express what I – and apparently many New Yorkers – were thinking that day.
The Book of Mormon: It's hilarious. What more do I need to say?
Mary Testa, Queen of the Mist, 1st Preview: Her performance of "The Fall," the final song of a long second act, in which we finally find out what it was like for Annie Edson Taylor to go over Niagara Falls. One of those "How did she do that?" experiences. ALSO: Watching James Levine, who had returned to the Metropolitan Opera in April after a two-month sick-leave, masterfully conduct the enormous Wozzeck orchestra; being spun around in a pitch black wardrobe, tightly tucked into a chaise, and getting my exercise for the year sprinting around the staircases of the McKittrick hotel in pursuit of the actors in Punchdrunk's ingenious Sleep No More; Edgar Oliver's fabulously macabre tale of his experience living on East 10th Street at PS 122; David Tennant and Catherine Tate (also known to "Doctor Who" fans as The Doctor and Donna Noble) obviously having a blast starring in Much Ado About Nothing in the West End; David Lindsay Abaire's terrific - at turns heart-breaking and heart-warming - drama Good People at Manhattan Theatre Club; the Donmar Warehouse continuing their streak of superb Schiller productions (after Don Carlos and Mary Stuart) with Luise Miller.
photo by T. Charles Erickson
Michael Gioia, Playbill Staff Writer
The puppetry of War Horse was brilliant — still amazed by the Handspring Puppet Company.
Paper Mill Playhouse's Newsies: Overall, it was the most fun I've had all year. The choreography was sick, and the energy was through the roof. Also, being at the "Fan Day" performance and sharing the experience with the original movie cast and the die-hard Newsies fans was unforgettable. I'm looking forward to the Broadway transfer.
Rutina Wesley and Jonathan Groff's final argument in Jeff Talbott's The Submission (Off-Broadway). Both of these performers delivered incredible performances, and Talbott's writing kept the audience at the edge of their seat. After their final argument, you could hear a pin drop at the Lucille Lortel.
Experiencing Larry Kramer's The Normal Heart — beautiful and heartbreaking.
Alan Rickman saying semicol-ON in Seminar. That man can speak the phone book for entertainment!
photo by Joan Marcus
Harry Haun, Playbill Staff Writer
Tyne Daly and the orange in Master Class.
Yul Vazquez's sexually ambiguous tightrope act in The Motherf**ker with the Hat.
Beyond the theatrical bombast and puppet artistry of War Horse, that beautiful, getting-to-know-you love scene when boy meets horse.
The Visit's first visit to Broadway, if only for one night.
Linda Lavin flipping through a magazine, about to fling her next zinger, in The Lyons.
Patti LuPone violently sloshing her martini glass dry at the end of her toast to "The Ladies Who Lunch" in the New York Philharmonic's Company.
Judith Light on the sauce in Lombardi and off the sauce in Other Desert Cities.
Jan Maxwell effervescing or whatever-you-call-it in Follies.
The Willie Nelson joke in All New People.
Daniel Radcliffe going to town on the "Brotherhood of Man" number in How To Succeed in Business Without Really Trying.
Simultaneous occurrences: Joe Mantello's italic rage in The Normal Heart and his sensitive direction of Laurie Metcalf's mental disintegration in The Other Place.
Christian Borle's overactive orbs pulling focus from a chorus line of guys in mermaid drag in Peter and the Starcatcher (not an easy thing to do, that).
photo by Simon Annand
Adam Hetrick, Playbill.com Staff Writer
Jerusalem. I admit it, no one gets sweaty palms more than I do at the thought of a show that runs longer than three hours, but Jez Butterworth's cast of characters – led by Mark Rylance in yet another once-in-a-lifetime performance – had me enthralled (so much that I had to go back for repeat viewings). It was visceral on so many levels. You could smell the grass and dirt. There's music in Butterworth's language. His use of myth and gritty reality smashing against oneanother had me all the way through the full-throttle, heart-racing ending. I'd put Jerusalem on my top list of everything ever.
Other Desert Cities. New York stages have been saturated with philosophical political theatre, but Jon Robin Baitz doesn't take a side in this high-stakes emotional rollercoaster of a play. There's the old guard Republican mom and dad, who chafe against their left-leaning kids, but this is really a play about parents, children and love, no matter what. Throw in sharp one-liners and an emotional revelation I never saw coming, this is one of the most satisfying evening's I've spent in the theatre.
Peter and the Starcatcher. The Peter Pan story has never worked on stage for me until I saw this production that plunders the riches of language, theatrical story-telling and the imagination of the audience to not only make adults feel like kids again, but to simply make us feel. I hope the entire cast makes the Broadway transfer – they were perfect. It's a beautiful telling of the back-story of the boy who wouldn't grow up. I won't spoil the ending, but the last line before the final black-out is what theatre is all about for me.
The Normal Heart. Larry Kramer, thank you – you angry, impassioned, magnificent man. This play should always be on Broadway. Beyond a magnificent cast, who gave performances full of tenderness and rage, the timing of Gay Marriage Equality passing in New York State while The Normal Heart (a stark reminder of how far we still need to go) was playing its Broadway debut, was very special. The Submission. This play took a hard look at individual notions of what is and isn't racism/prejudice, how we personalize that pain and who owns that story. Jeff Talbott's play (anchored by the crackling performances of Rutina Wesley and Jonathan Groff) ripped to shreds the idea that New Yorkers, the theatre community, and to an extent, the gay community, are beyond holding discriminatory points of view. I've never enjoyed being so emotionally uncomfortable in a theatre.
I also have to throw in seeing Follies with a lush, 28-piece orchestra at long last; sitting in Carnegie Hall while the New York Pops recreated Judy Garland's legendary Carnegie Hall set – the overture alone was enough, but Lorna Luft's voice with tinges of her mom in it was thrilling; the New York return of Arias With a Twist, which was even more dazzling than before, if that's possible; and the Transport Group's production of Michael John LaChiusa's Hello Again.
photo by Joan Marcus
Kenneth Jones, Playbill.com Managing Editor
Old-school scenic designer Desmond Heeley's hand-painted sets and warm footlights for Roundabout Theatre Company's Broadway revival of The Importance of Being Earnest, conjuring up the two-dimensional physical charm of Victorian theatre. Completely refreshing. (Heeley ended up winning the 2011 Tony for his costume design for the production.)
The Book of Mormon's song "Hello!," showing that there are still musical theatre writers out there who know how to write a smashing opening number, and proving again how vital that first 15 minutes of a musical is. If you don't get the flavor, tone, melody and "world" of a show in the first few minutes, it usually means trouble.
Daniel Radcliffe's athletic, hell-for-leather dancing and movement in How to Succeed in Business Without Really Trying, his Broadway musical comedy debut. Who ever knew the march-time "Grand Old Ivy" could be a wild showstopper? (Director-choreographer Rob Ashford knew!)
Decoding the three-hour Broadway production of Jez Butterworth's Jerusalem starring Mark Rylance as a mythic force-of-nature character stewing on the edge of a British forest that is about to be plowed for suburban homes. An allegory about the death of The Romantic? A metaphor for the decay of England? Who knows? It was a ripping yarn, full of kinks and twists.
The dark colors of director David Cromer's revival of The House of Blue Leaves, proving there is more than one way to approach a script. It was perfect for those who like a few more shadows in their absurd dark comedies.
photo by Jeremy Daniel
The freshened, rewritten, better-than-on-Broadway national tour of
The Addams Family
, with new songs and plot points that offer stakes, tension and a real relationship at the core: It's now solidly about Morticia and Gomez. And the show tops itself in a newly created surprise plot coda in the bows, crafted by director
Jerry Zaks
and choreographer
Sergio Trujillo
. Spoiler alert: The curtain call includes the wedding of Wednesday and Lucas, incorporating the whole clan.
The sheer thrill of an airborne Spider-Man landing feet-first in the house-right orchestra aisle at Broadway's Foxwoods Theatre. Sadly, at least for this former collector of Marvel Comics, it was the high point of Spider-Man Turn Off the Dark (both versions).
Actress and former Olympic athlete Cathy Rigby, aged 59, crowing, jumping and flying her way through a new national tour of the musical Peter Pan, which stopped into the Theater at Madison Square Garden. Surely one of the great stage performances of the past 100 years. (Luckily, an earlier tour performance was captured on video for future generations to see.)
The titanic ferocity of Jan Maxwell's "Could I Leave You?" in the new Broadway production of Stephen Sondheim and James Goldman's Follies. By the end of the song, she practically bursts into flame — a brave and thrilling choice.
Other high points: Rebecca Luker's gorgeous "Losing Roberto" performance in Maury Yeston's Off-Broadway musical Death Takes a Holiday score (a cast album captures it); Tyne Daly's immersion into the character of Maria Callas in Broadway's Master Class (London now gets her); the sheer humanity and unpredictable turns of the soulful dark comedy Sons of the Prophet by Stephen Karam at Roundabout's Laura Pels; the brilliant Eternal Flame scenic reference by designer John Lee Beatty in Jon Robin Baitz's Off-Broadway and Broadway play Other Desert Cities; Amy Morton and Tracy Letts finding both the earthbound reality and the wider universal ideas in the feud of Martha and George in Who's Afraid of Virginia Woolf? at Arena Stage (the Steppenwolf Theatre production is Broadway-bound); director Jonathan Butterell's potent physical storytelling in the chamber musical A Second Chance starring the seasoned married couple Brian and Diane Sutherland at Virginia's Signature Theatre; anything that New York sound designer Ryan Rumery does.
photo by Joan Marcus
Joseph Marzullo, Playbill.com Photographer
Seeing Harvey Fierstein in La Cage aux Folles was a true highlight of the year. Harvey's take as Zaza was the personification of an actor/entertainer at the top of his game. It does not get any better that this. We were sitting next to a mother with her young daughter. It was the girl's first show. They had a blast. Imagine having Harvey as Zaza in La Cage as your first Broadway show! How will she top this?
The onstage chemistry of the four leads in Follies is pretty damn sensational. Only a few weeks left to catch this thrilling production
I don't know what to say about The Normal Heart. This was a production that had to be experienced and felt. Truly memorable.
Bobby Cannavale in The Motherf**ker with the Hat proves once again that he can bring startling realism to any role he is given. Blake Ross, Playbill Magazine Editor
photo by Joan Marcus
When
Joe Mantello
threw the milk carton on the floor in the second act of the revival of
The Normal Heart,
he summed up the frustration, sadness and anger over the negligent actions of both the government and the community during the early days of the AIDS crisis — and the desperation of loving someone who you know will have to leave you soon.
Watching Angela Lansbury's expression during a performance of The Book of Mormon.
The collective gasp from the audience during the reveal of Joey the foal into Joey the adult horse in War Horse.
Continued fundraising for Broadway Cares/Equity Fights AIDS by Hugh Jackman (over a million dollars!) and Judith Light. Both amazing members of our community who would (in Jackman's case, literally) give the shirts off their backs for Broadway's most important charity.
Amazing singing by some great new talent, including: Steve Kazee singing "Leave" in Once, Melissa van der Schyff singing "That's What You Call A Dream" from Bonnie and Clyde, Jessie Mueller stealing On a Clear Day right out from under Harry Connick, Jr. during "Every Night At Seven," Patina Miller raising her voice in "Sister Act," and Lindsay Mendez belting "Bless the Lord" in Godspell.
photo by Michael Lutch
Seth Rudetsky, Playbill Contributing Writer
Norm Lewis interpolated high note at the end of "I Got Plenty Of Nuthin'" in Porgy and Bess. So shocking, unexpected and crazily well-sung. Only surpassed by his singing and moving interpretation of the show's final song which left me with tears coming from my eyes.
Audra McDonald coming out on stage [in Porgy and Bess] and within one minute singing an operatic high B! Take that, people who only know her from "The Practice"!
I love the way Benjamin Schrader (in Book Of Mormon) sings "So you won't burn in he-e-e-e-e-e-e-ello-o-o-o-o-o!" in the opening number. I rewind it all the time!
Terri White's sassy tap dancing in Follies. When I was playing piano at Rose's Turn and she was a waitress, I knew she was a beltress...but who knew she could haul out the pull backs?!?!?!!? Patti LuPone having the nerve to have the exact same range she had in 1979. I've said it before and I'll say it again; the next revival of The Picture of Dorian Gray should star her larynx.
The Mary Poppins kids at Gypsy of the Year doing junior versions of classic plays. Completely obsessed with that little boy skipping around chanting, "Who's afraid of Virginia Woolf, Virginia Woolf, Virginia Woolf…" and then the ten-year-old girl with a haggy Elizabeth Taylor wig raising her arms in frustration to heaven and screaming, "I-I-I-I-I-I-I A-A-A-A-A-A-AM!!!!!!!"
photo by Manuel Harlan
Mark Shenton, Playbill.com London Correspondent
There is a moment in the National Theatre's production of One Man, Two Guvnors (now heading to Broadway in April, so you'll be able to see for yourself) where I laughed so hard I thought I would stop breathing. I won't say what it was, so that I don't spoil the surprise, but suffice to say it involves a doddery old waiter (played by Tom Edden in the year's funniest performance).
London Road, also at the National, was the year's most unusual and surprisingly transcendent musical, setting the actual words of those affected by the murders of several prostitutes in Ipswich in 2006 to music. There's a stunning moment where a TV newscaster has to deliver a convoluted speech to camera, and keeps getting it jumbled up. The actor playing the role has to remember it in four or five slightly different configurations, singing it at the time. Amazing!
The Baker's Wife, Stephen Schwartz's musical that closed on the road on the way to Broadway in its original production, was reclaimed on the London fringe in a stunningly moving production at the tiny Union Theatre. As the baker and his wife are reunited at the end, staring across at each other as they knead the dough, they kneaded my heart.
The RSC's production of Matilda The Musical is full of favourite moments -- but none more so than when Bertie Carvell's monstrous school headmistress vaults a gymnasium horse, or throws a young girl to the theatre ceiling by her pigtails. Hilarious!
Jude Law, emerging stripped bare to the waist, emerging from the sea dripping with water and sweat, in Rob Ashford's production of Anna Christie at the Donmar Warehouse, was the year's single most electrifying sight.
For bare, fully exposed flesh, however, there was nothing to beat Danny Boyle's production of Frankenstein, which had Jonny Lee Miller and Benedict Cumberbatch, alternating as the creature and his creator, stark naked for the first 15 minutes. Miller may have had an all-too-close body shave, but won by a good few inches.