*******
My favorite experience this year in the theater was David Cromer's production of Brighton Beach Memoirs which I found to be a completely honest and emotionally satisfying portrayal of a family in transition. Cromer's cast and entire production were perfect. I am so sad that more people did not get the chance to see this!—Victoria Clark, Tony Award winner
Seeing Kate Baldwin in Finian's Rainbow I knew I was seeing our next great Broadway Star. She simply took my breath away. –Polly Bergen, Emmy winner and Tony nominee
It wasn't a moment, but a day, really. My husband and two friends and I spent a rainy Saturday seeing all three plays in The Norman Conquests. It felt oh-so New Yorky to do it that way. I fell in love with every single person onstage that day and was sad when it was over. –Kate Baldwin, Finian's Rainbow
Watching a bunch of beautiful, sweat-soaked, spit-splashed, passion-hungry young folks tear their hearts open at the Hirschfeld Theatre in Hair. Made me want to stand naked in front of City Hall. Hopefully not alone. -- Adam Chanler-Berat, Henry in Next to Normal


My most meaningful theatrical moments this year was when I had the honor of performing Ragtime for Marin Mazzie, Peter Friedman and Audra McDonald - all of whom I was lucky enough to work with in the past two years, and whose original performances in Ragtime inspired me to become an actor in the first place.-- Bobby Steggert, Younger Brother in Ragtime
My favorite memory in theater in 2009 was opening night with my good friend Sahr Ngaujah [who plays Fela Kuti]. We listened to afro-beat music as teenagers and went to performing arts high school together and now we're opening Fela! on Broadway! That was amazing!--Saycon Sengbloh, Harlem, NY, Sandra Isidore in Fela!
The one that stands out in my mind is the dedication of the $11 million expansion and renovation of The Actors Fund Home in Englewood, New Jersey, on April 23 when we conducted our annual celebration of William Shakespeare's birthday. We added 15 beds in the nursing home, built a rehabilitation center, added an elevator, improved the assisted living care facility, created the Shubert Grand Foyer adorned with art from their archives, staged our first event in the MusiCares Foundation Salon with images of their "Persons of the Year" and picnicked under the Fran Gaar Wall of Fame in the courtyard. These represented just a few of the gifts that have made this Home so wonderful. The picture [above] is of Geoffrey Rush who read Shakespeare (and led the benefit performance of Exit the King two days later), Lynn Redgrave who presented her "Shine" co-star, me, Jane Powell who recognized donors and Fund President Brian Stokes Mitchell who hosted the program. Yes, that is the Bard's image on that cake. In 2009, The Actors Fund will have helped 11,000 friends and colleagues in 26 states, more than 500 in our four residences. We are proud of how we help and who makes this help possible. –Joseph Benincasa, Executive Director of The Actors Fund
Broadway Cares/Equity Fights AIDS' Gypsy of the Year competition was hands down my favorite moment of 2009. The coming together of the community—from the casts and crew members, to the theatre owners, to the unions and the guilds, and especially the audiences—to raise over $4.6 million for this vital organization was astounding. It makes me proud to be a member of such a generous community. --Philip Birsh, President and Publisher of Playbill and Treasurer of BC/EFA
My highlight was that for the fifteenth year more money than ever before was raised at all the theatres and especially the two hunks...you know who you are.....for Broadway Cares/ Equity Fights AIDS and The Phyllis Newman Women's Health Initiative of the Actors Fund.......HOORAY--Phyllis Newman, Tony Award Winning Actress and humanitarian
I think we can all agree that the most memorable moment of 2009 was the long-awaited record release of Glory Days. I kid of course, although only slightly. It was kind of amazing that we actually got an album out of such a short run. And we have developed a kind of cult fan base because of it. Great things come to those who wait....or to those who open and close a Broadway show in one night. But in my humble opinion, 2009 was the year of Broadway Impact, an amazing group founded by Gavin Creel, Rory O'Malley, and Jenny Kanelos. Their actions, words, and enormous hearts continue to give hope and support for marriage equality. This year, they were everywhere, at all of the BC/EFA events, rallies here and in Washington, Joe's Pub, and at our very own Defying Inequality dance party and concert. Their continued efforts have renewed my pride for this wonderful community we are all part of.-- Alex Brightman, Boq in Wicked
Actually my favorite moment was the day I ran up to Playwrights Horizons to see Circle Mirror Transformation– which I adored – and then had to get back down to Barrow Street Theatre; then, on December 16, Nora Ephron attended the record-breaking 337th performance of Our Town, but had to run afterwards to get back to her show, Love, Loss and What I Wore, at Westside Theatre because they were also having an event; and, Annie Baker, author of Circle Mirror Transformation, on that same night of December 16, was simultaneously coming down to Barrow Street from her show to speak at our special post-show event. Besides the "beehive" activity that is always New York, it is comforting (and fun) to think about how many of us are connected, and how this community finds ways to show up. Someone, please tell the MTA that we are trying.-- Scott Morfee, Barrow Street Theatre/Producer, Our Town
The transfer of Avenue Q from Broadway to Off-Broadway. This unprecedented move could be one of the biggest game-changers the industry has seen in awhile. The life of shows could be extended. Off-Broadway theaters could be filled. And jobs could be created. -- Ken Davenport, Producer, Davenport Theatrical
.
There are two moments that stick out for me as very special in 2009: Lin-Manuel Miranda's final performance in his Broadway masterpiece creation, In The Heights and Karen Olivo's heart-felt, sincere and well-deserved Tony Award and acceptance speech.-- Brian Liebman, New York City, Talent Manager (Liebman Entertainment)
For me, the theatrical event of this past year, without a doubt, was Next to Normal. It was such a visceral experience for me, that nothing has quite equaled it, since. The night I went, I knew nothing about it. I hadn't seen it at Second Stage, but was aware they had been working on it "out-of-town." I knew Alice Ripley, from working with her on Les Miserables, and knew little of the authors. By the end of Act One, I remember I could barely breathe and my face was in my hands, in tears, only to realize that the rest of the audience around me was in a similar "state." During intermission, there was not your "usual" buzz, but a sort of silence and recognition of how stunned we all were and quietly thinking "What would Act Two bring? When I have an experience like this, at a show, I try never to see it again. Too satisfying. Then came their well-deserved awards and a fantastic Original Cast Recording that I play "non-stop." My one query is, "How did this recording not get nominated for a Grammy Award, in its category?" There were, of course, many other wonderful stage offerings this past year, but Next to Normal is always at the top of my list when people ask me, "What should I go see?"—Richard Jay-Alexander, director/producer
Ruined without a doubt was the show that stayed with me the most. Lynn Nottage not only wrote a great piece of theatre, but she put a spotlight on an important part of the world that many people have little connection to. Her show made the struggles and hardships of the people of the Congo real, human and devastating to someone who has only read about it in newspapers.–Blake Ross, New York NY, Editor of Playbill
For plays, it was Cate Blanchett's stunning performance as Blanche DuBois in A Streetcar Named Desire at the Brooklyn Academy of Music. There have been many Streetcar revivals, containing several good Blanches, but Blanchett's is imprinted in my memory as the first that led me to truly understand, and feel for, her character. Blanchett and the rest of the superb Australian cast made each line, each scene, vivid, conveyed more fully than I have ever seen the qualities that make the Tennessee Williams play one of the finest in the history of American theater. For musicals, it was the moment another "Cate", or Kate — Kate Baldwin — begins to sing "How Are Things in Glocca Morra?" in the current Broadway revival of Finian's Rainbow. It brought back for me the joy of Golden Age Broadway musicals, the kind of shows we really don't see anymore. The glorious Burton Lane-E.Y. Harburg score recalled the days of my youth (though those days in truth came years after that 1947 show opened) when each season brought exciting new entries in the world of musical theater. –Mervyn Rothstein, writer and Playbill contributor
Far and away, the single most affecting moment I had in the theatre occurred during the third act of Our Town when [spoiler alert!] the Stage Manager abruptly pulls back a black curtain to reveal to Emily the morning of her 12th birthday, which she doubtlessly didn't even notice (or note as supremely special) the first time around. That was real bacon being cooked in the skillet and real hot coffee rising in steam out of the cup. What it brought back to me was that, after all these years and all these viewings, this beautiful play still touches the heart.—Harry Haun, New York, NY, Playbill staff writer
Hands down Next to Normal. (But it ties with Blanchett's Streetcar)
--Adam Hetrick, New York, NY, Playbill Staffer
For me - 2009 was a year of star turns...Cate Blanchett was stunning as the tattered beauty Blanche DuBois in The Sydney Theatre Company's production of A Streetcar Named Desire at BAM. We knew Hugh Jackman could pull it off on the Great White Way - but Daniel Craig's Broadway debut was equally memorable in A Steady Rain. Catherine Zeta-Jones and Angela Lansbury breathed new life into Stephen Sondheim's masterpiece A Little Night Music. The incomparable Alice Ripley returned home to the Broadway stage with her electrifying performance as Diana in Next to Normal. And the lesser known Chad Kimball and Montego Glover proved their star status with the rock and soul infused Memphis!—Frank DiLella, theatre producer for NY1 News
In 2009, my theatrical blessings came in multiples. I saw two of the most perfect Shakespeares I think I'll ever see: Sam Mendes' dazzling Winter's Tale at the Brooklyn Academy of Music and Robert Falls' sex-drugs-and-rock-and-roll-studded King Lear at Washington, D.C.'s Shakespeare Theatre Company. I was treated to four works by one of my favorite writers, Alan Ayckbourn, thanks to his Norman Conquests trilogy and 59E59's import of My Wonderful Day. But the best gift came courtesy of the late Horton Foote, via Off-Broadway's Signature Theatre and Connecticut's Hartford Stage: The Orphans' Home Cycle. It's not only the epic length that impresses (nine plays divided into three productions!); it's the stunning simplicity of Foote's narrative. I've only seen the first two, The Story of a Childhood and The Story of a Marriage, and I'm hopeful that the third, The Story of a Family (which starts Jan. 7), will be on the same level. That would get 2010 off on the right Foote.-- Melissa Rose Bernardo, New York, NY, Writer
In my book Daniel Craig in A Steady Rain hands down. --ALM, Germany, reader
Fela! without any doubt, unforgettable, inspiring, intelligent, and FUN! This show is making theater history! --Judith A. Crews, Meridian, Idaho, reader
Rock of Ages featuring Constantine Maroulis had people of all ages rocking! One of my favorite shows yet!—Micah Jesse, New York, NY, celebrity blogger
When Tommy Batchelor danced across stage [in Billy Elliot], I was amazed. The moment when he "flew" to the top of the proscenium I saw the birth of a star. In 30 years of theatre going I have only seen this happen twice before, Hugh in Boy From Oz and Patti in Evita. Neither of those stars needs me to use their last name, years from now the same will be true of Tommy. Off Broadway (but soon to be on) Next Fall proved that a play can be so simple and specific that is about only about a couple with problems but it also about Love, Life, Death, God, Family, Choices, things you can't think about, thing you must think about and things you never thought about before. It made you think about laughing and laugh about thinking. The moment that show ended I knew I would remember the play forever. --Brian Cullen, Somerset NJ, reader
We saved money all year to go to NYC and see In The Heights. We had excellent seats and got to see phenomenal performers. We had the whole play memorized and the people around us thought we were a little weird for getting excited for EVERY song. Went to the stage door afterwards and got to meet the cast. Mandy Gonzalez was amazing in both the play and at the stage door. We had such a great experience that we went back again the next night!—Julie Rodriguez, reader
Hair! Any old hippie will tell you how much fun it is to go back to relive the free spirited days of the sixties. I loved this revival. The music, the dancing, the exuberance, filled the whole theater and I thought the message was as important today as it was in the days of the Vietnam War. It was especially touching because I was with my daughter who laughed at me as I (softly) sang along with the cast. Rounding off this very special experience was a couple of "sightings". Dan Ackroyd, Tom Hanks and Isaac Mizrahi were in the audience. I love New York!! -- Terri R., Woodmere, NY, reader
I had many highlights in 2009, not only on Broadway, but in London's West End and here in Toronto, Canada as well. If I could relive one memorable performance that stands above all the others, it would surely be Saturday Oct. 3, the final performance of Kiril Kulish in Billy Elliot. I have never seen such an emotional outpouring of affection for any performer, let alone a 15 year old boy who was leaving a show after dedicating 2 1/2 years of his life to it… The full minute long standing ovation awarded Kiril mid-show following his heart-rending final Electricity will surely live in his mind as one of the highlights of his life. The slight deviation in dialogue at the end of the final scene between Michael and Billy reduced the entire audience to tears. This was stunning theater, and the drama onstage was augmented by the drama of the occasion. I truly believe Kiril's performance to get through that evening was the bravest thing I have ever witnessed, on- or off-stage. Well done, Kiril! --Rob Wills, Toronto Canada, reader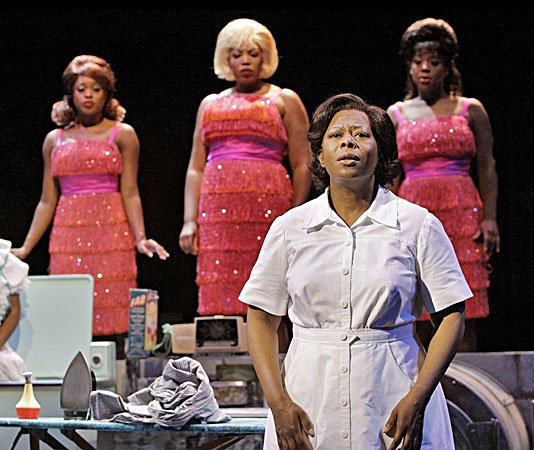 My most memorable theatre moment of 2009 was hands-down the Guthrie's production of Caroline, or Change. Greta Oglesby was amazing in the title role, bringing different shades of Caroline to life. She perfectly inhabited a woman who simply cannot change with the times and is tired and worn-down and angry. When I listen to the OBC Recording all I hear is the anger and Greta showed us more of Caroline's inner life than I expected to see. She was heart-breaking. The entire show was beautiful but she was the standout of the year for me.--Andrew Gillespie, reader
My memorable moment was Circle X's (Los Angeles) production of the new play Battle Hymn, by Jim Leonard, directed by John Langs. While I saw the play early in 2009, it still sticks with me. --Lloyd Noonan, reader
My moment for 2009 has to be taking my mother to see the revival of Ragtime the day after Thanksgiving. We had insanely awesome seats (Thank you TKTS!). I knew that she'd be in tears before the end of the first act; I was too. But when the lights came up at the end of the show, I don't think there was a dry eye in the house! That show struck something deep in every person I could see. We all left the theater a little changed. The power of the arts, hmm? --Laura Lindson, reader
Was finally getting to see Angela Lansbury in Blithe Spirit....and WHAT a spirit that woman has! I mean kicking her heels up that high was incredible. The entire case was superb!-- Jane Randall, reader
My favorite theater moment is when my friend took me to see Love, Loss & What I Wore. It was a great show and a great night!—Lauren Berman, New York, NY, reader
Neil Patrick Harris at the Tony Awards! He deserved his own Tony for that one! –Samantha Blaustein, Pittsburg, PA, reader
My most memorable moment this year was seeing Hair less than a month after it opened with my Mom. Somehow, we managed to get third row seats, and it was amazing. I literally could not stop smiling all throughout act one. During intermission, two front row patrons left, thoroughly offended by the show that they failed to learn anything about beforehand. Seeing the second act of Hair in the front row was incredible. I will never forget how I broke down during "3500," nor will I forget when Gavin Creel said "Oh, thank God!" when he saw that I had taken the place of the first act audience member who refused to acknowledge the actors when they interacted with her (she was in the "pants" seat). Dancing on stage stuck between Will Swenson and my Mom was one of the most exhilarating experiences. That day served as an extra boost of inspiration and as a reminder why I am a theater major. I want to help create that experience for others, just as the theater professionals of today have done for me. --Alissa Mesibov, student at UMASS
There are really too many to pick just one, but forced to, I would say that Hugh Jackman and Daniel Craig selling their shirts for Broadway Cares/Equity Fights AIDS had to be special.-- Andrew Greenhut, reader
My most memorable theater moment of 2009 was definitely winning the lotto for Hair. What an amazing show! The whole weekend was a great experience. I was hanging out with friends from all over the country, and world, and we had a TON of people come out to help my sister and I win the lotto for Hair. The whole thing was just awesome. From the part where one of the cast members gave me a suggestion to how I could relax more to the end where everyone went on stage to dance. Hair is more than just a show, it's a way of thinking and living. --Stacy Ross, Baltimore, MD, reader
My most memorable theatre moment this year was Kristin Chenoweth and Lea Michele dueting on Glee! Phenomenal!!!! –Paige Strothmann, Staten Island, NY, reader
Without a doubt, my most memorable moment was attending the 2009 Tony Awards on my 50th birthday. It was a dream come true. –Mary Ann Reid, reader
Thanksgiving weekend I saw Finian's Rainbow with my husband and 24 year old daughter. It was the very first Broadway musical that I ever saw when I was a little girl over 50 years ago and started me on my lifetime love of musical theater. I have passed that love onto my daughter and to see the revival with her was wonderful. Every beautiful song brought me back in time and brought nostalgic tears streaming down my cheeks. I got to talk with some of the performers and they were thrilled that this show had had such an impact on me. Og reminded me that the original was played by the incomparable Howard Morris. I felt like a little girl transported in time.-- Karen Meyerson, reader
In 2009 I saw a dozen or so shows. My favorite moment was waiting for the "curtain to rise" at the first preview of Rock Of Ages on Broadway. I had been to the first show Off- Broadway and was thrilled when it made the move to the Brooks Atkinson Theatre. You could feel the excitement in the air. There was no doubt it would be a hit and being there that night will always be a wonderful memory.-- Cheryl D., New York, reader
My best theatre moment of the year, by far, was when I learned that a gentleman by the name of Dan has put together a website devoted to the Melody Top theatre which operated during the summer season for 24 years, beginning in 1963 in the Milwaukee area as an outdoor "circus-style" tent. The venue featured performers such as Howard Keel, John Raitt, Imogene Coca, Tommy Tune, Chita Rivera and a very young Christine Ebersole. Melody Top was a true gem. It's closing was a real loss to the midwest Wisconsin and Illinois theatre community and it's wonderful that someone has taken the time to compile this terrific trip down memory lane.-- Claudine R. Kastner, Mount Prospect, Illinois, reader
From our Facebook Family!


Discovering "The Late Christopher Bean" in the Actors' Company Theater's great production. --Gerald Bartell




Next to Normal, sobbed like a fool, and I wasn't the only one....-- Erin Vargo




Saw Memphis multiple times in both La Jolla & Seattle. Fantastic. Can't wait to see it in NYC!-- Victor Hugo Pardo




Seeing Adam Pascal and Anthony Rapp three times in the Rent Broadway Tour in Boston and Providence. --Emily Ann




Todd Waite as Sherlock Holmes in The Crucifer of Blood at the Alley Theatre in Houston, TX. Mr. Waite brought Sherlock (and ALL of his faults) to life! Best performance I have seen in Houston yet!-- Merri Stinnett




Daniel Craig and Hugh Jackman in "A Steady Rain." Great performances in a very emotional play.-- Rob Murphy




Jersey Boys in Pittsburgh....fabulous and I highly recommend it. Looking forward to 2010...:D --Betty Cilia




Wicked in San Francisco. It opened early 2009 and has been extended again through March 2010. I wasn't sure I'd like it. I loved it. -- Irene Theodore Heinstein




getting a playbill full of autographs at the stage door of west side story. -- Jill Schafer




I've seen Billy Elliot 8 times with numbers 9 & 10 purchased for 2010. --Marc Miller




White Christmas. Great show, all the way around.. cast, sets, costumes and walking out onto the street after the show to see that it had started snowing (Amazing for a guy from Texas.)-- Jonathan Metting




Soho Playhouse is hosting The Emperor Jones, the next big play. THis is by far probably the best play of 2009. --Michael McIntosh




Being able not only to dance on stage at the end of Hair, but seeing that the NO PICTURES IN THE THEATER rule was not just relaxed, it was actually suspended during that dance! --Francie-Sue Rothstein




**flutter flutter** Paulo Szot singing This Nearly Was Mine. NYC Oct. 2009. I had an AMAZING seat in the 4th row. He is a phenomenal performer.-- Mindy Smith




"A Steady Rain", without a doubt. Daniel Craig was awesome, and Hugh Jackman wasn't bad either. Knowing the Chicago references (and being the only one in the theatre laughing at one of them) was great, too. --Viki Noe




the audience member at Gypsy getting LuPWNED, Alice Ripley winning the Tony, Karen Olivo's Tony speech, the A Little Night Music revival, meeting Beth Leavel & Hunter Foster, and Sutton Foster's solo album --Julia Marcinko




Taking my girls (ages 7 and 10) to see Wicked in Memphis, Mary Poppins in Houston, and Lion King in New York. And after Mary Poppins meeting Ashley Brown and taking the girls' picture with her......And also having a husband that does NOT give me TOO much trouble about my obsession...lol--Rebecca Clouatre Parker




drooling over Jude Law and his performance in Hamlet!! --Ali LaVecchia




Meeting Angela Lansbury backstage in her dressing room after seeing her in Blithe Spirit on Broadway.-- David A Ballas




Next to Normal.... Shephard Summers




Meeting John Cullum in January in NYC before his performance! --Jane Senker




When the audience member got LUPONED! --Sal Canepa




I agree about the Lupwned one haha...but also Alice Ripley's inspiring Tony award speech....anything Alice Ripley...-- Cerisse Bernadette Gabion




Learning Gypsy closed before I got to see it again. Bring back Patti! --Bobbi Marolt




Seeing Hair in NY and dancing on the stage at the end of the show--Laura Roversi




Sitting front row HAIR and having Will Swenson standing over me!!! -- Kelly Pettet Gray




Seeing Marry Poppens and Phantom of the Oprea in NYC.-- Catie Blencowe




i watched raul esparza and norbert leo butz in 'speed-the-plow' BUT it was the fact that i sat next to a certain fred armisen who was very very enthusiastic about elizabeth moss's performance - afterward, i stayed for autographs in the freezing cold for over an hour, got the two gods' and THEN waaaay later, moss comes out, hand-in-hand with armisen, they BOTH sign my playbill (he signs next to a mini-van advertisement with an arrow to the unidentifiable passenger - too funny!) and THAT WEEK, i read in the trades that armisen and moss out-of-the-blue became ENGAGED!-- Justin Lucero




Burn the Floor---hands down--they rock Broadway! Lillian Flores




seeing next to normal ?-- Jordan Rose Donohue




i got to meet lin manuel miranda and cristopher jackson after watching them in In the Heights!-- Sharon Gadea




i saw RENT twice :D--Nicole Pisa