A musical on video can mean a lot of things. For the purposes of this list, it's a distinction from film adaptations of musicals, and it is limited to only musicals captured in live performance, so there are no television adaptations (like Bette Midler in Gypsy) or even stage productions reconfigured for TV (like the original production of Passion). I've also excluded concert versions of musicals, no matter how elaborately staged, which leaves out several productions quite near and dear to my heart such as the Lonny Price-directed Patti LuPone versions of Company, Passion, Candide and Sweeney Todd, among others.
Last week I shared my list of the Top 15 Movie Musicals of the Last 50 Years. Check it out here.
Click through to read my list of top 10 musicals on video.
The original Broadway production of Stephen Sondheim and James Lapine's Into the Woods was preserved for posterity in a video so perfectly satisfying as to render the Broadway cast album almost pointless. Indeed, why listen to what you can watch in living color? Moreover, the definitive performances by the top-to-bottom stellar original cast are so permanently etched in the public consciousness, it's proven exceedingly difficult for other actors to make an impression in subsequent productions, particularly in the case of Joanna Gleason's Tony-winning triumph as the Baker's Wife, something of a landmark in the world of Sondheim musicals, and, in a certain sense, all contemporary culture. You could argue Gleason's Baker's Wife was "Seinfeld" before there was "Seinfeld."
If I sound biased, it's because I am. There are those who balk at the dramaturgy of Into the Woods, but it is Sondheim's most accessible musical and offered a generation a way into the work of the master, largely due to the ubiquity of this excellent record. I count myself a member of that generation and have high hopes for what the forthcoming film adaption will do for an even wider audience. It's nice to know, regardless of the success of the film, there will always be this treasure.
2. Sweeney Todd
Perhaps Sondheim's masterpiece and arguably his most flawless musical, Sweeney Todd is another Sondheim show which has enjoyed numerous revivals and even other video productions, including the aforementioned fabulous 2001 Symphony concert staging with Patti LuPone and George Hearn and Tim Burton's excellent and faithful 2007 film adaptation starring Johnny Depp and Helena Bonham Carter. Still, we are extremely lucky that Hal Prince's original production starring Angela Lansbury was also preserved on video.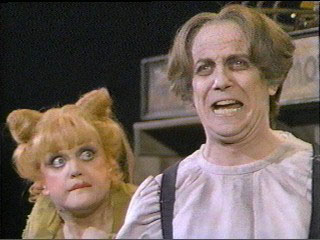 Maybe because this broadcast was directed for television by Terry Hughes (unlike Into the Woods, which was directed for the camera by its own stage director/librettist, James Lapine), Sweeney Todd doesn't quite translate to the screen as well as Into the Woods, or maybe Sweeney Todd's epic nature is just less appropriate. Nonetheless, the brilliance of the material, Prince's sweeping stage pictures and inspired work from a top-notch, mostly original cast led by the legendary Lansbury at the peak of her powers and George Hearn (who won an Emmy for this broadcast) make Sweeney Todd a thrilling must-see for anyone interested in musical theatre.
3. Sunday in the Park with George
Keeping the Sondheim streak going, Sunday in the Park with George is another Sondheim original production blissfully preserved on video. In this case, it's a godsend, because no one will ever touch Mandy Patinkin and Bernadette Peters at their idiosyncratic, exquisite best in this Pulitzer Prize-winning musical. The roles of George and Dot/Marie require sensitivity, intelligence and musicality, which are both performers' fortes and neither has ever been better than in Sunday in the Park with George. If some of the scenes with other characters suffer in the transition from stage to video (again directed for television by Terry Hughes), it's a small sacrifice in exchange for what is gained by having Patinkin and Peters in glorious close-up. This is a piece of work about the souls of an artist and his muse, and the video allows for its depths to be investigated and reinvestigated at different points in time. I always discover and appreciate new things about this incredible work of art.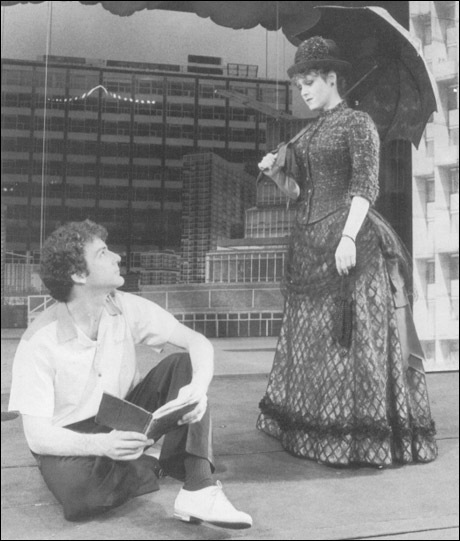 Victoria Clark

Photo by Joan Marcus
Another searing, soaring exploration of humanity, poignantly preserved on video is Bartlett Sher's rapturous original production of the Adam Guettel-Craig Lucas musical, The Light in the Piazza. This haunting love story swirls vividly to life, also like Sunday in the Park with George, gaining much from the ability to focus in close on faces. Victoria Clark's moving (and Tony-winning) performance as Margaret is as effective on video as it was on the stage, and Katie Rose Clarke and Aaron Lazar are arguably better suited to the roles of Clara and Fabrizio than original cast members Kelli O'Hara and Matthew Morrison had been. Unfortunately, this Live From Lincoln Center broadcast has not been released on DVD.
Passing Strange was a fascinating, affecting and completely unique experience live onstage, and as a musical preserved on video, it's another one on this list that benefits tremendously from the focus afforded by the camera. The show's story of young man's search for identity in and out of the context of community, as quasi-autobiographically narrated by Stew and reenacted by Daniel Breaker, is even more meta in close-up; the self-referential humor and poppy, funky, trippy score (lyrics by Stew, music by Stew and Heidi Rodewald) is even more enjoyable, as are the performances — including that of De'Adre Aziza in a number of supporting roles. Big kudos to Spike Lee for recognizing the importance of the piece and bringing it so directly to a wider audience.
Photo by Paul Kolnik
6. Company
Yet another Sondheim musical to make this list, Company was unfortunately not filmed in Hal Prince's watershed 1970 original production. Thankfully, some of the performances from that cast are partially viewable in D.A. Pennebaker's essential 1970 documentary, "Company: Original Cast Album." Also, as I mentioned, there is Lonny Price's exciting 2011 New York Philharmonic concert with a luxuriously all-star cast led by the practically perfect Neil Patrick Harris as Bobby and incendiary Patti LuPone as Joanne. Price also directed the cameras on John Doyle's Tony-winning 2007 revival, featuring Doyle's trademark use of the actors as musicians in place of a separate orchestra. This concept is surprisingly effective in Company, exploiting the notion that the eclectic sounds of the score illustrate the energy of New York City as a central theme of the piece.
Photo by Joan Marcus
7. South Pacific
Live From Lincoln Center also broadcast Bartlett Sher's Tony-winning 2008 revival of South Pacific, starring Paulo Szot and Kelli O'Hara. It's a treat to have this sumptuous production of the Rodgers and Hammerstein classic preserved in tip-top shape with such an exemplary cast. You'll want good speakers on your TV when you watch this, so when the orchestra swells in all those lush, grand melodies, you can feel the power of this piece. This production vividly conjured that tropical paradise in the midst of a world war and the video brings it home admirably.
I enjoyed Michael Blakemore's Tony-winning 1999 revival of Kiss Me, Kate when it opened starring Brian Stokes Mitchell, Marin Mazzie, Amy Spanger and Michael Berresse. I found three of their replacements (Burke Moses, Carolee Carmello and Janine LaManna) even more satisfying. The best group of leads in this production was ultimately assembled in its London incarnation, headed by Brent Barrett, Rachel York, Nancy Anderson and (once again) Michael Berresse. Luckily, it was this funniest and vocally strongest cast (also the most attractive, to boot) that was filmed for posterity.
Unfortunately never commercially released, but at least for now, available in its entirety on YouTube, Scott Ellis' 1990 New York City Opera production of A Little Night Music is a wonderful document of the beloved musical. This particular version is widely known as the cast performing "A Weekend In The Country" on the DVD, "Sondheim: A Celebration at Carnegie Hall." Those actors, most memorably Maureen Moore as a sort of Madeline Kahn-meets-Joan Collins take on Countess Charlotte, are all present, with the exception of Mark Jacoby, who was filling in for Michael Maguire at Carnegie Hall. And what you get here, not seen on the "Celebration" DVD, are the three generations of Armfeldt women, beautifully embodied by musical theatre staple Sally Ann Howes, Sondheim veteran Danielle Ferland and the delicious Regina Resnik.
Photo by Paul Kolnik
10. Legally Blonde
The MTV broadcast of Legally Blonde is essential, not just in its preservation of the musical Legally Blonde (tying in with the reality show casting competition, "Legally Blonde The Musical: The Search For Elle Woods"), but also in its portrayal of an entire era of new American Broadway musicals not captured on video. Looking back on the last 15 years or so, it's kind of astounding that there was no video version of Hairspray or Avenue Q — or even The Producers — film adaptations notwithstanding. These contemporary musical comedies (and more like them) reclaimed Broadway after years of British pop opera domination and Legally Blonde is an enjoyable example of the genre, which at least for the time being, is unique in its immortality.
(Ben Rimalower is the author and original star of the critically acclaimed Patti Issues now playing off Off-Broadway. Read Playbill.com's coverage of the solo show here. Visit him at benrimalower.com and follow @benrimalower on Twitter.)