Coming up: Tony Tuesday!...Singing Sinatra with Jr., Cheyenne, Urie and others…Tea for Two with Edie Beale…and Ernie Anastos, a crooner?
On your marks, get set...!
Blake
Friday, April 30

GO? Ever find yourself at home, jamming out to a little "Stone Cold Crazy" on your Guitar Hero and wonder, "I'm pretty good…I should have an audience!" Well, head over to "Rock Lives," an open mic night where you can show off your Rock Band and Guitar Hero skills. Who knows? You might even find yourself some Wii-groupies. (8pm, Times Square Arts Center, 42nd and 8th Ave, info)

Saturday, May 1

GO? Some of New York's finest local reporters step out from behind the news desk and onto a stage. Sure, they can give us the weather and tell us the news…but can they sing? We'll find out! On the docket to sing the standards are Fox 5's Ernie Anastos and Dr. Sapna Parkih, CBS2's Magee Hickey, Mary Calvi, Cindy Hsu, Hazel Sanchez, Kirstin Cole, Lou Young and John Elliot, NBC 4's Pat Battle, Pix11's Kaity Tong and Tamsen Fadal, My 9's Harry Martin, and ABC7's Sarah Wallace. Proceeds benefit the Children's Miracle Network. (Laurie Beechman Theatre, 407 W. 42nd St., at 9th Ave., $75-$125 with $15 food/beverage minimum, call 212.695.6909 for tickets)
Sunday, May 2

GO? G
rey Gardens mania continues with Jeffrey Johnson's show Edie Beale LIVE at Reno Sweeney, a recreation of Little Edie's infamous 1978 cabaret act at Manhattan's Reno Sweeney nightclub on 13th Street. Johnson debuted the act last Christmas to a star-studded audience which included Sandra Bernhard, Charles Busch and Grey Gardens filmmaker Albert Maysles. (7pm, Joe's Pub, 425 Lafayette St., $20, info/tickets)
Monday, May 3

GO? Cheyenne Jackson, Michael Urie, Montego Glover, Jesse Tyler Ferguson, Michael Feinstein, Michael Cerveris and other Broadway bigwigs join Frank Sinatra Jr. and host Liz Smith for the NY Pops celebration of the legacy and music of Frank Sinatra. (7pm, Carnegie Hall, 57th St. and 7th Ave., $55-85, info/tickets)
GO? Wesley Taylor spends his nights off from The Addams Family working hard to "sing in your face while you get drunk." (I'm sold.) Wes Taylor and Friends teams Taylor up with some famous pals like, Matt Doyle (Spring Awakening), Mitch Jarvis (Rock of Ages), Lauren Molina (Rock of Ages), and Krysta Rodriguez (The Addams Family). (Joe's Pub, 425 Lafayette St., $20, info/tickets)
GO? U.S. Rep. Barney Frank (one of the first openly gay members of the House of Representatives) will be a guest at "TalkOut Monday," a series of post-show discussions about gay rights issues, following performances of The Temperamentals. Playwright Jon Marans will join Rep. Frank, who has been a consistent voice for the LGBT community in Congress and is also a founder of the National Stonewall Democrats. (New World Stages, 340 W. 50th St., btwn 8th and 9th Aves., Click here for Playbill Club discount tickets)
Tuesday, May 4

CLICK? Lea Michele and Jeff Daniels unveil the nominees for this year's Tony Awards. Playbill will have a full list of nominees up as soon as they're announced at 8:30am ET. Be sure to check out Playbill all day long for reactions from the nominees themselves via Playbill's Nominees Hotline!
HE'S BAAACK? Gregory Jbara returns to the role that snagged him a Tony as he steps back into the role of Dad in Billy Elliot. (Imperial Theatre, 249 W. 45th St., btwn Broadway and 8th Ave., tickets)
..
Wednesday, May 5
GO? Singer-songwriter, storyteller and folk music goddess, Judy Collins, has been recognized many times during the course of her 40-plus-year career. She's a Grammy winner, an Oscar nominee and also the woman who put the Sondheim classic "Send in the Clowns" on the map. (Through June 12, Café Carlyle, 35 E. 76th St., at Madison Ave., $75-$175, call 212-744-1600 for reservations)
Thursday, May 6
GO? The annual GayFest NYC is back for a fourth year with a crop of new plays dedicated to exploring LGBT themes and up-and-coming talent. Plays include Romeo and Hamlet (billed as a comedy about marriage equality in the style of Shakespeare) and This One Girl's Story (a musical inspired by the 2005 murder of 15 year old Sakia Gunn in Newark, NJ). All proceeds from the Fest benefit the Harvey Milk High School. (Through June 6, Abingdon Theatre Arts Complex, 312 W. 36th St., btwn. 8th and 9th Aves., $18/single productions, $65/4-play package, Click here for a full schedule of performances)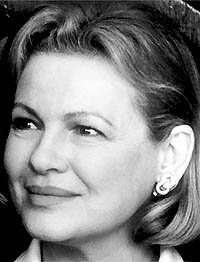 OPENING? Two-time Oscar winner Dianne Wiest joins OBIE winner John Douglas Thompson in The Forest, a romantic romp from the king of 19th century Russian drama, Alexander Ostrovsky (1823-1886). (Classic Stage Company, 123 W. 13th St., off 3rd Ave., $70-$75, info/tickets)