Of course, we do get some action from the fellas, namely an Off-Broadway offering from Ethan Hawke and a Blue Note special from Bill Cosby and Jimmy Heath.
Girls Just Wanna Have Fun,
Blake
Friday, January 29
OPENING? Ethan Hawke directs Sam Shepard's A Lie of the Mind featuring Laurie Metcalf, Marin Ireland, Keith Carradine, Josh Hamilton, Alessandro Nivola, Maggie Siff, Frank Whaley and Karen Young. (Through March 20, The Acorn Theatre, 410 West 42nd Street, between Ninth and Tenth Avenues, $61.25, info/tickets)
Saturday, January 30

WATCH? The National Theatre's production of Nation will screen around the world this Saturday. Nation (adapted from the Terry Pratchett novel by Mark Ravenhill) follows a young girl in 1860 stranded on a strange island that has been devastated by a tsunami. It features a wonderfully diverse cast set in a what some have likened to a type of Alice in Wonderland fantasy world. For ages 10 and up. (2pm, New York screenings include: Brooklyn Academy of Music, NYU's Skiball Center and Time & Space in Hudson, NY, $20-$25. For a complete list of venues in the Unite States, click here)
Sunday, January 31

GO? Tony winners LaChanze, Lillias White, Adriane Lenox along with Tituss Burgess, Bobby Daye and others join Lee Summers' Just a Piano: Open Mic series launch, which will serve as a benefit for The American Red Cross and The Clinton Bush Haiti Fund. (Triad Theatre, 158 W. 72nd Street, between Broadway & Columbus Avenues, $10 with a drink minimum, info/tickets)
..
BEFORE IT CLOSES? Off-Broadway's Circle Mirror Transformation, a story set in a community center acting class, takes on some larger, deeper issues about life, delivered in a humorous package. After several extentions, this critically acclaimed show written by Annie Baker ends its run. (Playwrights Horizons Peter Jay Sharp Theater, 416 W. 42nd Street, $50, info/tickets)
WATCH? The cast of the upcoming musical American Idiot will perform the song "21 Guns" (alongside Green Day) at the 52nd annual Grammy Awards. American Idiot, adapted from Green Day's best-selling album of the same name, opens on the Main Stem April 20th at the St. James Theater. It is directed by Tony Winner Michael Mayer and features orchestration by Tony Winner Tom Kitt. (8pmET/PT on CBS)
Monday, February 1
GO (FREE)? Miss Finian's Rainbow? Well, here's your last chance to see the residents of Missitucky live and in-the-flesh one more time, when they reunite to promote their cast album at Barnes & Noble. Expect cast members Kate Baldwin, Jim Norton, Cheyenne Jackson and others to perform. (5pm, Barnes & Noble Lincoln Triangle, 1972 Broadway at 66th Street)
Tuesday, February 2

GO? Sax master and all around jazz great Jimmy Heath and the Jimmy Heath Big Band perform with special guest MC Bill Cosby. (Blue Note Jazz Club, 131 West 3rd Street, $20-$30, info/tickets)
...
.........
Wednesday, February 3

GO? Fabulous songstress and two-time Tony winner Christine Ebersole returns to the Carlyle for a show described as "an eclectic musical evening on the subjects of sex, politics, religion…and weather." But not before the Carlyle says a fond farewell (and a happy 85th birthday) to Elaine Stritch, whose show Singin' Sondheim…One Song at a Time will play the room one more time. Of the added birthday performance, Stritch says: "OK, I'll do it. But damn it if Christine Ebersole isn't going to be up there with me!" Ebersole's solo show starts on February 4. (8:45pm, The Café Carlyle, 35 East 76th Street at Madison Avenue, For reservations call 212.744.1600)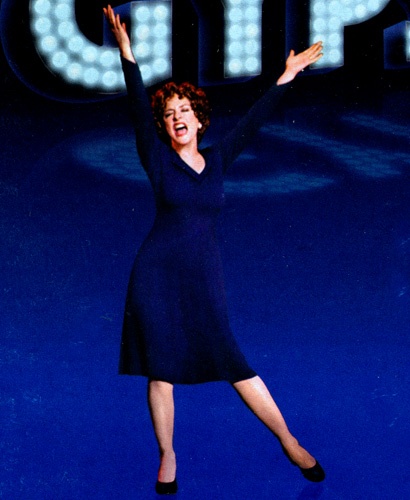 Thursday, February 4
GO? Patti's back and dishing all about her life on Broadway! Miz Two-Time-Tony-Winning Lupone will join WNYC's Leonard Lopate for a talk called "The Broadway Life." (8:15pm, 92 Street Y, Lexington Avenue at 92nd Street, $27, info/tickets)