When Christine Snyder coincidentally met the chief usher at Broadway's St. James Theatre in 1997—and landed her first job out of college—she thought she would simply see some theatre and earn some dollars while searching for a full-time position. "And I've never left it, to be honest with you," Snyder says, 21 years later.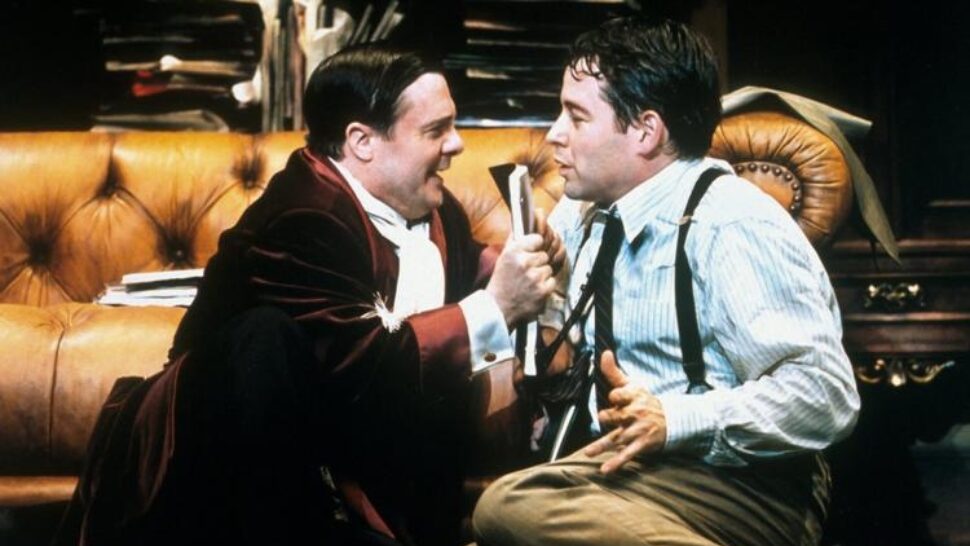 From her first gig as an usher for A Funny Thing Happened on the Way to the Forum starring David Alan Grier at the St. James Theatre, Snyder went on to work on shows such as Sweeney Todd, The Producers, Spring Awakening, and Jersey Boys, the last during which she met her musician husband. (He proposed on the stage of the August Wilson two years later.) During her lengthy tenure with Jujamcyn Theaters—which includes the Eugene O'Neill, the St. James, the Al Hirschfeld, the August Wilson, and the Walter Kerr—Snyder has worked as an usher, doorperson, and ticket-taker.
"For us, we have a sort of specialized relationship with the audience particularly," says Snyder, who currently serves as usher and usher director (typically one individiaul in charge of a full level of the theatre) at Frozen in the St. James. All ushers, including directors, report to the head usher to ensure smooth operations within the staff and for ticketholders. "I think we forget how much the audience is really a part of the theatre and that the audience, at times, can be just as important as who is on stage."
At her core, Snyder is a hostess. Whether assisting patrons to their seats or explaining the history of the theatre building, Snyder's goal is to be as hospitable as possible. "Like welcoming guests into your house, you want them to feel happy and you want them to be glad to be there," she says. "I think that's really important in ushering."
As a people-person, Snyder's warmth and patience makes her successful in a job that's all about interaction and customer service. "I like people," she says with a chuckle. A desire to solve problems, knowledge of the theatrical facility, and an appreciation for theatre in general have also helped Snyder become the successful usher she is today. New ushers get a chance to shadow a veteran before taking the reins.
Of course, there are ushering perks—mainly watching a Broadway show free of charge eight times a week while monitoring the audience. For Snyder, that has meant watching Patti LuPone and Michael Cerveris bake sorry victims into meat pies during Sweeney Todd and witnessing Nathan Lane improvise an entire bit on the ledge of his office balcony during his stint as Max Bialystock in The Producers.
Of course, ushers also enforce rules and etiquette. Standing at their station for the duration of the show, each usher has a view of at least half the audience on their level to watch for cell phones and photos. Half of the ushering team stays for the full length of the show four performances each week, the other half stay 25 minutes into the show and leave four performances each week, switching off.
While watching one show for months on end can be repetitive, the guests keep shows lively for Snyder. "You never have the same audience, it just never happens," she says. Plus, magic moments of live theatre—line-drops, first-time understudies, and technical glitches—add excitement.
Now stationed back at the St. James, Snyder has the added privilege of watching young children fall in love with theatre for the first time with Frozen. For many of her guests at the St. James, Frozen is their first Broadway show. "The more I can help them experience the excitement of the theatre, the more I think we have a future in the theatre," says Snyder.
Today, ushering is more than Snyder's job; it is a salient part of her life in every way. Her ushering career has been a lesson in theatre history as well as hospitality. She plans to include what she's learned through her front-of-house work in her dissertation for her PhD in theatre history and criticism, which she is currently working towards at the CUNY Graduate Center.
"I think [ushering] has allowed me to mature in a lot of my understandings of the theatre," Snyder reflects. "And I am deeply grateful for that."
Want to be a Broadway usher? Here's how you can do it!
Roundabout Theatre Company:
Includes: American Airlines Theatre, Stephen Sondheim Theatre, Studio 5
Cover letter and resume should be sent to [email protected] Cover letter should indicate your availability to work part time or full time. Please include the code RTCHS0318 in your subject line. No Phone Calls Please.
Non-Local 306 members are welcome to apply; however, the positions at the Broadway Theatres will require Union membership after 30 days of working.
Shubert Organization:
Includes: Ambassador Theatre, Ethel Barrymore Theatre, Belasco Theatre, Booth Theatre, Broadhurst Theatre, Broadway Theatre, Cort Theatre, John Golden Theatre, Imperial Theatre, Bernard B. Jacobs Theatre, Longacre Theatre, Lyceum Theatre, Majestic Theatre, Music Box Theatre, Gerald Schoenfeld Theatre, Shubert Theatre, Winter Garden Theatre
At present, The Shubert Organization is fully staffed and no usher positions are open. Individuals interested in becoming ushers in the future may submit resumes to [email protected]
Jujamcyn Theaters:
Includes: Al Hirschfeld Theatre, August Wilson Theatre, Eugene O'Neill Theatre, St. James Theatre, Walter Kerr Theatre
Interested candidates should send a cover letter and resume to [email protected]