The 2018 Tony Award nominations were revealed May 1, bringing the Broadway community one step closer to Broadway's biggest night.
Following the announcement, the Playbill editorial team took a deep dive into this year's list, exploring notable facts and figures from the 2017–2018 season. See below for a few key observations.
ANGELS IN AMERICA MAKES HISTORY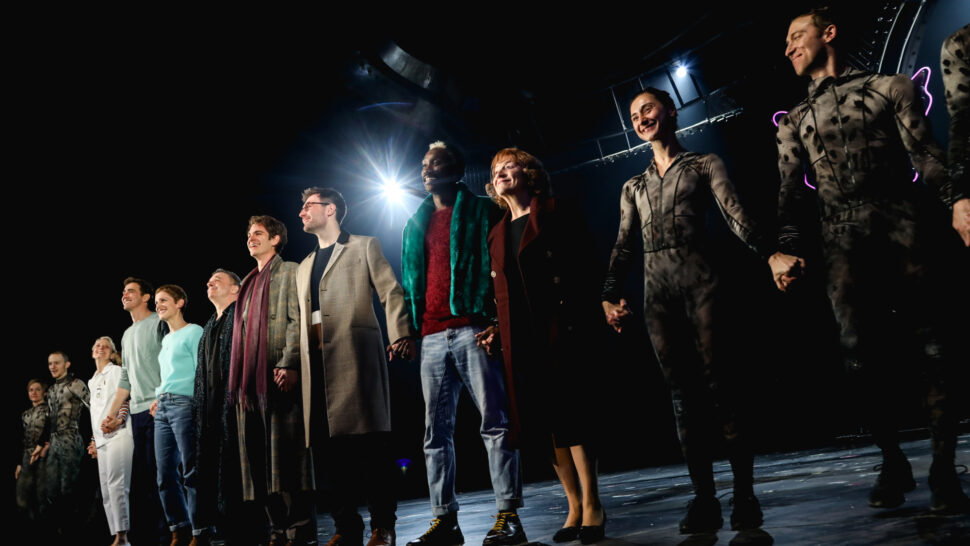 The 25th anniversary production of Tony Kushner's two-part epic is now the most Tony-nominated play in history. The revival earned 11 Tony nominations, placing it behind only Mean Girls and SpongeBob and tying it with The Band's Visit and Carousel.
In addition to its nomination for Best Revival of a Play, it earned nominations for Best Original Score, Actor in a Leading Role in a Play for Andrew Garfield, Actor in a Featured Role in a Play for Nathan Lane, Actress in a Featured Role in a Play for Susan Brown and Denise Gough, Direction of a Play for Marianne Elliott, Scenic Design of a Play for Ian MacNeil and Edward Pierce, Costume Design of a Play for Nicky Gillibrand, Lighting Design of a Play for Paule Constable, and Sound Design of a Play for Ian Dickinson.
With the 11 nods, Angels in America beats out former record-holders The Coast of Utopia (2007) and Fences (2010), which each received ten nominations. The original Broadway production of Angels in America: Millennium Approaches received nine nominations; the original Broadway production of Perestroika received six nominations. This revival is being considered as a single two-part entity. The production, which began at the National Theatre in London, received six Olivier nominations and won two: Best Revival of a Play and Best Actress in a Supporting Role for Denise Gough.
DEBUT WRITERS
All four nominees for Best Book of a Musical—Itamar Moses for The Band's Visit, Jennifer Lee for Frozen, Tina Fey for Mean Girls, and Kyle Jarrow for SpongeBob SquarePants—are making their Broadway debuts. And three of the five nominees for Best Play—Lucy Kirkwood for The Children, Claire van Kampen for Farinelli and the King, and Jack Thorne for Harry Potter and the Cursed Child—are making their playwriting debut this year.
As noted above, all of the nominees in Best Book of a Musical made their Broadway debuts this year: Fey, Moses, Lee, and Jarrow. Harry Potter scribe Thorne and The Children writer Kirkwood also make their debuts this year. (Van Kampen makes her playwriting debut with Farinelli and the King, though she has composed music for multiple Broadway shows.)
FIRST-TIMER'S CLUB
Of the 130 individuals nominated for 2018 Tony Awards, a whopping 59 of them are first-time nominees (and 34 of them also mark Broadway debut performances). This number has a lot to do with SpongeBob SquarePants, whose score has 17 composers in total. Fifteen of the 17 are first-time Tony nominees, and 12 of those are making their Broadway debuts. (Sara Bareilles penned Waitress, Cyndi Lauper won for Kinky Boots, Rob Hyman penned songs for Matters of the Heart, Panic! At the Disco's Brendon Urie starred in Kinky Boots, and John Legend won a Tony as a producer of 2017's Jitney.)
The individuals nominated for their Broadway debut also include: performers Lauren Ridloff, Amy Schumer, Harry Hadden-Paton, Ethan Slater, Hailey Kilgore, Anthony Boyle, Susan Brown, Noma Dumezweni, Denise Gough, and Ari'el Statchel, designers Adam Young, Paul Russell, Tyler Micoleau, and Mike Dobson, choreographer Justin Peck, and orchestrator Jamshied Sharifi.
Star Power x6
This season, the Tony Administration Committee opened up several categories that traditionally held four slots for nominees to five. However, one category this year saw six nominees: Best Performance by a Leading Actress in a Musical. Up for the award this year are My Fair Lady's Lauren Ambrose, Once On This Island's Hailey Kilgore, Summer's LaChanze, The Band's Visit's Katrina Lenk, Mean Girls' Taylor Louderman, and Carousel's Jessie Mueller.
Tony rules dictate that if the Nomination Committee lands on a two-way or three-way tie between the last slot of nominations in any of the performance categories, each of those performers will be included (leading to a possible six or seven nominees). The only other time more than five performers were recognized in a single category was in 2015, for Best Performance by a Featured Actor in a Play.
Double Nominees
Three performance categories have multiple nominees from the same show: Angels in America, Carousel, and Lobby Hero. Both Susan Brown and Denise Gough are nominated as Featured Actress in a Play, Renée Fleming and Lindsay Mendez are nominated as Featured Actress in a Musical, and Brian Tyree Henry and Michael Cera are nominated as Featured Actor in a Play.
In addition, three artists are nominated against themselves. Christopher Gattelli was nominated for Best Choreography for his work on My Fair Lady and SpongeBob SquarePants. Ann Roth is nominated for her costume design for both Three Tall Women and The Iceman Cometh. She was also nominated for her work on Carousel—so she could potentially take home two Tonys. Scott Pask was also nominated against himself for his scenic design of The Band's Visit and Mean Girls. His nomination for Mean Girls is shared with video designers Finn Ross and Adam Young.
Plays Infiltrating Musical Categories
Two plays snuck into categories traditionally (though not exclusively) reserved for musicals. Steven Hoggett received a Best Choreography nomination for his work on Harry Potter and the Cursed Child, while composer Adrian Sutton was recognized for his work on Angels in America in Best Original Score.
Hoggett previously received a Best Choreography nod for another play: The Curious Incident of the Dog in the Night-Time (as well as the musicals Rocky and Once). This marks Sutton's first Tony-nomination; his additional credits include music for Curious Incident, War Horse, and Coram Boy.
While several have been nominated, no play has won for either category in Tonys history.
Left Off the List
Seven productions from the 2017–2018 Broadway season were fully overlooked by the Nominating Committee—though of those seven, only one is still currently running: Escape to Margaritaville.
Additional shows that received no nominations were Prince of Broadway, John Lithgow: Stories By Heart, Marvin's Room, and Time and the Conways (each limited engagements at not-for-profit houses), as well as M. Butterfly and The Parisian Woman.