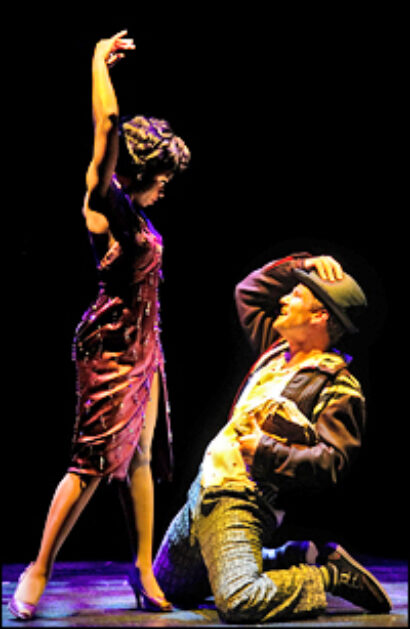 Memphis is presented April 28, 30 and May 3 at 7:30 PM and May 1 at 12:30 PM. The film also includes behind-the-scenes footage from the performance.
Memphis marks the first musical to be filmed live and released in U.S. cinemas while concurrently running on Broadway. It was filmed in front of a live audience, with its original cast, at the Shubert Theatre.
It is also the first time New Yorkers are presented with the option to witness a Broadway musical live on stage or watch the production on one of their hometown movie screens. Memphis is scheduled to play five cinemas in New York City on April 28. Tickets to the film are $20.
For details visit FathomEvents.
Emmy Award-winning director Don Roy King and sound producer Matt Kaplowitz filmed the Jan. 18-21 performances of the musical for NCM Fathom and Broadway Worldwide. The musical about an interracial love affair in the 1950s segregated South stars Tony Award nominees Chad Kimball and Montego Glover. Bon Jovi songwriter and band member David Bryan and Joe DiPietro penned the score to Memphis, which is flavored with gospel, R&B, rock and soul sounds.
Memphis earned Tony Awards for Best Book, Best Score and Best Musical. Kimball and Glover earned Tony Award nominations for their performances.
Songs in the production are "Underground," "The Music of My Soul," "Ain't Nothin' But a Kiss," "Everybody Wants to Be Black on a Saturday Night," "Make Me Stronger," "Colored Women," "Someday," "She's My Sister," "Radio," "Say a Prayer," "Big Love," "Love Will Stand When All Else Falls," "Stand Up," "Change Don't Come Easy," "Memphis Lives in Me" and "Steal Your Rock 'n' Roll."
Memphis is produced on Broadway by Junkyard Dog Productions, Barbara and Buddy Freitag and Kenny and Marleen Alhadeff with Latitude Link, Jim and Susan Blair, Demos Bizar Entertainment, Land Line Productions, Apples and Oranges Productions, Dave Copley, Dancap Productions, Inc., Alex and Katya Lukianov, Tony Ponturo, 2 Guys Productions, and Richard Winkler in association with Lauren Doll, Eric and Marsi Gardiner, Linda and Bill Potter, Broadway Across America, Jocko Productions, Patty Baker, Dan Frishwasser, Bob Bartner/Scott and Kaylin Union, Loraine Boyle/Chase Mishkin, Remmel T. Dickinson/Memphis Orpheum Group and ShadowCatcher Entertainment/Vijay and Sita Vashee.
Memphis opened on Broadway Oct. 19, 2009, at the Shubert Theatre under the direction of Christopher Ashley. Broadway previews began Sept. 23, 2009. A national tour will launch in the fall.
Visit MemphistheMusical.