*
When Sandra Mae Frank and Daniel Durant, the Deaf stars of Spring Awakening, first met their hearing counterparts (Katie Boeck and Alex Boniello, the actors who function as the respective voices of Wendla and Moritz), they agreed that it was a little awkward. "We had never met each other, and some people didn't sign," said Durant.
Frank added, "People I know are afraid to sign because they're afraid of making a mistake, and I go, 'It doesn't matter. The more mistakes you make, the better you learn and the better you can express yourself.'" She said that she does not need people to be excellent signers to communicate with her. Instead, "We can write back and forth; we can gesture — any way we can find to communicate with each other."
However, over the course of rehearsals, previews and performances — including two acclaimed runs in Los Angeles before deciding to make the jump to Broadway — the hearing members of the cast have become very familiar with ASL. "They were rehearsing enough signs for the show, and when we were through every day [with rehearsal], we'd go out, have a drink, get together… It got more conversational as we went on, and some people really learned fast. They've been really good," said Durant.
Austin McKenzie, who plays Melchior, is hearing, but went to college to become an interpreter, so he's versed in both languages. "Watching the process of all of the hearing actors begin to learn ASL is so… You wouldn't think it would be a beautiful experience to watch that," he said, "but it is. There's a point in every one of the hearing cast members' experiences when I can watch and see the moment when they are afraid to sign or to try, and then, very suddenly, they just decide to put it aside and they start to learn."
Throughout the bonding experience, the cast have assigned "sign names" to each other. In Deaf culture and American Sign Language, a sign name (or name sign, as it's called) is a special sign used to uniquely identify a person. The sign must be agreed upon by said person and members of the Deaf community. Each character in Spring Awakening has also been assigned a sign name by the translation team.
Frank, Durant and McKenzie show us their names below.
Wendla: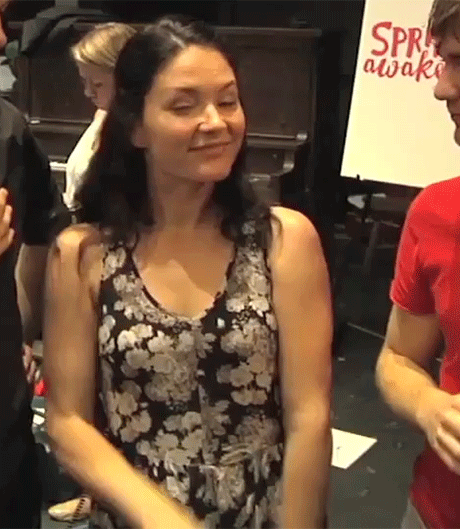 Moritz: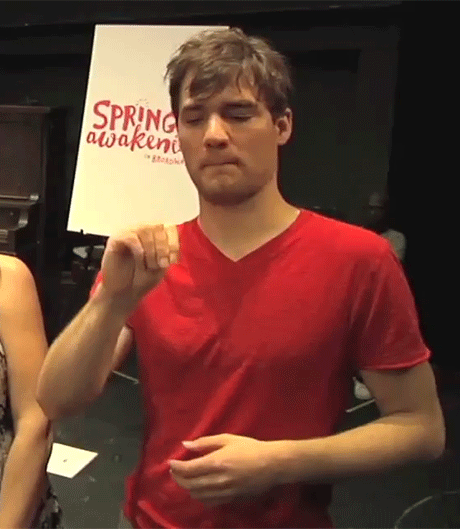 Melchior: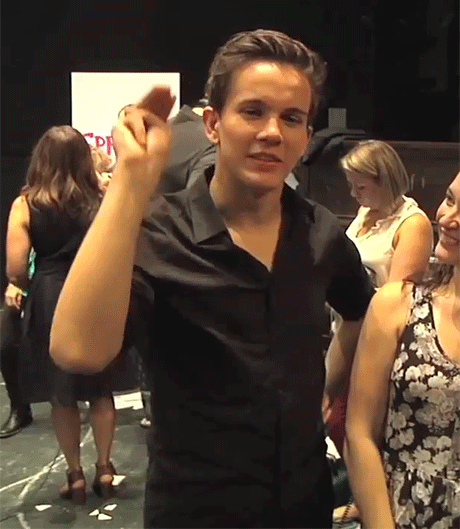 Fanny Gabor: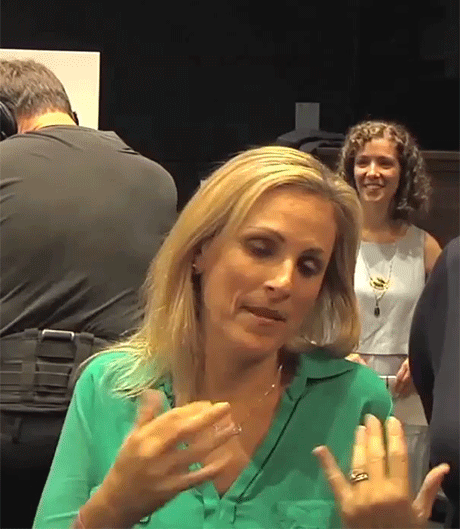 Finding a sign name for someone can be difficult. Frank said, "We like to give names based on personality traits. Katie Boeck, who's my voice counterpart… It took me until the second run on closing night to find her name sign. You just have a feeling, and it has to be exactly right. Her name sign is this because she sings like an angel." (Check out Katie Boeck's name below.)
Katie Boeck: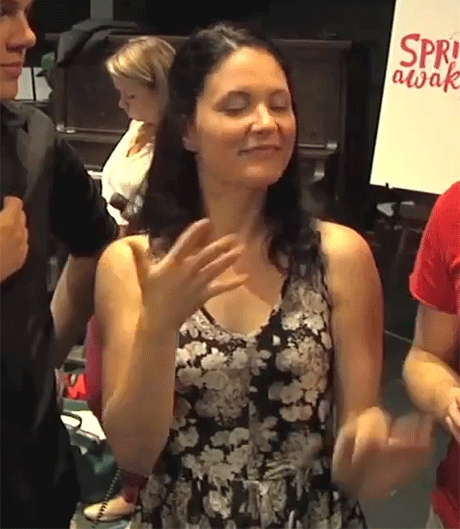 Since McKenzie went to school to be an interpreter, he is able to speak and sign simultaneously. This process, called SimCom (short for simultaneous communication), can be incredibly difficult since spoken English and ASL do not have the same grammar rules.
McKenzie explained the process (both in English and ASL). "What I'm doing right now is very different from what I do onstage — letting it all out and hoping that I can communicate fluently using my skills as a signer," he said and signed simultaneously. "Onstage it's completely different because everything has been pre-determined and everything has to be exact. The word order in sign language is completely opposite from what I'm actually saying, but the emphasis in both languages has to be perfect. If there's an emphasis on a word that I'm saying that I have not yet signed, then I have to focus on the English. Then, as I continue the line and the emphasis comes in sign, I have to focus on sign. From day one I've thought of it as two different shows happening at the same time in my mind."
McKenzie, Frank and Durant take the stage in Deaf West's Spring Awakening Sept. 8, when it begins previews at the Brooks Atkinson Theatre, before opening Sept. 27.
For more information, visit SpringAwakeningTheMusical.com.