There was never a question that some of the costumes had to remain intact for Pretty Woman The Musical. In terms of iconic fashion, few romcom clothes still inspire Halloween costumes 20-plus years later, but that's exactly what two-time Tony-winning designer Gregg Barnes (The Drowsy Chaperone, Follies) was facing when director-choreographer Jerry Mitchell approached him about the new musical adaptation of the Julia Roberts starrer, in previews July 20 at the Nederlander Theatre.
"On Halloween, just around the time [Mitchell and I] started chatting, one of the trainers at my gym wore the classic miniskirt," Barnes says. "And I went up to her and I said, 'Would you be disappointed if you saw a musical and this outfit wasn't in it?' And she said, 'I'd be outraged.'"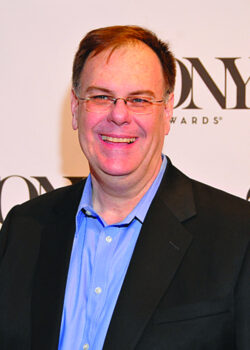 Needless to say, the outfit in which sex worker Vivian (now played by Samantha Barks) first meets businessman Edward (Andy Karl) is intact: blonde bob, oversized jacket, short skirt, thigh-high boots and all.
The other must-include costume? The red gown in which Vivian attends the opera. But here, Barnes was able to "reinvent" things a bit. "Other than the fact that it's red and has the shoulder swag to it, it is not at all the dress Julia wore," Barnes says. "And we were thinking, to a modern audience, very often the gowns that have a romantic appeal are very soft, very chiffony. So we mix mastered the expectation with what I think the modern eye defines romance."
That was much of Barnes' challenge in adapting and inventing the costumes of Pretty Woman for the stage: Paying homage to the early 1990s time period while eschewing mockery and still providing silhouettes that are attractive to 2018 audiences.
"You want to feel like the guy is beautiful and sexy and not a character wearing an unstructured baggy suit that was appealing more than 30 years ago," Barnes points out. "We tried to keep the fit and the fabrics true to our [modern] eye, but a lot of the details come from the period."
Very few stories have as clear a narrative in terms of its leading characters' clothes, but Vivian's gradual transformation needs to be as carefully constructed in how she dresses herself as in how it is performed.
"The first time we see her in a transformation moment, she has a dress picked out for her," Barnes says. "So she doesn't have any part in that. And then the next time we see her transform she goes to the shop and picks out a dress for the first time. So you see this woman connect; it sets up that she's alert to the world she aspires to inhabit. It sort of builds on itself."
Though Barnes has been revising some of his original designs since the world premiere in Chicago, that first look will not change. "There's something strangely satisfying in delivering expectations," he says with a laugh.