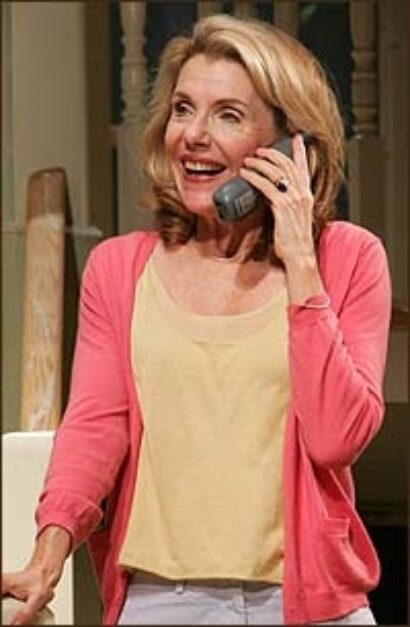 Doug Hughes (Doubt) directs Clayburgh and Thomas in the New York premiere of Richard Greenberg's comedy A Naked Girl on the Appian Way which began previews Sept. 13 at the American Airlines Theatre for a limited engagement through Dec. 4.
A Naked Girl on the Appian Way follows the chain reaction of revelations unearthed in a neighborhood when two siblings return to their American home following a year-long excursion in Europe. A successful author/cooking-show host (Jill Clayburgh) and an eccentric genius (Richard Thomas) are the parents of the play's family. (The title refers to an ancient road built by the Romans, parts of which still exist today.)
Clayburgh and Thomas lead the cast which also includes Matthew Morrison (The Light in the Piazza), Susan Kelechi Watson (The Story), James Yaegashi (Take Me Out), Leslie Ayvazian (Lost In Yonkers) and Ann Guilbert (Billy Barnes Revue, "The Nanny," "The Dick Van Dyke Show").
Actress Clayburgh returns to Broadway for the first time since 1985's Design For Living. The two-time Academy Award-nominated star (for "Starting Over" and "An Unmarried Woman") has also appeared on Broadway in Jumpers, Pippin, The Rothschilds and The Sudden and Accidental Re-Education of Horse Johnson. The wife of playwright David Rabe (Hurlyburly) will mark her return to the stage with a followup role (as Mrs. Banks) in the upcoming Broadway revival of Barefoot in the Park.
Thomas, seen recently in As You Like It and Democracy, made his Broadway debut at the age of seven in Sunrise at Campobello. The actor grew to become known for his Emmy Award-winning turn as John-Boy in "The Waltons." Other stage credits include The Stendahl Syndrome, Tiny Alice, Love Letters, The Front Page, Fifth of July and The Seagull. Tickets to Naked Girl at the American Airlines Theatre, 227 West 42 Street are available by calling (212) 719-1300. For more information, visit www.roundabouttheatre.org.