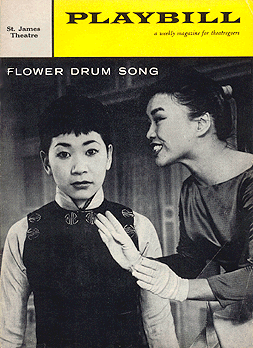 Playbill Cover for Flower Drum Song in 1958.
(This is one in a series of Playbill On-Line features offering a periodic look back at Broadway and Playbill history, timed to accompany a new production or event of a show from theatre's past. A Broadway revival of
Flower Drum Song
featuring a new book by David Henry Hwang opens Oct. 17 at the Virginia Theatre. Here's a glimpse at the 1958 Playbill of the original production, with some perspective on the period.)
It was over ten years since Japanese-Americans were released from camps at the end of World War II, five years since the Korean War ended and just one year since former general and then President Dwight D. Eisenhower sent troops to Arkansas to ensure the safety of the "Little Rock Nine" — nine African-American students being integrated into Little Rock Central High School by order of the Supreme Court. It was 1958. On Broadway, racial tensions fueled the still-running musical West Side Story, which garnered conceiver-director-choreographer Jerome Robbins a Tony Award earlier in the year. New shows of the season include Goldilocks starring Don Ameche and Elaine Stritch, the Hong Kong-set play The World of Suzie Wong, and a new musical by Richard Rodgers and Oscar Hammerstein set in San Francisco's Chinatown which centered not on race but rather on a love story.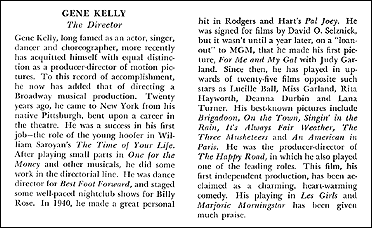 Gene Kelly's "Who's Who."
The legendary Gene Kelly — whose bio in the signature "Who's Who in the Cast" mentions his theatrical ambitions — makes his Broadway directorial debut with Rodgers and Hammerstein's
Flower Drum Song
. The cast of the show featured an all-Asian ensemble and headliners Miyoshi Umeki, Ed Kenney, Keye Luke, newcomer Arabella Hong and
Pat Suzuki
. The musical — based on the novel by C.Y. Lee — featured music by Rodgers, lyrics by Hammerstein and a book by Hammerstein and Joseph Fields.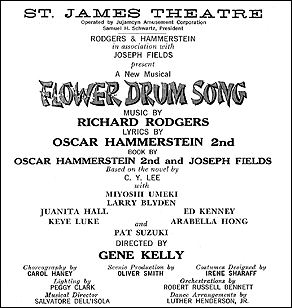 The title page in the Flower Drum Song Playbill.
Among the songs are "You Are Beautiful," "I Enjoy Being a Girl," "I Am Going To Like It Here," "Like a God," "Chop Suey," "Don't Marry Me," "Fan Tan Tannie" and "The Other Generation. (The current Broadway production — which features a re-written book by Asian-American playwright David Henry Hwang — has a reworked songlist. Most notably is the presence of "My Best Love," a song that was cut from the original staging.)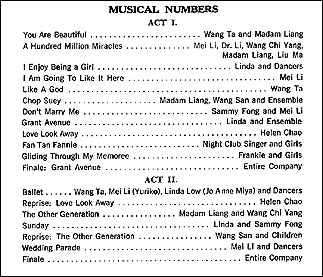 The songlist in the Flower Drum Song Playbill.
In the Playbill, among advertisements for cars (the "smart new 'Linear Look'" of Oldsmobiles and Cadillac's Eldorado Brougham with a "whisper-quiet response" engine), perfumes, cigarettes and plenty of alcohol, is a full-pager for Columbia Records' original cast albums of
West Side Story, My Fair Lady
and
Flower Drum Song
— on vinyl, of course.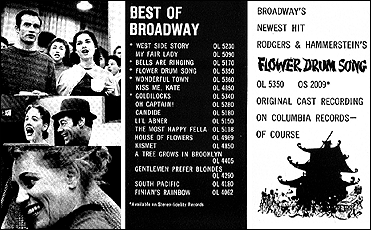 Parts of an ad for Columbia Records cast albums.
Editorial featured in the Playbill include a toast to The Actors' Fund's 76th year citing an archival entry of The New York Daily Tribune a few days following the organization's inception in 1882, the signature "Who's Who in the Cast" and a guide to dining by Robert Jay Misch.
According to theatre historian and Playbill archivist Louis Botto, the adventurous work was not well accepted by its critics. "At that time, the very acerbic British critic Kenneth Tynan was reviewing for The New Yorker," Botto recalled the reviewer's pan, "and that was the season the hit play had played called The World of Suzie Wong, and his headline of his review was "The World of Woozy Song."
Flower Drum Song was overshadowed at that season's Tony Awards by a musical from librettist Fields' two younger siblings librettist Herbert and lyricist Dorothy. Composer Albert Hague's Redhead won awards for its stars Gwen Verdon and Richard Kiley, costume designer Rouben Ter-Arutunian, choreographer Bob Fosse and for musical itself, beating out its rival in virtually every category it was nominated save one, for Conductor and Musical Director Salvatore Dell'Isola. The Rodgers and Hammerstein work would later see the big screen in a 1961 film with its stage stars Miyoshi Umeki and Juanita Hall, a fate not shared by Redhead.