Paolo Montalban, who is probably most recognized for playing Prince Christopher in the 1997 ABC musical version of Cinderella with Brandy, is currently starring in his fourth production at New Jersey's Paper Mill Playhouse, playing Larry in the new musical Benny & Joon. The actor, whose Broadway credits include Breakfast at Tiffany's, Pacific Overtures, and The King and I, also received a Lucille Lortel nomination for his work in the Off-Broadway musical Bella: An American Tall Tale.
We recently asked Montalbán to pen a list of his most memorable theatregoing experiences; his responses follow.
Kate Baldwin in Hello, Dolly!

I had the great fortune to polka opposite Kate Baldwin in The King and I at the Lyric Opera of Chicago. I already knew Kate possessed the sublime vocal and acting chops for the dramatic stuff. Her Mrs. Anna won and broke my heart every single night. However, in the most recent Hello, Dolly! revival, I was completely caught off guard by how coquettishly self-possessed and how funny her Irene Molloy was. It wasn't just great comic-timing-funny or wry-Kate-Baldwin funny, but gut-busting, old-school physical comedy funny, like the perfectly executed antics of a young Lucille Ball.
Christine Allado in Hamilton

I saw Hamilton in London, because it was literally easier to fly over and get a ticket there. The standout of the original West End company was Christine Allado, who played the dual role of Peggy/Maria with aplomb. Her Peggy drew squeals of delight from Schuyler Sisters super fans, but both men and women of the audience audibly gasped, as she emerged from the shadows as Maria. I've never witnessed an actor alter the temperature of a theatre in such a brief time. Her performance was feline, sultry, and deft. And her voice... just listen to The Clockmaker's Daughter cast recording and thank me later. A Broadway star in the making.
Kenita Miller in Once On This Island

Once On This Island had always been a teenage favorite of mine. I can't recall how many times I sang along with the original Broadway cast recording on my CD player back in the day. Michael Arden's recent revival was a celebration of theatre's transformative and elemental potential. My dear friend Kenita Miller, as Mama Euralie, tapped into the collective consciousness of all parents that ever have been and ever will be. She was heartbreaking, humorous, and full of unconditional love. It was a glorious case of typecasting.
Carlo Albán in Sweat

The gut-punch of performances in Lynn Nottage's Sweat were as visceral and unrelenting as the life-like fight choreography onstage. As a ballast to the more boisterous characters of the play, Carlo Albán portrayed the role of Oscar with the quiet integrity of a rarely heard, always seen immigrant worker. I marveled at each specifically detailed activity he crafted at the omnipresent bar back. He unintentionally became the person I watched the most in a company of elite actors.
Beth Malone in Fun Home

I am a huge fan of Beth Malone the person and Beth Malone the actor. As far as I'm concerned, she's a magician because of the way she seamlessly merges those two worlds into her work. She brings so much of herself to every role at such a high level of effortless availability, that the result as adult Alison in Fun Home is actually magical. Full disclosure? Beth singing "Telephone Wire" is currently the iPhone music alarm I wake up to.
Ruthie Ann Miles and Jose Llana in Here Lies Love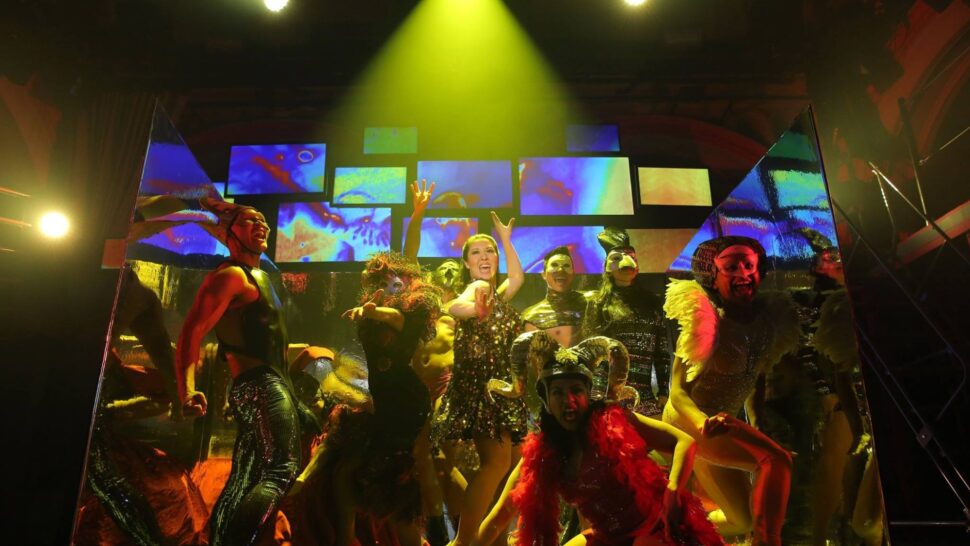 I never really got the Imelda Marcos story. I just knew that an outsized shoe collection was involved. Then came along Here Lies Love. Ruthie Ann Miles' dynamic, multi-faceted performance as Imelda attained Patti LuPone Evita levels, and Jose Llana's Ferdinand Marcos was so magnetic, I finally understood how their real-life counterparts grifted an entire nation. The talented cast achieved the impossible—they made a historical saga about a Filipino despot's wife into a sexy, engaging, immersive, theatregoing experience.
The Cast of Broke-Ology

One year, my dad was really sick (he's OK now) and I went to see Broke-Ology at Lincoln Center Theater. It was an intimate family story that left me so shattered with its final image, I quickly excused myself in the blackout before the curtain call. The cathartic moment had me uncontrollably sobbing in a bathroom stall. I owe Francois Battiste, Crystal A. Dickinson, Alano Miller, and Wendell Pierce my belated applause and humble thanks for the salve of their generous talents.
Norm Lewis, Lea Salonga, Ali Ewoldt, and Adam Jacobs in Les Misérables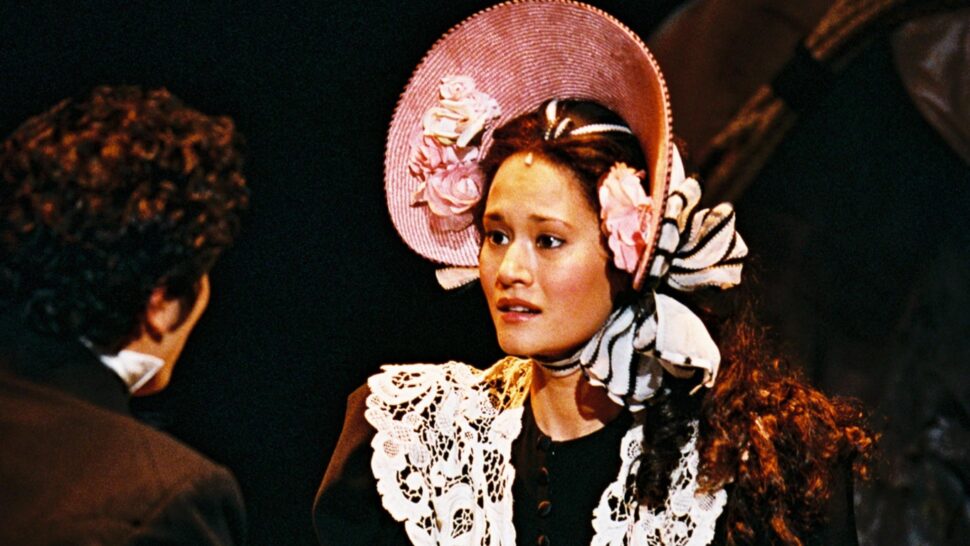 Let's talk about the power of non-traditional casting and defying convention. That's what emanated from the 2007 Broadway production of Les Miserables with Norm Lewis as Javert, Lea Salonga as Fantine, Adam Jacobs as Marius, and Ali Ewoldt as Cosette. I was inspired to see so many excellent actors of color representing at the top of their game in one of my favorite musicals. As an unabashed Les Miz fanboy, all I was thinking was, "When I grow up I want to be Adam Jacobs, after I grow up to be Norm Lewis."
The Cast of Titanic

Have you ever felt a wall of sound? For me it was 43 of Broadway's finest adult voices singing their faces off to Maury Yeston's lush score and that wall of sound vibrating my sternum during the tutti section of the opening number of Titanic. I have yet to experience as thrilling a sonic sensation in musical theatre as then.
Lea Salonga in Miss Saigon

A distant uncle of mine arranged for my family to have dinner with Lea Salonga and her mom before watching her play Kim in the West End production of Miss Saigon. This was before she won an Olivier and a Tony, before she was the voice of Mulan, and before she became an icon. I was so floored by the sheer talent and fierce, natural instincts of this then-18-year-old and her vocal and emotional prowess, that she left me absolutely speechless. And, yes, I had dinner with a Disney princess.